EVENTS
Experience Transformation
CEO Warrior shocked the industry when we put on our very first event. Now, every event has become a must-attend experience by business owners from around the world. From special guest speakers to proven strategies, you'll experience a massive shift every time you set foot in a CEO Warrior event.
CURIOUS TO LEARN MORE?
Experience CEO Warrior for yourself: Speak to one of our specialists today!
LEARN MORE
WHY ATTEND A CEO WARRIOR EVENT?
Freedom
Eliminate stress and finally spend more time with your family.
Wealth
Turn your business into an automatic money-making machine.
Market Domination
Gain a competitive edge and become a pillar of the community.
THE CEO WARRIOR EVENT EXPERIENCE
From the moment you arrive, you know it's different than anything you've been to before: you aren't treated like cattle; you aren't spoon-fed strategies and then pitched; and you definitely won't be back to your hotel in time for happy hour.
CEO Warrior unleashes a fire-hose of strategies: you won't believe how many there are and how practical they are. CEO Warrior helps you with implementation right at the event so you'll never leave wondering what to do. And, CEO Warrior will reignite the fire inside of you with high-energy experiences that remind you why you run your business. 
There's a reason why people attend one event, and then return again and again.
MEMORABLE MOMENTS
CHECK OUT THESE EPIC MOMENTS FROM CEO WARRIOR EVENTS
Looking at the business with a new set of eyes
Since becoming a Warrior my revenue has gone from $800,000 to $2.4 million. My company is constantly growing, improving and we are recruiting faster than ever. We are building a culture that everyone wants to be a part of. We have rebranded our entire company to be the best brand in the Service World and created a team that strives to be the best and serve our customers to the highest level.
BOB AND MIKKI WHITWORTH
Whitworth Excavating
Worth Hundreds of thousands of dollars
I really needed to spend more time working on my business, not working in my business. The information and mindset that you gain here are worth hundreds of thousands of dollars. Anybody who wants to grow a business, I think this is a really good place to start. I would recommend it to anybody!
B.W White
Jackson Heating and Air Conditioning
It's a Game-changer!
I came here to learn how to be a business owner. As we have grown, the foundation of our business is very shaky. I was ready for something to change. Implementing process on everything is what I have learned. You get so much from everybody and they are so helpful! Anybody who wants to change their life, they should come. The mindset is what it is all about. It's a game-changer for all aspects of your life.
Bowdie and Charity Hutchens
Hutchens Construction Incorporated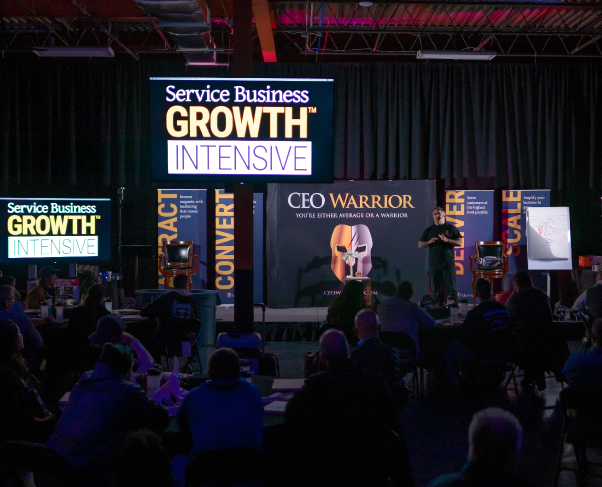 Service Business Live
You are shoulder-to-shoulder with fellow Warriors who have stepped up to transform their businesses. You'll leave with the exact $32 million dollar playbook and a customized Road Map to show you how to take your business to the next level.
VIEW EVENT DETAILS