SUCCESS STORIES
What Other Service Business Owners Say About CEO Warrior
Hear how an elite group of business owners have learned secrets and strategies to revolutionize business. Learn how CEO Warriors changed their businesses and their LIVES!
FREE BOOK DOWNLOAD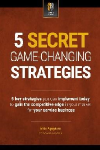 "CEO Warrior connected the dots… I have more clarity and someone behind me to help me get to my goals."
Mark Doll
Professional Heating & Cooling
THE CEO WARRIOR EXPERIENCE
See what others are saying about the CEO Warrior experience and how it's transforming the businesses and lives of service business owners all around the world.
B.W. WHITE
Jackson Heating & Air Conditioning
BOWDIE & CHARITY HUTCHENS
Hutchens Construction Incorporated
TERSH BLISSET
Icebound Heating & Air
ROBERT FELIX
Felix Appliance Repair
MARK DOLL
Professional Heating & Cooling
BOB & MIKKI WHITWORTH
Whitworth Excavating
HOW CEO WARRIOR CHANGED THEIR BUSINESS
See what others are saying about the CEO Warrior experience and how it's transforming the businesses and lives of service business owners all around the world.
My company culture is 100% better
"WE HAVE A PLACE WHERE WE FIT IN"
I came to my first CEO Warrior Event in 2014. I was searching for a group of business owners that were like-minded and able to pour into my life and I would be able to do the same for them. At the time, my business was all over the place. I didn't know where we were going or what it would take to get there. I had 20 employees, 14 trucks and we were doing $3 million but we did not have a strong culture it was just work, work, work.
Over the last 5 years, CEO Warrior has become my family. I enjoy the brotherhood and the constant challenge to become a better version of myself each day. If they smell bullshit they will call it out right away. My company culture is 100% better and it rings through the entire company. I have a plan to get where we want to go and have the ability to gain knowledge from business owners that have already been there and be the light for others who are on their path. We now have over 45 employees and 25 trucks and are on pace to do $8 million. We have added one day baths and whole house generators. We have a place where we fit in. If you are looking for the right fire to be in that will constantly produce the best version of you, CEO Warrior is the place.
50% Revenue Increase
"THE CEO WARRIOR TEAM IS THERE FOR US WHEN WE NEED THEM"
Since becoming members we have never been so excited about our business. There just aren't enough hours in the day to get things done. The feeling of belonging to a group of business owners that genuinely care about you and want to help you is AMAZING! Having the CEO Warrior Team there to guide you, encourage you and to help you every step of the way is PRICELESS! And also the challenge! The push to be more than you ever thought that you could be. To do what you never thought that you could do. LOVE IT! As Warriors we are Powerful, Unbeatable, Unstoppable and Energized. We have changed as business owners. I have as a woman in business. I've found strength that I never knew I had. I have grown in knowledge and the belief that I have in myself. I believe there isn't anything that we cannot accomplish. I am excited for our business, our clients, everyone that we serve and most importantly, OUR FAMILY. I can't imagine where I would be if I hadn't made the decision to come to a CEO Warrior Event.
In the past year, we have rebranded our company, had a 50% revenue increase and expanded our team. The CEO Warrior Team is there for us when we need them. They are part of our success and will do anything to help us succeed. To be able to pick up the phone and ask questions, to be there for others, just to have someone to share with…AMAZING!
Company Size & Earning Doubled
"CEO WARRIOR CHANGED MY BUSINESS & MY LIFE"
We had slow and steady growth over the previous two years. We were only focused on growing our company as an HVAC business. A $5 million a year sales figure was something that was at least 5 years away. We did not have a clear direction on what we needed to do to get next level. We did not have any systems and processes to scale our company and a horrible culture of lazy, complaining finger pointers.
From the first day of Service Business Edge we realized that we needed to be a part of the CEO Warrior Movement. Business is now booming. Our culture has changed dramatically. We have gone from being an HVAC company to heating, cooling, plumbing, electrical and house cleaning…and we are still adding trades. In one year we have gone from $1 million and 7 employees to $2 million in revenue and 16 employees.
As a member you have the ability to come back to SBE Events and that is amazing. I have attended 3 of them already and each time I learn something new. They constantly over deliver and it continues to impress me. CEO Warrior has not only changed my business, but it has changed my life.
IMPROVED COMMUNICATION & MOTIVATION
"YOU HAVE TO JOIN CEO WARRIOR"
Before CEO Warrior I thought that I had freedom, but I really didn't. I was afraid to grow due to the fact that I didn't know how to do it without any resources.
As a Warrior, I have access to the resources that I need. If I have a question I now have a Team of people that I can ask and if I don't grow I now understand that it is my fault. My team has become motivated and now see that if they work hard and we stay on course we are going to kill it. My communication with my team is better. My communication with my wife is better.
If you want to GROW and you don't know how to do it, YOU HAVE TO JOIN CEO WARRIOR!
Improved Management & Marketing Skills
"I AM NOW A CONFIDENT LEADER WITH A VISION"
My business was doing okay but I was not confident. I was not a good leader. We were getting things done but we lacked direction and it was becoming very stressful. I was a member of several organizations in the past and had a one on one business coach. I felt that the coach helped me, but I outgrew him and was no longer getting the value. I had been following Mike and CEO Warrior on social media and mailings that I was receiving and was very intrigued. That is when I decided to come to SBE.
Since becoming a Warrior I have a better management system, better personal life and I have hired a good team of people. I am no longer wasting money on inferior marketing. I have confidence knowing that the other Warriors and CEO Warrior Team has my back. If I am unable to figure something out I know there is someone that I can call to help. There are coaching calls twice a week and one on one coaching calls with the Master Advisors when needed.
I am now a confident leader with a vision. All my employees know this and believe in me. We have gone from $700,000 to over $1 million in less than one year and we have more employees on the team. We had a record year and will continue to build the business into an Empire.
Revenue increased from $1.89 million to $3.3 million
"WARRIOR IS A WAY OF LIFE"
Before I became a Warrior, I had just completed the purchase of my business. I had attended different courses and had different mentors but I felt like I was limited and gained the most I could from them. My business was growing but not at the rate I wanted. When I joined CEO Warrior in 2015, I was able to see what a thriving culture looked like. I began to model myself after Mike and Rob and that lifted everything up for our company. I became a better leader and improved culture tremendously. The relationship with my wife, the #1 person in my life is awesome. Since becoming a Warrior my revenue has increased from $1.89 million to $3.3 million. I enjoy the mindset shift that I have had since joining. This has lifted up all the areas of my life. I enjoy having similar "growth-minded" business owners to closely share with and receive input from. I enjoy having mentors who I can count on for great advice. This year we have had the biggest month on record and have been on pace for +30%.
Warrior is more a way of life and a journey. We all join thinking we know what we need and then we find out that it was something different. If you are going to commit to do what it takes, becoming comfortable with the uncomfortable than this is the group for you. I have been a member for over 4 years and I have seen personal growth, professional growth and I have not stopped learning. Mike and Rob actually achieved what most of us are striving for. They weren't part of the success, they engineered it.
Improved Leadership Abilities
"SURROUND YOURSELF WITH SUCCESSFUL PEOPLE"
We are a family-owned, full-service septic company which was founded by my father in 1955. We have experienced some years up and some years down but not any significant growth. We have a dedicated team although we have a culture created by default without any clear definition. There was a strained relationship between the crews and office staff.
I attended Service Business Edge in July 2018 with my new business partner and son Eric. When I walked through the door I was a defeated business owner trying to keep it together so that I could pass the business on to my son. After day one I was exhausted and not sure that I would make it another day. I returned for day 2 and never looked back as the value that we were receiving was priceless. The one thing that really pushed the needle was the straight-talking and "in your face" honesty from Mike, Rob and the Master Advisors.
Things changed for us immediately! In less than one year, we have become a company that is moving forward with a defined directive and a clearly defined path to become market dominators. I have seen the improvement in company culture with defined non-negotiables and clearly stated core values. I am revived and refreshed like I never thought possible. My son has grown in his leadership abilities and we now have a better understanding of our numbers then we have had in the past 63 years.
Learned better manage business
"THE TRAINING AT THE EVENT IS LITERALLY PRICELESS!"
I have spent years trying to find someone to help me learn how to manage my business. I constantly through money at the next big thing that I thought was going to finally make a difference in my business only to receive the same mediocre results or even worse, not getting any use out of the training. I was done trying harder and harder and pretty much settled into the feeling that I was destined to struggle to keep the business that I already had. Year after year I was not able to increase my calls and sales. I was tired and if I knew how to do anything else I would have quit. I knew that I had to surround myself in the CEO Warrior culture to finally make a change in my life and business.
The month after attending SBE was my highest grossing month in 3 years. We have increased sales 30% overall and finally broke an annual sales goal that I had set 3 years before.  After attending dozens of business building events and joining several groups, I have finally found an organization that is making a difference. If you are committed to business success this is the organization to be partnered with. The training at the events is literally, PRICELESS!
Increased profit by becoming more efficient
"CEO WARRIOR GIVES YOU LIFE"
My business was stuck! I didn't know the possibilities or how to achieve them. In 20 years my father never did more than $500k in one year. I bought the business 2 years ago. I knew that I wanted growth but didn't know how. I was struggling with revenue, employees and marketing. There wasn't any alignment and not much clarity. No hopes for a career or better future for anyone on my team. Just came to work every day, grinding it out, to make money. I realized that after one year of owning the company that nothing was going to change if I kept doing what my father had done and the only thing I know.
After attending my revenue went up INSTANTLY. The phrase that you don't know what you don't know comes to mind. I would implement things each time I heard and learned how other companies were operating. Initially my mind was expanding but that has led to business expansion. I needed to let go of people that were not on board with my vision. The biggest takeaway is that I would not have done any of these things without CEO Warrior. My people are now winners and not just people clocking in and out. I did more this year than I have done in years past. I hired, fired, trained and most importantly increased revenue profit by becoming more efficient and selling better. My revenue is up 44%.
CEO Warrior gives you life. It changes your mind and make you become the man or woman that you are meant to be. It's a place where only positivity exists which gives you clarity and a vision to help you grind out the tough times. If you are willing to work harder and willing to challenge your current way of thinking than you need to become a Warrior.
Revived a stagnant business
"IF YOU WANT TO GROW AS A BUSINESS AND AS A PERSON, YOU NEED TO JOIN!"
We were stagnant in our business. We knew that we wanted to grow and do greater things but we did not know what direction to turn in. We were trying to implement new processes and change our culture, but there was no accountability or time constraint. We did not have timelines or deadlines to move things forward or make changes happen faster. We did not know our numbers and have enough experienced employees.
We attended our first Warrior Event in 2018 and immediately felt the change. We implemented a lot of things and some employees are on board and one moved on because they were resistant to the change. There are so many other women Warriors who are doing exactly what my husband and I are doing and the fact that I have their support is unbelievable. It has put my husband and I on the same page in the business and brought us closer. It is not always easy but for us to be fighting for the same thing makes it worth it.
Don't hesitate and be ready to work your ass off! If you aren't one who wants to push and be okay with the uncomfortable, then CEO Warrior is not for you. If you want to grow as a business and as a person than you need to join.
Ready to grow your service business?
Click here to schedule a FREE strategy session with a growth advisor!
SCHEDULE NOW