Service business owners have a long list of to-dos to accomplish each day, and they work on these while facing a barrage of distractions.
No wonder some business owners think of running a business like juggling knives! You have to give 110% of your focus at all times, and missing even one knife can mean disaster!
At CEO Warrior, we push all our Warriors to a higher level, and give them tools, strategies, and inspiration to improve their focus, by focusing on the right things and removing the distractions.
Recently, our exclusive group of Warriors in the Warrior Circle was issued a challenge: a month-long focus challenge where Warriors would set targets and be tested to hone laser-like focus.
Targets were set. There were daily challenges and regular check-ins. Warriors prompted each other through encouragement and even friendly competitive banter. Regular updates were given in the Warrior Den, an exclusive online members-only dashboard.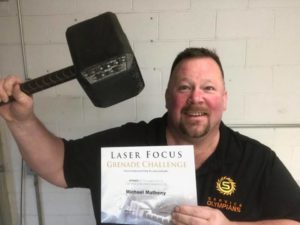 By the end of the month, based on a number of factors, we were proud to award Mike Matheny, owner of Service Olympians, with the coveted Warrior Grenade award for his active participation and proven progress in the Warrior Laser-Focus challenge.
The Warrior Grenade award is awarded each month to the winner of these month-long business-building challenges and competition is fierce among Warriors to participate for the much-sought-after award.
Mike Matheny proved that he had what it took to narrow his focus, to focus on the right things, to put aside the distractions, and to grow his business in measurable ways thanks to that focus.
The CEO Warrior team thanks all Warriors for proving yet again just how powerful they can become when they get laser focused! And, the CEO Warrior team also congratulates Mike Matheny for his tireless efforts to push himself farther than ever and achieve laser-like focus.
Laser Focus will change the game for you and your business. You'll immediately get more done and you'll be surprised at just how little those other "seemingly important" distractions are really inconsequential.
Want to learn laser focus? Here are 3 Warrior steps to get you moving forward…
Set a target for what you want to achieve in a day and review that target regularly throughout the day. When something requires your attention, decide whether it supports your target or distracts from it… and if it distracts from it, put it off until later!

Empower your team to take over some of the things that once distracted you. You do not have to be "the person with all the answers." Start directing people elsewhere for answers they are looking for.
Make sure you get a copy of my book The Secrets Of Business Mastery. It talks about focus and also gives you tools strategies to set better targets, to delegate more effectively, and to build a business that allows you to focus.