WHAT IF YOU HAD INSTANT ACCESS TO THE EXACT STRATEGIES, TOOLS, AND TRAININGS THAT TRANSFORMED A STRUGGLING COMPANY INTO A $30+ MILLION/YEAR COMPANY?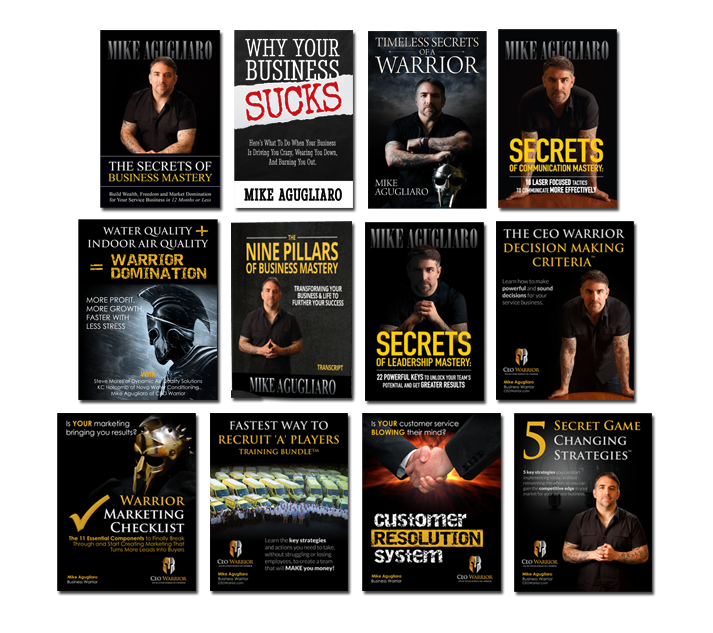 FINALLY! TAKE CONTROL OF YOUR BUSINESS AND DOMINATE YOUR MARKET TO MAKE MORE MONEY AND GET MORE FREE TIME
The CEO Warrior Super Bundle brings together the top strategies and tools and training that turned around a failing company and skyrocketed it to $30+ million a year. Get a robust suite of information, easy-to-use checklists, and online trainings that will help you master your business and make more money almost immediately.
Get Access to the Super Bundle >>
This is for you if…
You are a business owner who wants to grow.
Own a struggling business that you need to quickly take massive action to become profitable.
Or own a profitable business that you're ready to take to the next level, whether $1 million, $5 million, $10 million, or more.
Get Mike Agugliaro's bestselling book The Secrets of Business Mastery – and use it daily as a tool to help you build your business with powerful new strategies.
Instantly react to negative customer reviews and turn them around to become positive, powerful, and profitable assets.
Finally master your hiring to get a flood of A-players in your business (and at last build the company you want to build!)
Discover the powerful secrets behind Mike's unusual marketing strategy (it's different from the way most people do it but works better!)
Learn to become a better leader in your business with the proven tools, tactics, and strategies of a master.
Frustrated with your business? Get instant answers to the burning questions and problems that are overwhelming you.
You'll refer to each of these resources over and over again daily in your business.
HERE ARE ALL THE MONEY-MAKING, TIME-SAVING, BUSINESS GROWING BOOKS AND SYSTEMS INSIDE THE SUPER BUNDLE…
Each one of the field-tested resources is still in use today and directly contributes to the continued growth of Mike Agugliaro's multi-million-dollar business.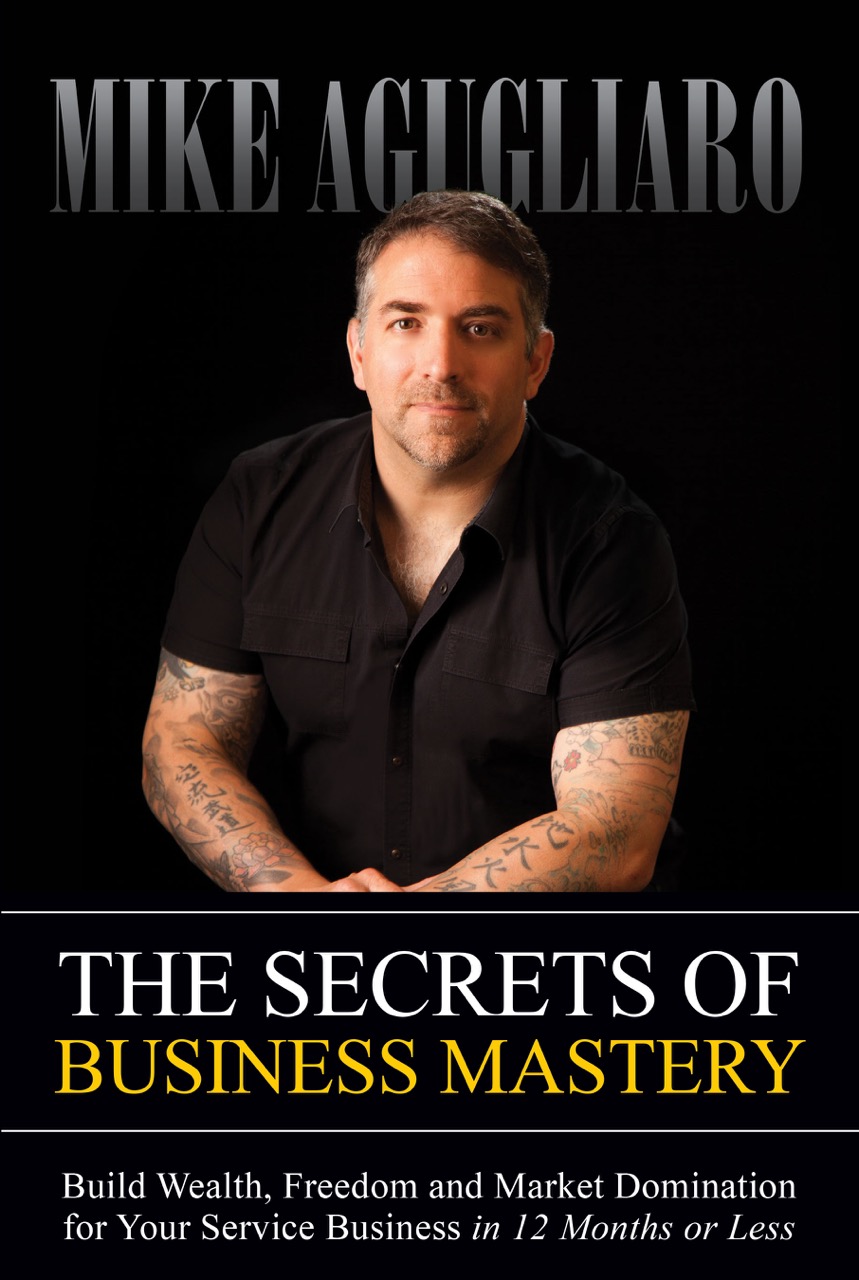 book #1
Mike's very popular The Secrets Of Business Mastery reveals the top strategies to get more wealth, freedom, and market domination in 12 months or less.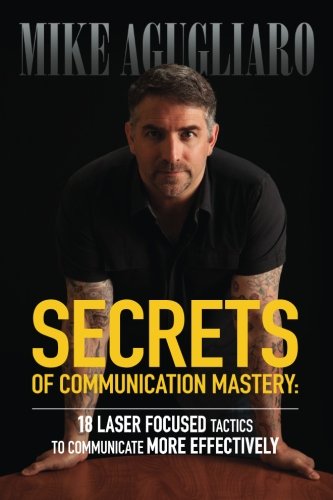 book
#2
Secrets of Communication Mastery, learn the art of communicating more effectively with your team and your customers.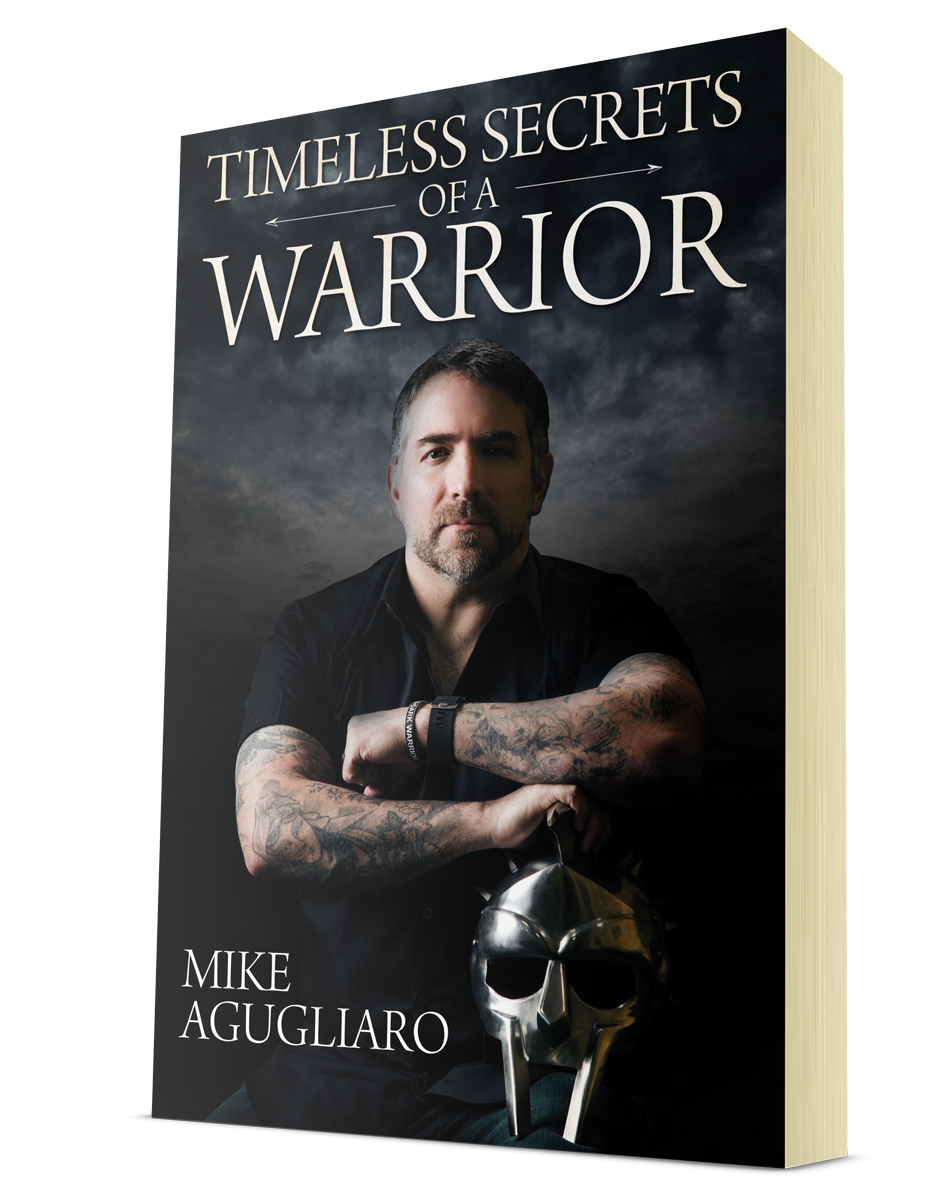 Book #3
Timeless Secrets of A Warrior, which teaches the strategies of the Business Warrior.
Book #4
Why Your Business Sucks – a "no holds barred" look at the top strategies businesses use to rapidly turn themselves around when they're struggling.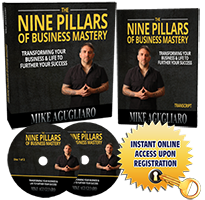 book #5
The Nine Pillars of Business Mastery Program, unlock the secrets to hidden wealth and market domination.
​
system #1
Fastest Way To Recruit A-Players – finally crack the code to recruit the best people onto your team so you can finally grow.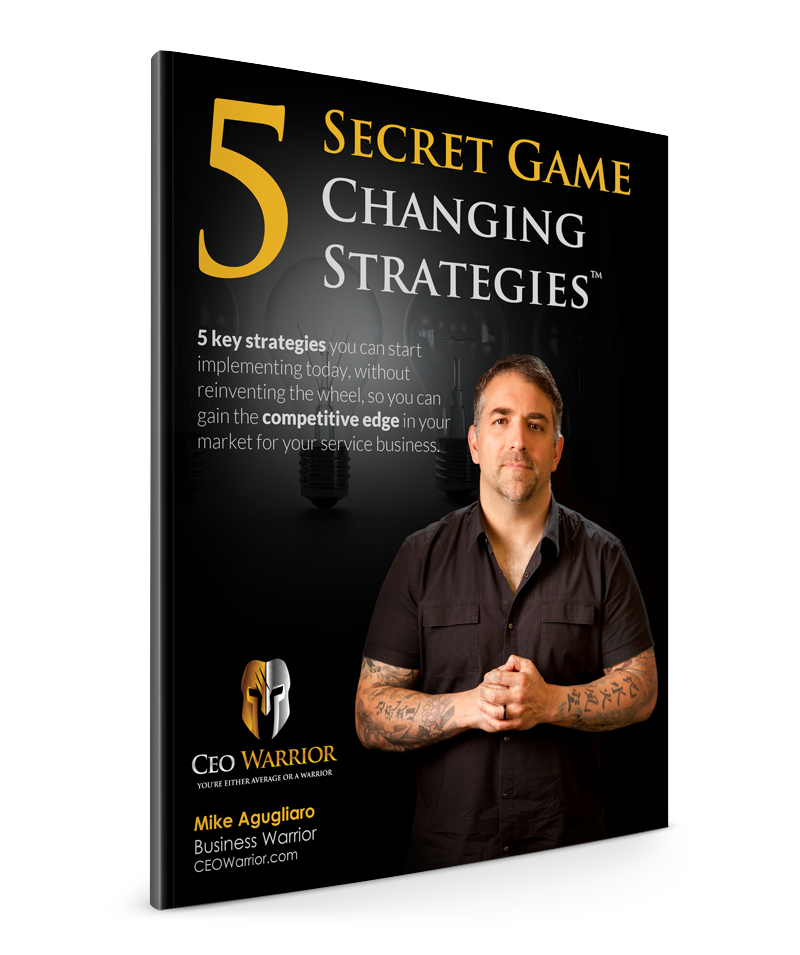 system #2
5 Secret Strategies – learn 5 powerful strategies to take control of your business for more wealth, freedom, and market domination.
system #3
Marketing Checklist – use the same checklist that Mike's team uses daily to create powerful, effective marketing.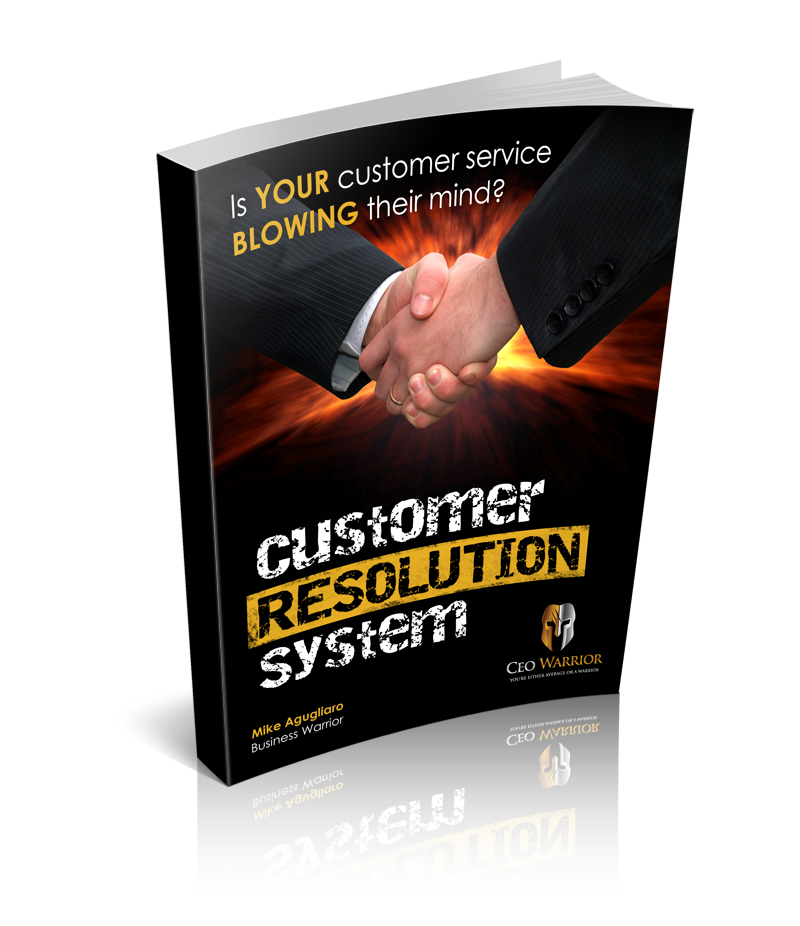 SYSTEM #4
Customer Resolution System – stop worrying about customer feedback and take control of any problem customers to turn them into happy, repeat customers.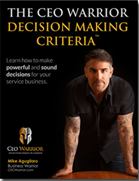 SYSTEM #5
Decision-Making Formula – never be stopped in your tracks by a decision again. Find out how to quickly make the best decisions.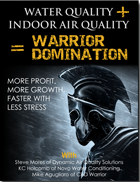 SYSTEM #6
Air + Water = Market Domination. Unlock Mike's powerful secret to market domination with two amazing strategies.
plus we'll include the 9 pillars program
Mike Agugliaro spent the first decade of his business barely breaking even. Then he created a 9-step formula to unlock massive growth and build an empire that now makes more than $30+ million each year… and now he uses the same 9-step formula to help business owners and professionals generate untold wealth and freedom.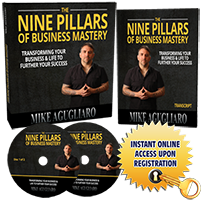 PLUS WE ARE INCLUDING SOME WORKSHOPS AND TRAININGS….
training #1 – 5 secret game changing strategies
This video training will help you achieve more wealth, freedom and market domination in your service industry.
training #2 – air + water = market domination
This online training with Mike Agugliaro plus Steve More of Dynamic Air plus KC Holcombe of Novo Water as they share their powerful strategies to get more profits, grow faster with less stress.
training #3 – HOW TO BE A MODERN DAY CEO WARRIOR
Run your business, don't let it run you. Discover how to step it up as a Warrior and play full out in business and in life.
workshop #1 – warrior impact day with joe williams
Learn from Mike and Joe Williams about how to out-lead, out-speak and out-expert your competition.
Get Instant Access To The Super Bundle Now!
Finally get the exact strategies, tools, and trainings that turned around one company into a $30+ million/year company. Use them in your business to transform your company today…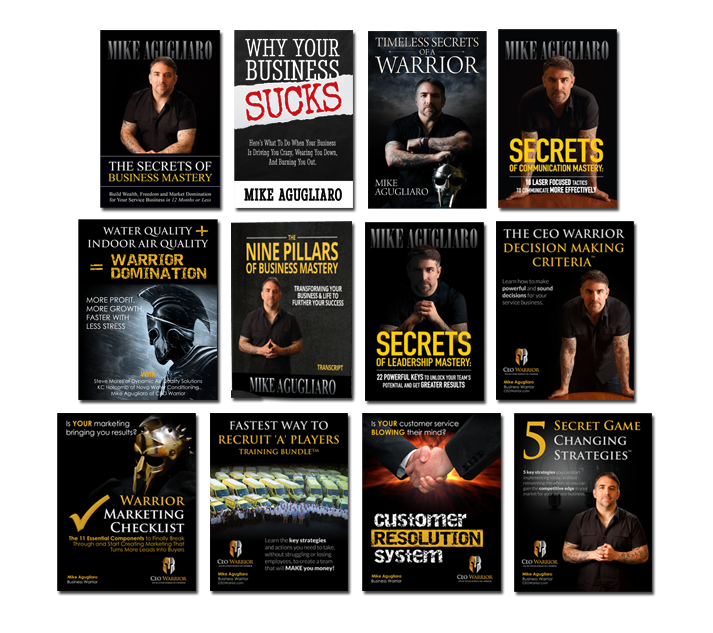 Yes, I want the exact strategies to grow my business now >>
On the secrets of business mastery
As the son of an owner, I have immense pressure to achieve something I honestly have no idea how to accomplish. I've felt for sometime that there are many things that we are doing wrong- that we've been doing for 40+ years. This book proved that I was right. We're missing things. Poor management will lead to where we're at now- my 66 year old father and my self running 12-13 hour days trying to catch our own tail. If you're in the same boat- get this book.
Robert Shiver
on the secrets of leadership mastery
Great Book, all the info you need to become the leader you were meant to be. Boom!!!
Talbot Watkins
Get Instant Access To The Super Bundle Now!
Finally get the exact strategies, tools, and trainings that turned around one company into a $30+ million/year company. Use them in your business to transform your company today…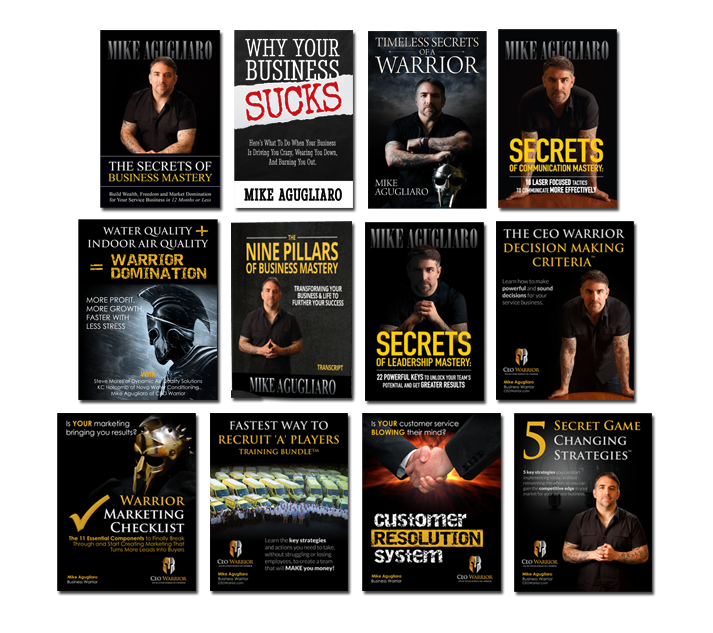 Yes, I want the exact strategies to grow my business now >>