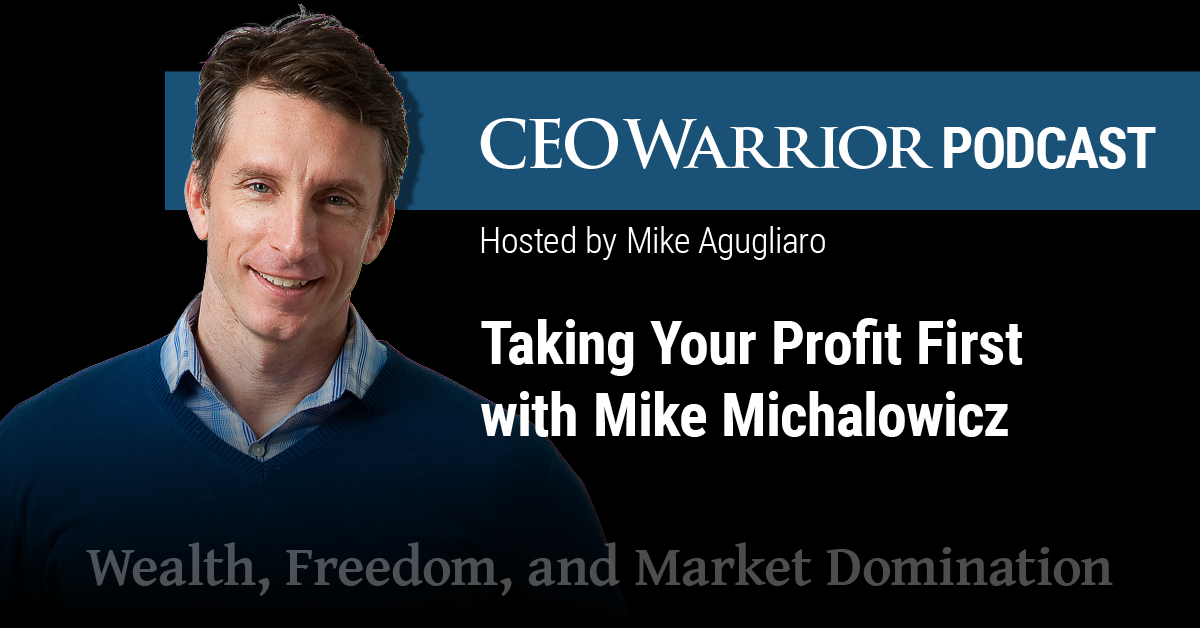 By his 35th birthday, MIKE MICHALOWICZ (pronounced mi-'kal-o-wits) had founded and sold two multi-million dollar companies. Confident that he had the formula to success, he became an angel investor…and proceeded to lose his entire fortune.
Then he started all over again, driven to find better ways to grow healthy, strong companies. Among other innovative strategies, Mike created the "Profit First Formula", a way for businesses to ensure profitability from their very next deposit forward.
Main Questions Asked:
Give us some insight into profit.
Tell us about the hope method.
What's your favorite piece of the pumpkin plan?
Tell us about Clockwork.
Key Lessons Learned:
Profit First
The fundamental flaw business owners make is they try to comply with what the experts say instead of channelling their natural behaviour.
Profit First is a bank based accounting system.
By setting up multiple accounts with different names, you know the allocated use of that money before you spend it, therefore you spend money more wisely.
Don't change you, capture who you are and use that to push your business forward.
Business Owner Mindset
Our parents tried to help us from their narrow perspective but we were not taught how to manage money or use it well in general.
The biggest element of success is to leverage who you already are. People resonate with authenticity.
You can become wildly successful by exploiting differences.
Taking your profit first is the infusion you need to sustain profitability in your business.
You don't have to implement the full system, you can see radical changes in your business by starting very slowly.
It's not just about growing a business, it's about growing a profitable business.
Cherish the pennies. The discipline of small wins leads to massive wins down the road.
Our lack of resources is what makes us innovative and a challenger.
Pumpkin Plan
Steve Jobs had a phobia of buttons when he was younger, instead of feeling ashamed of it he decided that was what made him different.
Better is not better, different is better.
How are you personally different and how can your business amplify your difference?
A lot of people are looking for a service business that speaks to them. The want the service but they want to work with someone different more than anything else.
Putting something in a new, fresh format is what people are looking for.
Clockwork
Designing a business that runs itself is the ultimate level of business.
There are three levels of business, the first level is cash, the second level is the recovery of time, the highest level is about meaning and impact.
The day you decide to no longer have an office is a massive step towards becoming independent. You have to be able to delegate before you can design.
Most business owners need little more than a backpack with a laptop in it. If your presence as a leader is always with your team, you don't need to physically be there.
Links To Resources Mentioned
Thank you for listening! If you enjoyed this podcast, please subscribe and leave a 5-star rating and review in iTunes!