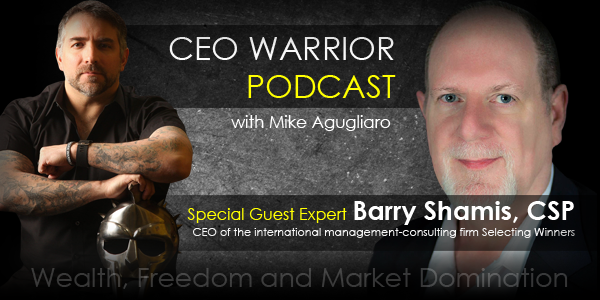 Summary:
In this week's episode of The Secrets of Business Mastery Podcast Mike Agugliaro interviews Barry Shamis who is the CEO of the international management consulting firm Selecting Winners. Barry is also the founder and managing director of the Institute of Executive Selections. He sits on the board of directors of six companies, all of which are dedicated to helping companies hire better people, build winning teams, and improve retention. Barry has worked with hundreds of companies and coached thousands of executives and business owners on the subject of attracting, selecting, and keeping top performers. During this episode Mike and Barry discuss issues with recruiting, hiring, and retaining employees.
Main Questions Asked:
What are the problems when it comes to recruiting, hiring, and keeping employees?
Do business owners know how to identify what type of employees they are looking for?
What is the A to Z formula of recruiting?
Do a lot of employers have limiting beliefs when it comes to recruitment?
How to you retain employees?
Continue reading "Learn how to hire better people, build winning teams, and improve retention with Barry Shamis."