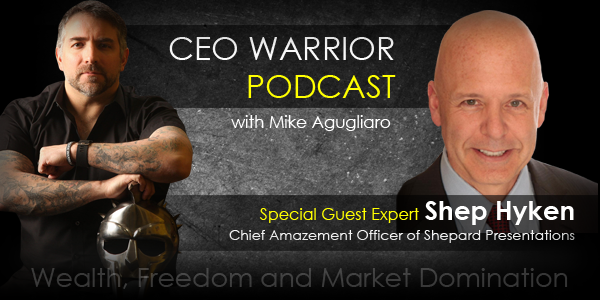 Summary: 
In this week's episode of The CEO Warrior Podcast, Mike Agugliaro interviews Shep Hyken, who is a customer experience expert and the Chief Amazement Officer at Shepherd Presentations. Shep is a New York Times and Wall Street Journal best selling author and has been inducted into the National Speakers Association Hall of Fame for Lifetime Achievement in the Speaking Profession. He works with companies and organizations that want to build loyal relationships with their customers and employees. During this episode, Mike and Shep discuss where we stand as a culture when it comes to customer service, benchmarking with competition, millennials and the self-service revolution, customer service measurement, social customer service, and creating service awareness. 
Main Questions Asked: 
Where do we stand as a culture with customer service?
Is it good or bad that customers are comparing you to unrelated businesses?
Do businesses try to apply customer service techniques that don't fit their company at the right time?
Has the speed made it harder to service people faster?
How can someone get started?
How has the internet changed dealing with customer satisfaction?
How do you keep customer service alive?
Is there a point when you are done?
Will customer service be tougher with millennials?
What is the future of customer service?
What do we need to avoid when it comes to customer service?
Continue reading "Building loyal relationships with your customers and employees with Shep Hyken."