Mike's Speaking Engagements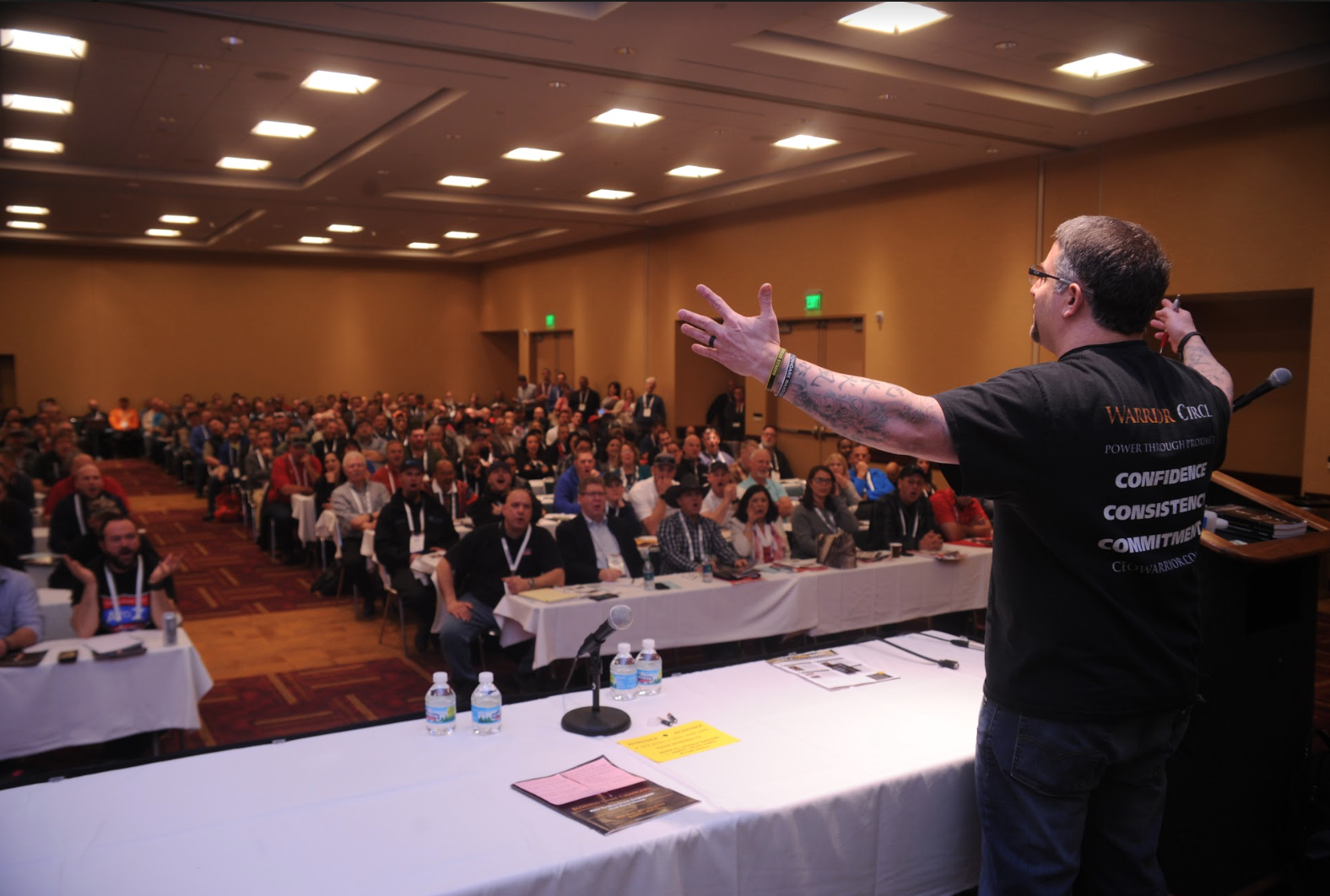 Mike speaks publicly at his own events of course (such as Service Business Edge and CEO Warrior Member Events), but Mike is also a talented keynote speaker for numerous events, plus he hosts webinars and seminars for a number of industry organizations, businesses, and associations. Bookmark this page to stay on top of where Mike is speaking next!
Upcoming Events:
IE3 SHOW – February 13th
Date: Monday, February 12th to Wednesday, February 14th, 2018
Booth: 234
Mike will be speaking at booth 234  – 3 different topics at 3 different times
11 am – 12 pm
How To Build A Recruiting "Magnet": Discover The Proven Secrets To Attract, Hire, And Retain The Best Employees On The Planet
DESCRIPTION:
Are your recruiting and hiring strategies a little stale? Are they bringing in less-than-ideal employees? Imagine if you had a super magnet that you could just hold up in the air… and every time you did, the very best employees would come running to work at YOUR company? This 1-hour session is jam-packed with the proven strategies to turn your stale, less-than-effective recruiting strategies around so you can finally start attracting a flood of the very best employees to your company. Apply these strategies and you'll finally build the team you've dreamed of!
[1:30]-2:30pm
Lead Your Company Like A Modern-Day Spartan: Here's The 7 -Step Plan To Take Your Culture And Company To The Next Level
DESCRIPTION:
Your company's culture, growth, and profit are essential… but there's one thing that can make them better or totally destroy them-your leadership! Problem is, today's work environment is more confusing and distracting than ever. Even worse, a lot of the leadership skills and strategies you've learned in the past are outdated and just don't work in a modern company. In this 1-hour session, Mike will reveal exactly what most leaders fail to do today, why this failure is the number one reason why great employees leave you, and how to avoid it so that you create a strong culture in a growing, profitable company.
[3:30]-4:30pm:
Q&A With Legends Of The Industry
DESCRIPTION:
Ever wanted to pick the brains of industry legends? Ever had questions you've always wanted to know about the secrets of how to grow a company from scratch into a massive empire? (Imagine being able to ask Warren Buffett questions about how to build wealth.) Now's your chance to ask the questions you've always wanted to ask and get the REAL (no BS) answers from owners who started a company from scratch and built it to generate over $200 million in the last 10 years. Mike Agugliaro, Rob Zadotti, and Mike Disney are the "Warren Buffetts" of the home service industry. They founded, ran, built, and exited one of the largest service companies today. Ask the questions you've always wanted to know AND get actionable plans that you can execute on in your business.
Where: Gaylord National Resort & Convention Center, Washington D.C.
To Register: CLICK HERE
WWETT – WE19, You're Hiring All Wrong
Date: Wednesday, February 21st, 2018
Time: 10:00 am – 11:30 am EST
Length: 90 minutes
Where: Indiana Convention Center, Indianapolis, IN
To Register: CLICK HERE
WWETT – WE29, How To Motivate Your Employees And Get Your Team On The Same Side
Date: Wednesday, February 21st, 2018
Time: 1:00 pm – 2:30 pm EST
Length: 90 minutes
Where: Indiana Convention Center, Indianapolis, IN
To Register: CLICK HERE
WHAT THEY ARE SAYING…
Ethan Bruer now has the tools to create his own outcomes:
The session with Mike seemed to invigorate the entire staff and the building seems to have been buzzing since. I have seen an already great company grow into something even greater since we sat with Mike. I have been able to implement strategies for creating, tracking, and qualifying my goals not only professionally, but also personally. I now have the tools at hand to create my own outcomes. Mike is intensely inspirational and no matter where you are in your business or in your personal life you will draw great benefits from an opportunity to participate in his sessions.
Benjamin Barreto is now more driven than ever:
Mike was eye opening, inspiring, and motivating. After just a few hours with Mike I was more driven than ever! He showed me what it's like to truly have a goal in mind and what it takes to reach it. I learned to never give up at any cost, be fearless, and never stop working towards reaching my goals. I am now more passionate and motivated than ever! Not only in my work, but with life in general. Just a short time with Mike will change your life for the better!
Adrianna McLean now has the tools to make positive changes:
Meeting with Mike is such a breath of fresh air. Listening to his strategies, engaging in his conversations and learning about his business all spark introspection, giving you the tools to make positive changes that will set you up for success, both in your business and personal life. You'll learn to take charge of what is important and give 100% more of yourself than you gave before.
Mandy Crain sees clearly who she will grow to be:
You know what fires me up but at the same time keeps me going? All the feedback I get from people regarding my work and its impact on their life. If Mike Agugliaro has taught me one thing it is to take everyone's feed back and anything negative that has happen in my life and use that as a fuel to keep me pushing forward and be the best I know I can be. Never let anything stop me from getting where I need and want to be. He really has a way of re-shaping your way of thinking and accurately understand your abilities and strengths. He also understands his audience because he was once in our shoes. It is that appeal that he that has that directly impacts his listener's interests and will motivate them to be the leader or become whatever they are striving to be. He explained why taking control of your life is important and necessary to be the successful leader that you know will be one day. He drives on the appeal of your emotions or sense of justice. It is very easy to turn in to a consume-it-all monster and mindlessly read, watch and listen to every single thing the internet has to provide, but he really goes in to the underlining meaning on how to actually take that knowledge and put it in to action. It was through his words I saw clearly who I know I will grow to be.