Service business owners: Are you running your business? Or are you running on empty?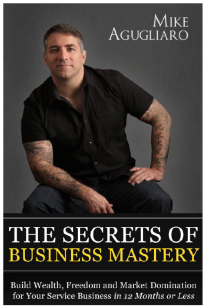 Many service business owners are shocked to discover that running a service business can be an exhausting, expensive struggle. But it doesn't have to be. You don't have to sacrifice your money, your health, and your time with family.
In The Secrets of Business Mastery, Business Warrior Mike Agugliaro reveals how you can take charge of your business, dominate your market, and achieve the kind of dramatic results that you've only dreamed of.
We are gifting you a copy of this book!
Enter your name, email and address below and we'll send that out!