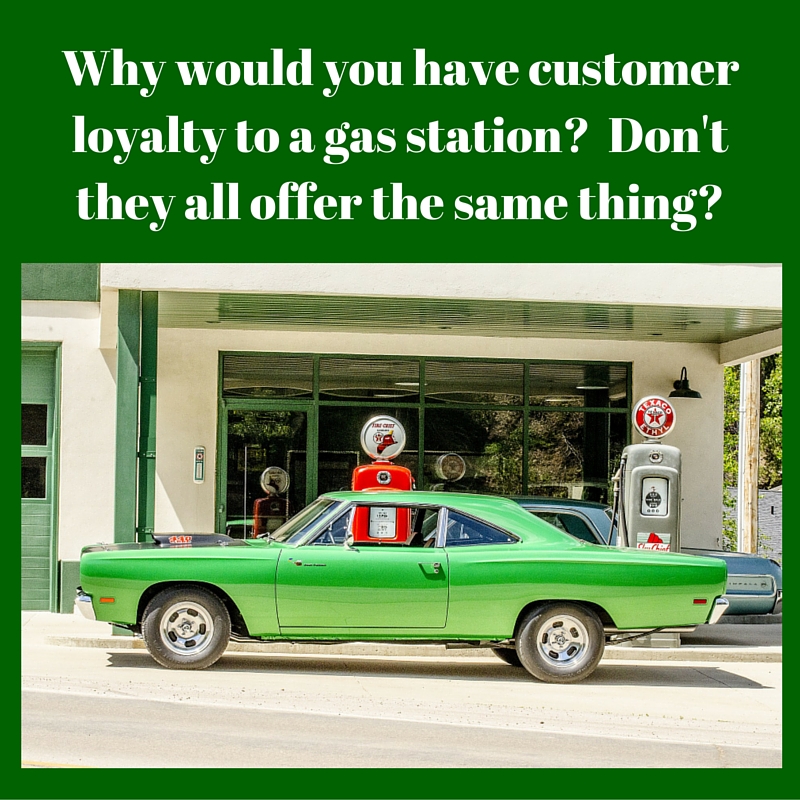 High customer loyalty is one of the highest targets for service businesses. After all, loyal customers call again, they happily pay on time, they refer their family and friends. Loyal customers are the most profitable because they are repeat business without the cost of marketing.
Service business owners want customer loyalty… so why aren't they getting it? This question baffles service business owners who say, "I give good service, so why don't customers give me their loyalty?"
Well, let's step outside of the service industry and go to a totally different industry. The reason I'm doing this is: it's sometimes harder to see the truth when we're so close but when we look elsewhere, the truth can be revealing.
So consider this: do you have any loyalty to a gas station? Almost no one does. Every gas station charges basically the same price and delivers exactly the same thing. You might stop at one based purely on convenience (it's on the way to work) but convenience is the ONLY draw. And chances are, you completely forget about your refuelling experience moments after you leave.
You got the same product for the same price that you'd get anywhere else, and you immediately forget about it right after you left… even if the gas station attendant was nice, filled up your car exactly as you asked, and charged you the price on the gas pump.
This happens for a couple of reasons:
• Product: The product is exactly the same as you'd get anywhere else.
• Price: The price doesn't seem different to you than anywhere else.
• Service: The employee delivered exactly what you'd expect – fast, efficient, professional service.
The only reason you bought was for convenience… and you truthfully could have bought anywhere else and had the exact same experience.
This same situation is going on in the service industry right now… and if you don't have loyal customers then the same situation is going on in YOUR business right now.
Just like what you experienced as a customer of the gas station:
• Product: your customers can't tell your "product" apart from your competitors… to them, one service is the same as the next.
• Price: your customer can't discern any clear difference in price, either.
• Service: when your employees show up and fix whatever the problem is, that employee delivered fast, efficient professional service… exactly what the customer expected and deserved.
The only reason they bought from you may have been because they saw your flyer or your phone book ad – purely convenience.
If you want to gain customer loyalty, you have to break that pattern by changing up your "product" (that is, the services you provide), your price, or your service. The easiest, fastest, most affordable, and most profitable of those three things to change is your service: step your service up to the "WOW" level and make your business stand out. Then you'll have customer loyalty… you just have to deliver truly amazing levels of service.
P.S. – Have you seen the latest Podcast and subscribed to get weekly emails so you don't miss out?

P.S.S. – Dustin Briggs says Mike is going to change your entire Mindset!