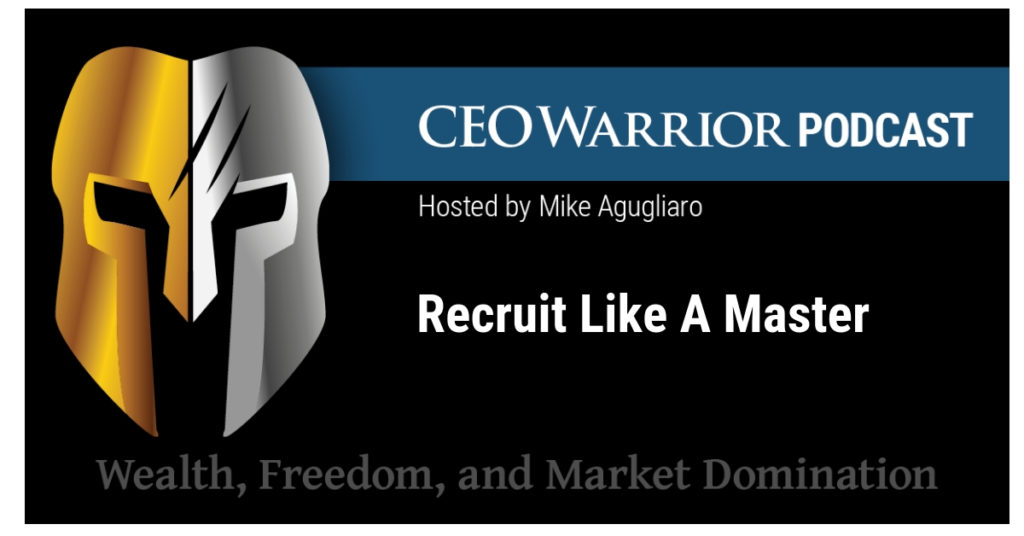 Learn how to recruit like a master. Discover recruiting strategies you can use to find productive new employees from day 1, onboard new employees with automated processes that gets them on the job on day one! See how you can understand if employees are performing and if they need improvement while keeping everyone productive. Learn how developing your staff improves employee morale, increases retention and produces productive teams and more.
Key Lessons Learned:
Recruiting The Best People
The right person, doing the right things, in the right place, with the right culture and the right systems makes it easy to run a growing business.
You are either training your employees and your customers, or they are training you.
It's easy to find great people, it takes energy and effort to maintain great people. If you keep hiring great people and they keep leaving, hiring isn't your problem. You have to solve the problem first.
The first step to solving anything is clarity.
Do your employees feel driven to succeed like you do?
To have the company you want, you have to use the tools and strategies that the greatest companies use.
How much does it cost you to have bad employees? Bad hires happen from bad processes and bad systems. A lot of times your employees fail you because you allow it to happen.
What are you going to start doing, stop doing, and keep doing?
Recruiting and hiring is a function of one thing, marketing. It's about becoming magnetic to the right people.
Similar to customers, you have to identify your employee avatar and know exactly who they are. Know how to talk to them and know how to deliver.
Growth opportunity is the number one recruiting strategies. The little things like paid birthdays and tool allowances are more effective than 401k's at this point.
By 2020, 75% of the industry will be Millennials. They expect constant information and constant contact as well as feedback.
The number one reason people leave their company in the industry is they don't feel like they don't have a voice in that company.
Add what's important to the job seekers you want to attract and add it to your job posting. Figure out what makes you unique and communicate that.
Your copy for your job posting should be written by a copywriter, it should use emotional language that moves people closer to you.
Survey your culture for information that you can leverage for recruiting.
A vision for the future is the number one magnet for attracting people to your business. Strong leaders are who people want to work for.
Residual income programs are one of the best ways to retain excellent people.
BirdDogHR
BirdDog is a multilevel resource that is easily adjusted and configurable to attract the right people.
If you fish with the right bait, you will catch the right fish.
BirdDog will work anywhere that someone can access their smartphone.
It better be easy to apply, because people are applying to 10 job posts at a time.
You should always be recruiting, you can't be held hostage by underperformers.
When you recruit all the time, you start to build a hot list of people who are ready to make the switch as soon as the opportunity comes up. Stay in front of prospective employees and stay on top of their mind, the time may not be right now but in six months to a year the timing may be perfect.
The person who serves great employees the best becomes the magnet.
Work your referral network, let people know you're hiring.
Links To Resources Mentioned
Thank you for listening! If you enjoyed this podcast, please subscribe and leave a 5-star rating and review in iTunes!