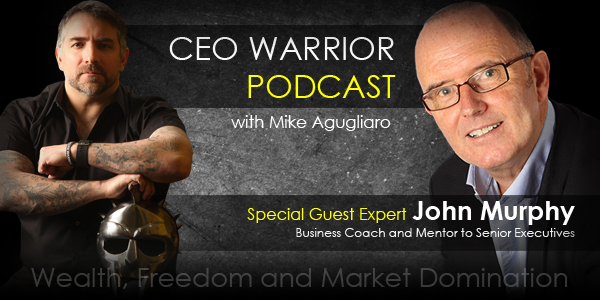 Summary:
In this week's episode of The CEO Warrior Podcast, Mike Agugliaro interviews John Murphy, who is a results-orientated business coach and mentor to senior executives and CEOs. He's worked with State Street Bank and Pfizer, and set up his own consultancy to focus on helping and consulting with executives and teams to deliver to their optimum. During the show, Mike and John talk about coaching and developing teams as well as emotional intelligence.
Main Questions Asked:
What are some of the problems you've seen with teams?
What have those problems caused in businesses?
What are 3-5 things we can implement into our businesses to help build trust within an organization?
Give us some steps on going about getting the mission accomplished. How do we identify and build it?
Are there deeper things we have to do with our team to get them on board?
Tell us about emotional intelligence. How does it play a part in business and teams?
Give us action steps as business owners to improve emotional intelligence.
Key Lessons Learned:
Teams by nature are dysfunctional.
When selecting your team, it is important to get the right people on board.
Recognize and understand that politics exist within every organization, and figure out how you are going to manage that.
There needs to be clear communication within the team and an opportunity for people to challenge each other in a way that is not personal.
Create an atmosphere within a team where people are held accountable.
Problems Within Teams
Personal conflict issues.
Lack of alignment in terms of goals.
People often end up focused on delivering their own individual objectives.
Building Trust
The foundation of any good team is trust.
Get the team on the same page in regards to the vision, mission, and values.
Create an atmosphere and environment whereby the appropriate thing to do is share your views and challenge each other.
Teams that get used to challenging each other make progress and get things done quicker.
Clarity – what is everyone's role, and what are the expectations?
The leader has to walk the talk, and be the epitome of standards and way of behavior in the business.
Vision, Mission, Purpose & Values
Vision is about where you want to be; what kind of business you are building.
Mission is the 'why' and asking, 'What is the purpose of the business?'
The mission is what the 'purpose' is.
What is the purpose, and what do you want the business to contribute to the people you are going to work with, society, or your community.
Getting the Team On Board
When recruiting people, think about how they will fit together in the group and work together.
Putting a team together isn't always about hiring the smartest and most skilled people.
Highlight what has and hasn't gone well for the team, and you will discover how the team working together is getting the way they achieve success.
The more conversations you have about how the team is working together, the more ability the team has to openly challenge each other.
The reasons teams fail is that they overcomplicate the simple questions and actions.
Emotional Intelligence
This is a huge snapshot of ourselves, how we are likely to behave, come across to others.
Emotional intelligence involves knowing the following:

Understanding yourself.
How to deal with your own emotions.
How to understand your own emotions.
How you manage and perceive the emotions of others.
Understanding the impact your emptions have on other people.
Your happiness, adaptability, and the ability to manage stress.
Emotional Intelligence and Management
If you are hiring and looking at the ration of IQ and emotional intelligence, the split should be 80% emotional intelligence to 20% IQ.
Emotional intelligence is the differentiator of whether you progress or not.
If a manager doesn't understand his or her own emotions, then he or she will be oblivious to how they impact other people.
You can't influence somebody unless you are going to engage them on an emotional level.
You will grow as a leader in direct proportion to your level of emotional intelligence.
Improving Emotional Intelligence
Ask people around you for feedback on how you behave and interact with others. "What is it in the way we interact with each other that gets in the way?'
Once you have feedback, it is important to decide what you are going to do with that information.
Thank you for listening! If you enjoyed this podcast, please subscribe and leave a 5 star rating and review in iTunes!
Links to Resources Mentioned
john@johnmurphyinternational.com
mikea.ceowarrior@gmail.com
Click to Tweet
What are the secrets to developing your team? Find out w/ @jmicoaching & @Service_Key https://secretsofbusinessmastery.com/  
How can you improve your emotional intelligence? Find out w/ @jmicoaching & @Service_Key https://secretsofbusinessmastery.com/