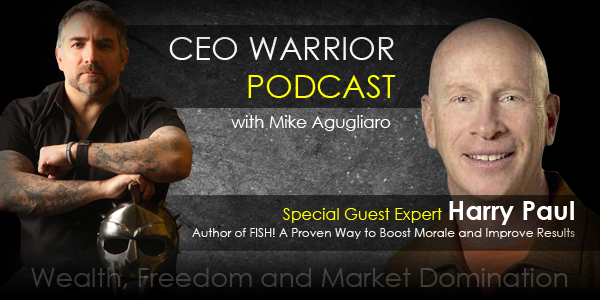 In this week's episode of The CEO Warrior Podcast, Mike Agugliaro interviews Harry Paul, who is a motivational speaker and the author of seven world renown books and co-author of Fish!; A Proven Way to Boost Morale and Improve Results. During the show, Mike and Harry discuss the fish philosophy, creative culture, and how it helps drive results and deliver amazing customer experiences.
Main Questions Asked:
Talk about the business culture and what it involves.
What are the roadblocks of business culture?
How do you help people understand the importance of business culture within a company?
Give us examples of great companies and things you've heard of their culture.
What are the first action steps someone can take to fix a company's culture?
How do you maintain the culture?
What are your thoughts on having a Culture Manager?
What are some tips when it comes to new employees and culture?
Key Lessons Learned:
What is Business Culture?
Every company has a culture, and you are either moving towards excellence or being average.
Culture is what you project to the world and what is and isn't acceptable within an environment.
Every person within an organization makes up culture. It can be corporate and individual.
In order to identify culture, start asking people what is acceptable within the organization.
What happens when a customer crosses the threshold is part of the culture. Pay attention to how they are greeted and treated.
5 Behaviors of A Culture of Excellence
As an organization, it is important to understand what the behaviors are that employees need to bring to work every day.
If you miss any of the following, you are moving away from excellence and towards being average:
Passion: For what you do and for life.
Ongoing learning: Technical and personal skills.
Flexibility: Having the competence to do something differently.
Communication: People don't listen to understand; they listen to reply. Communication isn't what we say but rather what we are listening to.
Ownership: Take responsibility, and if you see something that's not right, then make it right.
The Fish Philosophy 
Be better, faster, and different to the competition.
It's not about throwing the fish but making it your own and allowing play to happen.
Bring your core values, core purpose, and brand promise into your office in a way that is fun and empowering.
'Play' must me part of the work process and not 'instead of.'
Choose your attitude
Management has to help people understand the product behind the product and what the employees really do.
Ensure people know their role and how important it is within the entire process of the company.
Be Present
Understand why you go to work.
Make sure everyone understands the vision and mission of the organization.
The Threshold
Know how to treat people when they cross the business threshold.
Fun
Take yourself less seriously and add fun to the workplace. This brings in energy to the work process.
Look for ways to instill fun into the workplace.
Keep everyone included and keep it fresh.
Maintaining a Company Culture
Whatever you were doing in the past that made you successful won't work in the future.
Look at doing things differently all the time and assess what is and isn't working.
If a company is large enough to afford a Culture Manager, then this is a great option.
A Culture Manager isn't about being a morale officer, but is someone to observe the daily functioning.
New Employees
If you can identify, understand, and explain your culture, then it's important to address whether new hires can live in your culture and enhance it.
Match technical skills to the jobs and make sure they have the competency to do it correctly.
How does a new employee fit in with the culture? Are they outsiders or individual contributors?
While an employee is on probation look at whether they are able to enhance the culture.
Ensure to get a lot of feedback from coworkers and team members as they are the ones seeing and working with the new employee every day. Let them be part of the decision making process.
Trust & Gratitude
It takes a long time to build trust but a small event to tear it down.
People want to be treated nicely, but you need to make it easy for people to be nice to you too.
Don't get caught up in technology, and instead choose to leave a trail of gratitude.
We all have a need for immediate gratification, so don't be afraid to recognize an employee of the moment.
John's Advice
Put yourself in the customer's shoes.
Customers want a good service, a good product, and to feel special to your organization.
Each interaction should leave the customer saying, "Wow, I like working with you."
When you appreciate the customer, your product is always better.
The product you provide is the physical, but the feeling you give customers is the emotion.
Emotion trumps physical every time.
Thank you for listening! If you enjoyed this podcast, please subscribe and leave a 5 star rating and review in iTunes!
Links to Resources Mentioned
Fish! A Proven Way to Boost Morale and Improve Results 
Click to Tweet
What are the 5 behaviors of a culture of excellence? Find out w/ @harrypaul @Service_Key https://secretsofbusinessmastery.com/  
What are roadblocks to business culture? Find out w/ @harrypaul @Service_Key https://secretsofbusinessmastery.com/