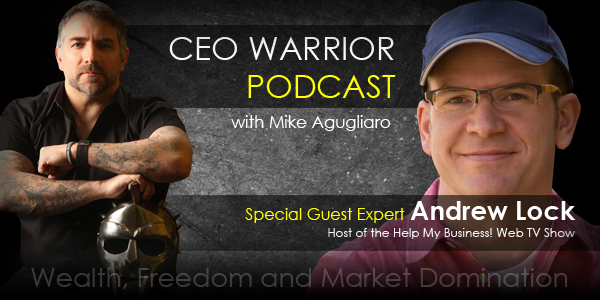 In this week's episode of The CEO Warrior Podcast, Podcast Mike Agugliaro interviews Andrew Lock, who has authored seven bestselling business books and is best known for his web TV show Help My Business. Andrew is a leading expert in helping small business owners build a better business through unconventional marketing methods. During the show, Mike and Andrew discuss unconventional marketing, how to get noticed in a unique way, and what we can learn from the Disney experience.
Main Questions Asked:
What are the pros and cons of a web TV show and podcast?
Talk about what unconventional marketing is and the power of it.
How can we make our businesses different from others?
What can we consider when it comes to educational marketing strategies?
What are the biggest lessons you've learned over the years?
Key Lessons Learned:
Podcasts & Video
Most people gravitate toward podcasts because it's easier to produce, edit, and distribute than video.
Video has an extra level of dimension and engagement which has a higher barrier to entry.
It's much better to do a podcast than nothing at all. Get your content out there.
Unconventional Marketing
Everything is marketing, and marketing is everything.
Marketing is everything you do in your business that affects the way the customer views you, your products, and services.
Without marketing, you won't have a business.
If the person who answers the phone isn't 100% on their game, then that negatively affects the customer on the phone. This is marketing.
If when the product arrives in a box and smells of cigarette smoke, that will also negatively effect the customer. This is marketing.
Copycat Marketing
There is a lot of copycat marketing happening as many businesses assume that, because a company is larger than them, their marketing must be correct.
The problem with the 'lemmings approach' is not knowing whether it has been successful.
If you don't have marketing and the ability to build a business that is sustainable, then what is the point?
Strategies For Unconventional Marketing
Most people don't like to be sold to but love to buy. This is a fundamental of human nature.
How do we transition from being someone who has to continually promote what we sell to customers coming to us wanting to buy?
Write a Book
The most effective way to accomplish this is to position yourself as an expert in business.
Authoring a book is an easy way to position yourself as the expert behind the business.
Andrew suggests writing the definitive guide to your industry and offering it to the customer. This repositions you as someone who is helping customers rather than just selling.
Writing a book also elevates you in the eyes of the customer and provides somewhat of a celebrity status.
An easy way to get your book written is to have someone interview you and record it.
Once you have the recording, outsource the writing of the book, which will be based on your recorded conversation and interview.
Approach Local Media
Contact the local newspaper or radio station and pitch yourself as an interviewee.
Offer to write a column or internet article and provide simple tips in the area of your expertise.
This process is a way to offer creditability to all your customers.
Once you're published, you can add the media outlets links and logos to your site.
Leverage the media exposure on all your marketing materials and position yourself as a published expert.
When people have a choice, they will always do business with people they perceive to be an expert (especially if they have seen them in the media).
The thing that holds people back from taking this route in marketing is that they think they aren't 'enough' of an expert and don't have the qualifications.
In reality, you only need to know slightly more than the average person.
The Disney Experience  
All Disney employees are authorized to spend up to $50 to 'recover a guest' who is having a bad experience.
Once you realize the power of the customer experience, it will change how you manage and empower your employees.
Most employees are micromanaged and have little room to excel.
Andrew's Advice
One of the biggest things you can do to improve your business is to get involved in a mastermind group.
Mastermind groups are collaborative meetings of likeminded business owners where ideas are shared and members can help each other.
Thank you for listening! If you enjoyed this podcast, please subscribe and leave a 5 star rating and review in iTunes!
Links to Resources Mentioned
Click to Tweet
What is unconventional marketing and how can you apply it to your business? @andrewlock @Service_Key https://secretsofbusinessmastery.com/  
What can Disney teach us when it comes to unconventional marketing? Find out! @andrewlock @Service_Key https://secretsofbusinessmastery.com/