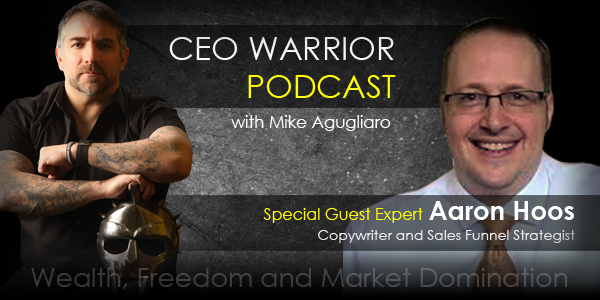 Summary:
In this week's episode of The CEO Warrior Podcast, Mike Agugliaro interviews Aaron Hoos, who is a copywriter and sales funnel strategist. Aaron builds and optimizes profitable sales funnels by developing new marketing programs and extracting deeper monetization from a business. He has been an entrepreneur, sales manager, and investment rep, and holds an MBA in strategy management. Aaron's first book, The Sales Funnel Bible, reveals the step-by-step process for building a business around a sales funnel. During this episode, Mike and Aaron discuss strategic copy, hiring a copywriter, empowering and disempowering words, dealing with objection, and the future of copy.
Main Questions Asked:
What is a sales funnel?
Is a sales funnel strategic words, communication, or an emotion?
Talk about strategic copy.
Would you think of the funnel as a conveyer belt or a drop in the top and push to the bottom?
What advice can you give people on making their copy and website better?
Are there empowering and disempowering words?
How would someone go about learning more about the art of copywriting?
Is there a difference between education marketing and copywriting?
Key Lessons Learned:
What Is A Sales Funnel
A sales funnel is a strategy for your entire business and is also known as a marketing or business funnel.
It is a step-by-step process to attract the right people into your business, build a relationship, and sell more to them.
How A Sales Funnel Works
At the top of the funnel you pour in potential customers. This is where they are just starting to hear about you.
Customers pour into your funnel through different channels such as social media, podcast, website, and through advertising.
Once potential customers are in your sales funnel, they know about you. This is the point where you can build a relationship with them using other kinds of content channels.
The narrow part of the sales funnel is where you start to extract the customers from the prospects.
The funnel exists through the entire customer relationship and works by using different contact channels.
Strategic Copy
Copywriting plays a part all the way through the sales funnel regardless of where you have content placed.
Copywriting is not simply a matter of writing words and putting out ideas for the target market.
Copywriting takes a direct intentional approach, so you are thinking about and addressing what your audience needs to hear.
Customers don't always know what they need, and it's our job to give them copy throughout the sales funnel in order to help them understand how we can solve their problems.
Connecting With Customers
If you are not connecting with your customers, you'll learn pretty quickly that you need to tighten up your copy.
What is your customer's mindset, and what are they thinking about?
What do you need to do to move them to the next step in the funnel?
Copy connects with clients in an emotional way that moves them in a direction, whether that be toward or away from your business.
Preferred Customers
Think about who your preferred customer is. What stage of buying readiness are they in when they arrive at your website?
Some customers need to be nurtured first, so buying doesn't happen for a while.
Customers who have a problem and are ready need a direct call to action such as a 'buy now' button.
Businesses need different types of copy for different types of customers in order to drive them in a different way.
Hiring A Copywriter
Generalist copywriters can be found in many places, but Aaron recommends hiring someone who is a specialist in your industry, as they will have experience and measurable results.
Just because someone is a web designer or social media expert doesn't mean he or she is also a copywriter. This should be considered a separate skill.
Empowering and Disempowering Words
Words of destruction are 'try' and 'hope' and 'maybe.'
Use the word 'you' a lot in your copy. Your audience will feel the emotional connection.
Make your copy feel like you are getting a letter and think about one specific person or avatar when you write and write your copy to that person.
The word 'customer' feels like a transactional approach; however, the word 'client' has the connotation of being long-term and a mutual relationship.
Funnels
Think about who your target market is, know their problems, and create your avatar.
Know the target market's mindset. List the items out along with the steps you want to take to help them move.
Use copy to help your target market move from one mindset to the next and the next.
Don't wait for your clients to change their mindset on their own. Use your copy to get them there.
Higher-level marketing steps include postcards and social media. Further down you might use your website, and toward the bottom of the sales funnel use the phone or one-on-one conversations to convert prospects into a customer.
Businesses want to capture information about clients so they can get them on the list and build the relationship.
A lead page is a basic website page with a form to capture email addresses and names. This often takes the form of a newsletter list.
Dealing With Objection
List the objections that customers have about the business and product.
Create responses that proactively rebut the objections early in the funnel.
The Future of Copy
Don't just become a master of written copy, because video is the future of sales.
YouTube is a powerful medium, as is live video such as Periscope and Meerkat.
Thank you for listening! If you enjoyed this podcast, please subscribe and leave a 5 star rating and review in iTunes!
Links to Resources Mentioned
Aaron Hoos
The Sales Funnel Bible
Dan Kennedy
Have you heard the term 'sales funnel' but aren't sure what it's all about? Find out w/ @AaronHoos @CEOWarrior www.ceowarrior.com
How do you deal with business or product objection in your copywriting? Find out w/ @AaronHoos @CEOWarrior www.ceowarrior.com