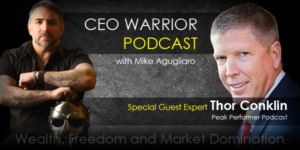 Summary:
Thor Conklin is an Entrepreneur, Profitability Consultant and host of his daily podcast, Peak Performers Podcast. 2017 marks his 17th year as an entrepreneur. The first company Thor created was a global risk management consulting firm that served the private equity community.
His top 15 clients had a combined revenue of $12.7 billion USD and operated in over 100 countries worldwide. His background, in risk management, served him well when he lost 1/3 of his team, in the World Trade Center attacks, on 9/11. Since that time, he has started, bought and sold several multi-million dollar businesses making him a sought after, cross-industrial resource for entrepreneurs and executives in all stages of business.
Main Questions Asked:
Let's talk about goal setting.

How do we go about setting goals once we know what we want our life to look like?

Where do you see people fall short on the steps you've laid out?

How do people get past beliefs and roadblocks?

What prevents people from executing?

When do you plan your micro commitments?

What are some major things people should consider for the next two to three years?
Key Lessons Learned:
Goals
You have to figure out what you want your life to look like before you can change your business to support your vision.

Most people think they are business owners, but the business in fact owns them.

You can't have it all, you have to decide what's important to you.

You have to start with the end in mind: Figure out what you want, create an Efficient and Effective plan, you have to Decide and then Commit, line up your Beliefs, and then take massive Action.

You need to be accountable for your results.

If you aren't tracking and measuring your results, you have no idea what adjustments you need to make.

Most people fall short on tracking or accountability.

Once you take actions, you will begin to see results and form beliefs around them. Find someone around you that can help you identify your beliefs.

Stress and anxiety is another word for fear, we all have a process of unconscious fear planning. You have to identify your fears and then work through the actual impact of what you fear most. Usually, the idea of what you're afraid is less than the potential.
Execution
There are at least 85 things that can prevent execution including mindset, physical fitness, story and identity, and more.

It's easier to not perform than it is to perform. People try to get things done by motivation but lack discipline. They are interested in success but not committed.

Just start taking some action in some areas of your life.

Make your default answer no. You have to say no to the good to make room for the great.

Mastery is doing the same thing ten thousand times.

Start with micro commitments, the wins start to stack and celebrate along the way.

Plan and create your day the day before.

Keep your inbox organized and empty.

The key to getting up early is going to bed early, there's no way around it.
Final Tips
Everyday you need to provide value and you can't rest on what you did yesterday.

The reason you are not where you need to be is not because you lack knowledge, do the simple things everyday that lead to your success.

Make sure you know what you want life to look like.

Know what your fears actually are and what would actually happen if they came to pass.

Track, measure, adjust.
Links To Resources Mentioned
Send Thor a 50 word email telling him your business issue is and he will give you a four step process to deal with it.
Thank you for listening! If you enjoyed this podcast, please subscribe and leave a 5-star rating and review in iTunes!
P.S. Are you SERIOUS about no longer treading water and MOVE your business forward WARRIOR STYLE? Find out more about Mike's Warrior FAST TRACK Academy!