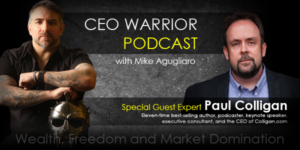 Summary:
Paul Colligan helps others leverage technology to improve themselves and broaden their audience with reduced stress and no dramas. He does this with a lifestyle and business designed to answer the challenges and opportunities of this new economy. If you are looking for titles: Husband, Father, YouTube Expert, Director of Content Marketing for InstantCustomer.com and CEO of Colligan.com. He lives in Portland, Oregon with his wife and daughters and enjoys theater, music, great food, and travel.
Paul believes in building systems and products that work for the user – not vice versa. With that focus, he has played a key role in the launch of dozens of successful Web and Internet products that have seen tens of millions of visitors and dollars in revenue. Previous projects have included work with Traffic Geyser, Rubicon International, Piranha Marketing, Microsoft, and Pearson Education. In addition, he's helped dozens of authors launch their books to top ten at Amazon and has been the secret weapon behind millions of video views at YouTube. Topics of passion include (but are not limited to): new media content creation, product development, lifestyle design, and community building.
Paul's take on the Internet can be seen/heard/read in Web Shows that include eMarketingVids, books that include the Kindle Bestseller "Cross Channel Social Media Marketing," the number 1 Bestselling "YouTube Strategies" and publications online and off as varied as the Huffington Post and The Net Effect. He is a popular keynote speaker on Internet technology topics and frequently speaks online, on the air, and before audiences about his passions. He has presented at events around the world that include BlogWorld and New Media Expo, The European Business Podcasting Summit, Google Tech Talks, Mac World, Social Media Marketing World, and Microsoft Tech-Ed.
Main Questions Asked:
What is the big problem today with business owners in general?

Tell us a little bit about the art of podcasting.

How does a podcast help establish you as an expert?

How can podcasting help you create a tribe?

How does it all come together?

Why don't more people podcast today?

How many ways can you leverage one podcast show?

What do you think the next evolution of podcasting is going to be?

What should entrepreneurs think about over the next few years?
Key Lessons Learned:
Technology
The biggest hurdle in most people's lives is what role technology plays for them.

You need to understand what technology can do for your business before you invest time and money into it.

Tech adoption goes through three stages, the nerds, the kids, then everyone else. Podcasting is only going to get easier and better may become as common as email in the future.
Podcasting
Podcasting is audio or video that is stored online and automatically pushed out to subscribers.

10 billion podcasts were served by iTunes last year, podcasting is now mainstream.

If you have something to say to an audience that may want to listen, you should consider a podcast.

Radio stations are a dying form of communication.

Podcasts can reach nations and countries that most other forms of social media can't.

Finding a niche to create a podcast around is the easiest way to become known as an expert.

Podcasting can be a platform to build other revenue streams around instead of the less effective traditional methods of ad revenue.

Most people are concerned about their voice or how difficult it will be. It's not expensive, difficult, and people are willing to listen to you. You can build your podcast to fit your lifestyle.

Get over yourself and get started.

Podcasts can be leveraged into blog posts, kindle books, can be made into a YouTube, can tell you what topics your audience cares about most.

Figuring out your purpose for podcasting is an important first step.

Getting listeners is simply a matter of being better than your competition.
Tribes
If you see someone once, your chance of making a connection is slim.

Podcasts are like having a conversation with someone once a week.

When you combine intimacy with frequency, you have something transformative.

Guests you may not be able to speak to one on one might be more than happy to speak on a podcast. Accessibility comes because it's easy to do.

A podcast changes the game, it's a platform that gives the guests value through the ability to reach a large audience.
Service
The process of producing content will help you identify the things that matter to you and what matters to your audience.

It's less about reach and more about impact.

A podcast is a chance to become better by exposure to the conversation and ideas of someone else.
The Future
Leverage your free time to make yourself better by listening to podcasts.

Figure out how to make the world better by producing podcasts.

Make sure your mentor has actually done what you want to achieve, they should be a product of their product.

Be willing to spend and use your wealth.
Final Tips
What is the role of technology for you.

Get over your fear and just get started.

Podcasting is a wide open opportunity, jump in before everyone else does.

Focus on the impact.

Use podcasts as leverage.
Links To Resources Mentioned
Thank you for listening! If you enjoyed this podcast, please subscribe and leave a 5-star rating and review in iTunes
P.S. – Are you SERIOUS about no longer treading water and MOVE your business forward WARRIOR STYLE? Find out more about Mike's Warrior FAST TRACK Academy!