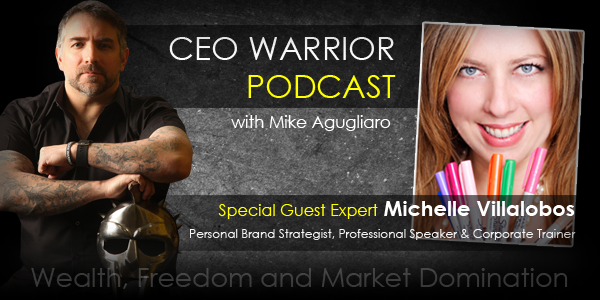 Summary:
In this week's episode of the CEO Warrior Podcast, Mike Agugliaro interviews Michelle Villalobos. Michelle helps entrepreneurs and professionals creatively package and strategically market themselves to achieve visibility and credibility, so that they – and the world – can benefit from their unique talents, story, mission and message.
Michelle has delivered programs and keynotes for both corporate and entrepreneurial audiences, such as American Express, Adidas, Burger King, Univision, Audi Latin America, Lexis-Nexis, Lloyd's of London, and many more.
Main Questions Asked:
● What is broken in the world of branding?
● Why are people afraid of putting themselves out there?
● What are some actions steps people can take to understand their personal brand?
● What are some lifestyle tips you can offer?
● Why do people complain they don't have any opportunities?
● What is some wisdom for women in the entrepreneurial world?
 Key Lessons Learned:
Branding
Your personal brand can and will change over time as your goals evolve.

Leverage your business model and unlock your time.

Break the model that isn't serving the lifestyle you want.

Have your brand aligned with who you really are will have huge impact on your business. People can tell when you are being disingenuious.

Your business brand should be an extension of your personal brand and strengths.
The Branding Model
1. You must understand yourself to brand yourself.
2. What is the lifestyle you want to live. Without this your business will consume all of your available time.
3. What is the business model that aligns with the lifestyle you want.
4. Traditional branding, logo etc.
5. Ask why you are here. What is your mission and purpose, people get passionate about movements, not marketing.
Aligning Your Brand
Your brand is who knows you and that they say about you when you're not around.

Most entrepreneurs forget about their personal brand while focusing on their business brand.  

Being judged and the fear of failure are the common reasons why people don't want to put themselves out there. Failure should be seen as feedback.

Have people around you who can help you see what you're capable of. It's hard to have perspective on yourself in real time.

The people who will move the world are the people with the reach and the message. There has never been a time in history where anyone can become a leader like there is now.
Lifestyle
Your business model will directly impact your lifestyle. How do you turn your magic into money?

Establish boundaries and standards for yourself and others.

Don't be at the mercy of your clients or to do list.

Entrepreneurship is an opportunity for women to take control of their lives and make a major impact on the world.

Society pushes a victim mentality which is just untrue, you have personal responsibility and the power to change the world.
Final Tips
Start a movement instead of just marketing.

The quality of your life is determined by the questions you ask.

Do you have to break your model to make the change you want?

Step up and become a leader.
Links To Resources Mentioned
https://www.michellevillalobos.com/
Thank you for listening! If you enjoyed this podcast, please subscribe and leave a 5-star rating and review in iTunes
P.S. – Are you SERIOUS about no longer treading water and MOVE your business forward WARRIOR STYLE? Find out more about Mike's Warrior FAST TRACK Academy!