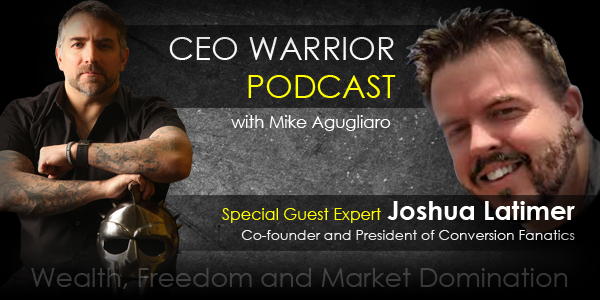 Summary:
Welcome to this episode of The CEO Warrior Podcast by Mike Agugliaro.  Joshua Latimer left his job as a banker at JP Morgan to start a cleaning business that he sold to a cleaning conglomerate in 2015. Now he lives in Costa Rica with his family and helps small business owners understand the power of business systems and automation and the freedom it can bring.
 Main Questions Asked:
What is the process of automating your business?
What did you experience from selling your business?
How can automation give you the lifestyle that you want?
What things should you be cautious about automating?
What is the biggest roadblock that keeps people from doing this?
 Key Lessons Learned:
The process of automating your business is the process of making your company a slave to you instead of you being a slave to your business. It brings peace, consistency and stability to your company and life.
Automation is done through systems. Everything can be systemized in your company.
You are already using systems in your business, the question is if they're serving you the way you want.
Always reinvest the time you save.
Take the time you save through automation and put it into sales, because sales is the life blood of any business. 
 What do you want right now?
Most people know what they don't want but they don't have a clear goal to achieve. You have to define your why to know what your finish line is and adopt a system to get there.
Documenting every single thing you do for a week or two may seem boring but it can change your life. It allows you to know where you're spending your time and what you need to optimize.
Write down how you sell stuff right now. How can you make every aspect of it better?
 Links to Resources Mentioned:
P.S. – Are you SERIOUS about no longer treading water and MOVE your business forward WARRIOR STYLE? Find out more about Mike's Warrior FAST TRACK Academy!

P.S.S. – Teresa says if you want to succeed, if you want to grow your business, you need to go for it. you need to do this. Warrior Fast Track Academy Testimonial.