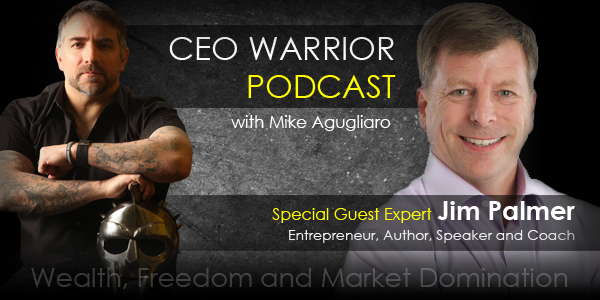 In this week's episode of The Secrets of Business Mastery Podcast, Mike Agugliaro interviews Jim Palmer, who is a marketing and business building expert, author, speaker, and founder of the Dream Biz Academy, the Dream Business Coaching, and Mastermind program. Jim is also the host of Newsletter Guru TV Stick Like Glue Radio, and is the author of Decide: The Ultimate Success Trigger. In this podcast, Mike and Jim discuss sales and marketing, delegation, building your team, automation, and building your million dollar platform.
Main Questions Asked:
Tell us about your book, Decide: The Ultimate Success Trigger.
Is there a process that somebody either sabotages themselves with or a process they can think through to help them excel and move past things?
Talk about how this plays with decision and how to deal with failure.
What was a tipping point for you?
What is the best piece of advice you've ever received?
What should we think about in sales today?
How do you take all your thoughts and organize them into an action plan?
Talk about building a team.
Tell us what we should think about in our business with regards to automation.
If you were to do it all over what would you do differently?
What should business owners think about wealth today?
What should business owners think about freedom?
What is the one thing you would tell all business owners on the planet?
Key Lessons Learned:
The faster you get at making decisions the more comfortable you are at assessing risk and spotting challenges, as well as deciding yes or no and moving forward.
Growing businesses love momentum and speed; whereas, indecision leads to slow growth.
Confidence comes from success, and success comes from being in action.
Everything has to do with your mindset, how big of a game you want to play, and how comfortable you are with risk and speed.
Fail fast, fail often, and fail forward. The only people who aren't failing are those people who aren't doing anything.
Keep head trash out, and don't allow it to have any real estate in your mind.
You will earn significantly more income for 'who' you are rather than for 'what' you do. This will come from the power of positioning, branding, and smart marketing.
If you want to stand out and build a business, you need to build a 'million dollar' platform via podcasts, videos, newsletters, books (Kindle, audio, printed), speaker engagements, and social media.
Sales and Marketing
The concept of 'closing the sale' is crazy because, when you close something, it's shut. However, you always need the transaction to stay open.
Every successful business is based on the power of the relationship with your customers or clients. These take time to develop and can't be rushed. Jim tells his clients to 'slow the sale' down.
The great thing about marketing is that you can be delivering information to your prospective clients and deliver valuable content via 'drip marketing.'
When you make a sale, this is only the start of a powerful relationship, not the end point. Don't' go for the 'close;' go for the 'relationship.'
Don't simply celebrate the customer acquisition but rather celebrate healthy, dependable, strong, reliable, predictable, and profitable relationships.
So many companies are trying to do a one-time transactional business instead of a lifetime transactional business.
It's your responsibility to tell your clients and customers how you can help them. It's not their responsibility to find out from you.
Delegation and Automation 
There are only two reasons to be an entrepreneur:  i) financial freedom ii) time freedom.
The CEO should be focused on high revenue generating activity, and everything else should be delegated.
Take the time to set up systems and procedures so that everyday your day is made up of tasks that only you can do.
Jim built his team via referrals, Elancer, and Fiverr.
You can hire someone for 10 hours a week at $25 an hour as a 1099 contractor.
Ask yourself what you can achieve with those 10 extra hours in your business. The revenue you can make in those extra 10 hours a week will dwarf the $250 output.
When you build your team, you need to empower them and know that you trust them.
Most employees will revert to the 'protect the boss and the company' mentality, so you need to train your employees to have a 'make the customers happy' mentality instead.
Having systems and procedures in your business now will also help when the time comes to cash out.
Thinking About Wealth & Freedom
Wealth is freedom. It is most often rewarded for people who are comfortable with risk and that are moving forward.
Too many business owners think sales, income, and revenue is wealth but it's not. That is simply how your business is doing today; whereas, wealth is what you have accumulated.
Freedom gives you the ability to do what you want when you want. This comes from making the tough choices and moving forward.
Thank you for listening! If you enjoyed this podcast, please subscribe and leave a 5 star rating and review in iTunes!
Links to Resources Mentioned
Decide: The Ultimate Success Trigger (book)
Stop Waiting For It To Get Easier (book)
Dream Biz Coaching and Mastermind
Click To Tweet
Are you afraid to automate & delegate business? Find out why you should @newsletterguru @Service_Key https://secretsofbusinessmastery.com
Are you in a rush to close the sale? Here's why you should slow it down @newsletterguru @Service_Key https://secretsofbusinessmastery.com