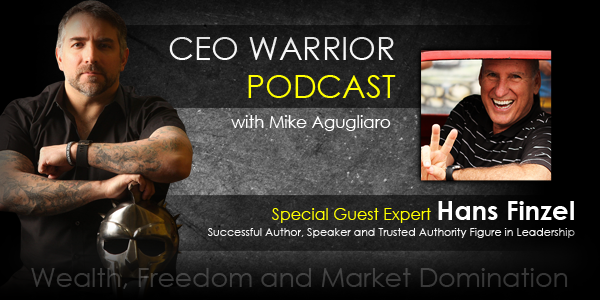 In this week's episode of The Secrets of Business Mastery Podcast, Mike Agugliaro interviews Hans Finzel, who is an author, speaker, and trusted authority in the field of leadership. Hans speaks and writes on practical leadership principals from the real world, and has written nine books including the bestseller, The Top Ten Mistakes Leaders Make. Get ready for a rockin' podcast on leadership!
Main Questions Asked:
What should we start thinking about on leadership?
What have you seen happen when there is a lack of vision?
What have you seen with leaders who have vision and those who don't?
Do you think leaders are born or created?
How would I know that I'm not a great leader, and what would I have to do to become one?
Do you have to be able to adapt your leadership style in order to be a good leader?
What are some of the mistakes leaders make?
Why does the term 'manager' or 'leader' get confused with power and control?
Who do you see as a great leader and why?
Are there different classes of leaders?
Is there a leadership test?
If you were to rewind time and do something different, what would that be?
What are your leadership predictions and tips for the future?
How should an owner show up to his business as a leader?
How should we lead meetings?
Key Lessons Learned:
Leadership
There are people born with leadership abilities, personality, gifts, and attributes, but you can also learn to be a leader.
Leaders can't be successful without followers.
There are different styles of leadership, depending on the type of person you're leading, which depends on their motivation, interest, and skillset.
Delegation is one of the trickiest things about great leadership.
One of the most important responsibilities is hiring the right people. Be careful and patient throughout the process.
There are more people who have suffered under poor leadership than have worked under great leadership.
What Makes a Great Leader
The best type of leadership is a leadership team. Always hire to your weaknesses and surround yourself with people who are good at what you aren't good at.
Servant Leadership: When you care more about the good of the people than yourself and care about the company achieving its goals.
90% of success in a leadership role is spending time with the people who work for you.
The greatest leaders are ones that relinquish control and let the people do the magic.
As a leader, show up as one of the people and don't throw around your weight and scare people.
Great leaders listen and are lifelong learners. If you stop learning today, you'll stop leading tomorrow
Be a great communicator, cast vision, and affirm employees when it's deserved.
A great leader doesn't ask employees to do anything you're not willing to do themselves.
Leadership Mistakes
Top down leadership attitude: The "I'm the King of the mountain" and will make all the decisions, control everything, and "everyone works for me."
Putting paperwork and technology before people is a mistake.
If you give people leadership without training them, it can be dangerous as they can get 'drunk' on the power.
The absence of affirmation.
Hiring the wrong people.
Different Types of Leaders
Visionary:  Take people somewhere they wouldn't go themselves.
Structural: Focus on building systems
People leaders: A pastoral approach
You can use Myers Briggs and Strengths Finders to asses what type of leader you are.
Leadership Vision
One of the great principals of leadership is having great vision.
Vision is going against the odds and believing that your concept will work, and keep having faith as you work it out.
In the absence of great dreams, pettiness prevails.
Visionless leadership is a huge problem.
Leadership and the Future 
We are moving into an era of flat organizational and management structures.
If you want millennials to join your organization and cause, then you need to change the style of your workplace.
Create a cultural atmosphere where young people feel like they want to work.
Leadership and Meetings
So many meetings are boring and non-productive because they are the wrong types of meetings. Learn when to have stand up meetings and how to run a good meeting.
Thank you for listening! If you enjoyed this podcast, please subscribe and leave a 5 star rating and review in iTunes!
Links to Resources Mentioned
The Top Ten Mistakes Leaders Make (book)
Good to Great (book)
Death by Meeting (books)
mikea.ceowarrior@gmail.com
Click To Tweet
What is the power of your vision and why is it important? Find out w/
@hansfinzel & @Service_Key https://secretsofbusinessmastery.com
What are the keys to great leadership? Find out w/ @hansfinzel & @Service_Key https://secretsofbusinessmastery.com