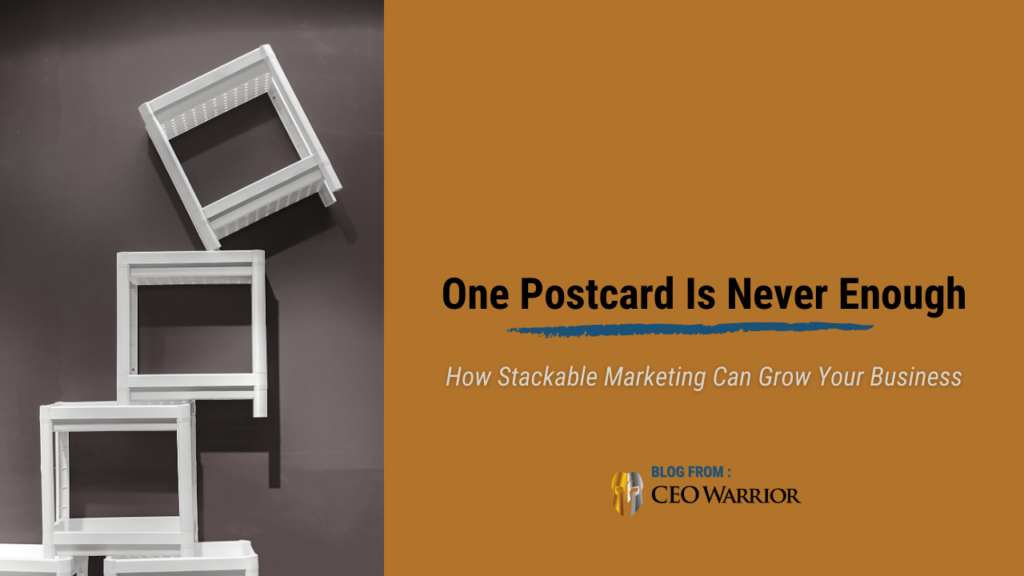 You need new customers and more business, but marketing isn't really your thing. So you put a lot of effort into sending out one nice postcard to as many households as you can afford and then wait for the calls to come in. Except the phone doesn't ring. Why not? Marketing is a frequency play. One postcard (or sign or truck wrap or ad) is never enough.
By sending one postcard and not following up, you're robbing yourself. You're robbing yourself of the customers you could have served. Learn to stack your marketing for a greater response.
What is stackable marketing?
Instead of blowing your whole marketing budget to send that one postcard everywhere, target one neighborhood or, perhaps, a few neighborhoods, and then stack your marketing like this:
Send an email to your customers in the target neighborhood(s), a teaser that a postcard/special offer is coming
Do a voice shot to your customers (a teaser)
Mail a postcard with a special offer to the target neighborhood(s)
Run Google and/or Facebook Ads
Call customers (and, if possible, residents) to see if they received the postcard
Advertise the special offer on a billboard in the target neighborhood
Promote the special offer on Facebook and Instagram
Post a video that relates to the offer and promote it on social media
Get interviewed on talk radio about the city's bedbug problem or whatever problem is related to your special offer
Prioritize service calls in the target neighborhood(s) so that people who live there are seeing the branded wraps on your trucks
Put up a yard sign after each service call
Mail another postcard after two to four weeks (and repeat until you've sent five or six postcards to this mailing list)
Encourage customers to leave reviews on Google
Prepare a new offer and campaign to launch after this one
This is what we mean when we say that marketing is a frequency play. The more you can get your company in their heads, the more likely they'll actually take you up on the special offer.
The Marketing Rule of 7
Every time you stack on another marketing effort, you'll be improving your response rate. Even if you only do three or four of those things from the list above, we guarantee you that you will have a much higher response rate than if you had just sent out one postcard across your entire city. Do everything on that list and add to it, and your response rate will skyrocket!
Stackable marketing works! The Marketing Rule of 7 states that prospects need to come across your offer at least seven times before they'll notice it and take action. Think about the last time you ordered pizza from a new pizza place. How many times did you get flyers, see their ads and drive by their sign and restaurant before you ordered from them for the first time? You have to be persistent like that new pizza place! Keep stacking your marketing, at least seven high, and, then, suddenly, the calls will come and you'll score your best response rate ever!
Summary
One postcard is never enough. Start stacking your marketing and you won't be adding to your response rate, you'll be multiplying it exponentially.
Not sure how or where to start? Learn from the best by attending SERVICE BUSINESS LIVE – you won't regret it.