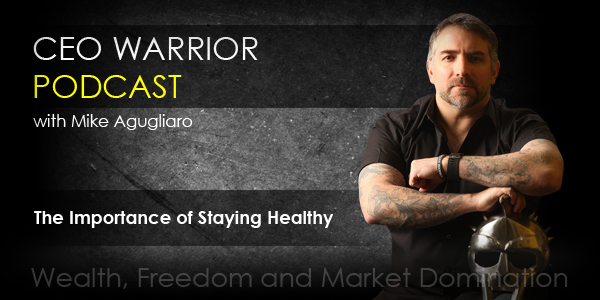 Summary:
Mike Agugliaro discusses how your health impacts every aspect of your life, business, and family.
Key Lessons Learned:
Health
Power comes from health.

You will pay for your health either now or later.

Building a business is easy if you know the success formula but without physical power and strength, it's really hard to implement anything.

Being healthy is how you achieve clarity.

You are responsible for your own success.

Exercise in some form is crucial, you cannot skip physical training.

Everyone has a combat mind, conflict is everywhere in life.

The amount of sleep is you need is whatever your body requires.

Make sure the air in your home is clean.

Eat and drink food that keeps your body in peak condition.

Achieving high levels of success requires you to do things that make people uncomfortable, things others are not willing to do.

People want to follow strong, powerful, motivated leaders and you can't be physically unhealthy if you want to be a leader.

You may be "good" but you may not be "optimal", you have to be optimal to get optimal results.

You will hurt someone someday that you care about if you don't take your health seriously.

Many say they would die for something, why not live for something.

The biggest killer in the world today is a negative mindset.

People fail because they don't have accountability to someone other than themselves.

Make the tough decisions to get out of your own way.
Links To Resources Mentioned
www.ceowarrior.com/sobmfreechapter
Thank you for listening! If you enjoyed this podcast, please subscribe and leave a 5-star rating and review in iTunes
P.S. – Seize SUCCESS today! Subscribe to HomeServiceMAX to see how the pros do it.