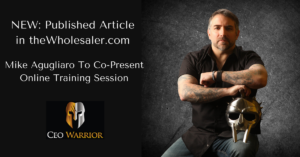 Mike Agugliaro, founder of CEO Warrior, a business mentoring and coaching service for service business owners, will co-host a live online training session with Susy Boyter, business development manager at Callcap, on Tuesday, May 30 at 4 p.m. EST.
Agugliaro and Boyter will present "The secret to getting more sales;" sharing industry information on text messaging strategies to reach prospects and customers in a way that taps into the latest communication trends.
Continue reading the full article HERE.
Don't YOU want to boost your expert status and play against the big companies?
Learn how at the Warrior Fast Track Academy.