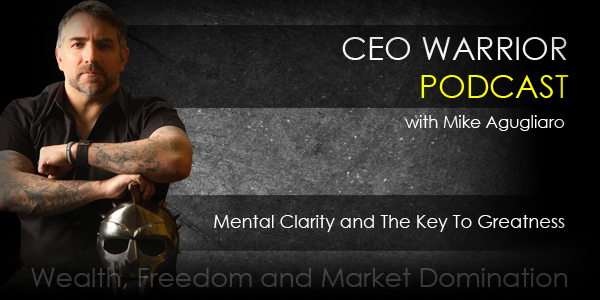 https://traffic.libsyn.com/ceowarrior/Getting-Clarity-In-Your-Mind.mp3
Mike Agugliaro reveals why having mental clarity in your mindset is the only way you can achieve greatness in any area of your life. Listen to Mike as he shows you how to understand your emotional mindset and take action steps to get it to where you want it to be.
Key Lessons Learned:
Mental Clarity
The biggest load that people carry isn't physical, it's mental and spiritual. What emotional pain have you been carrying around that is holding you back?
Having clarity in your mind is the key to greatness. You can't have inspired ideas if your mind is clouded and jaded.
Ask yourself "where is your mindset right now on a scale of 1 to 10." Without a way to measure something, you have no idea where you are.
Your mindset is a choice. You can look at something bad as a problem and a failure, or as a learning opportunity.
Most of your emotional state is created by you projecting into the future what you think is going to happen.
Peak performance comes from what you allow to be in your mind.
What do you have to do to become an 8, 9, or 10?
You are never gymless. Get down and do some push-ups or get out and start walking.
You don't have to wait to make an improvement in your life. You can do it RIGHT NOW.
Course correction is the understanding that you are losing the game and making the choice to start winning.
Embrace the suck.
There is your mindset, and then there is the emotional state of your mindset. Is your emotional mindset empowering or disempowering?
The people who survive difficult situations believe in their ability to change things for the better.
Be curious about yourself and what makes you tick. Until you understand yourself, don't judge other people.
Links To Resources Mentioned
https://www.servicebusinessedge.com
Thank you for listening! If you enjoyed this podcast, please subscribe and leave a 5-star rating and review in iTunes!