Level Up Your Life In 2018 By Building A Foundation Of Power
by Mike J. Agugliaro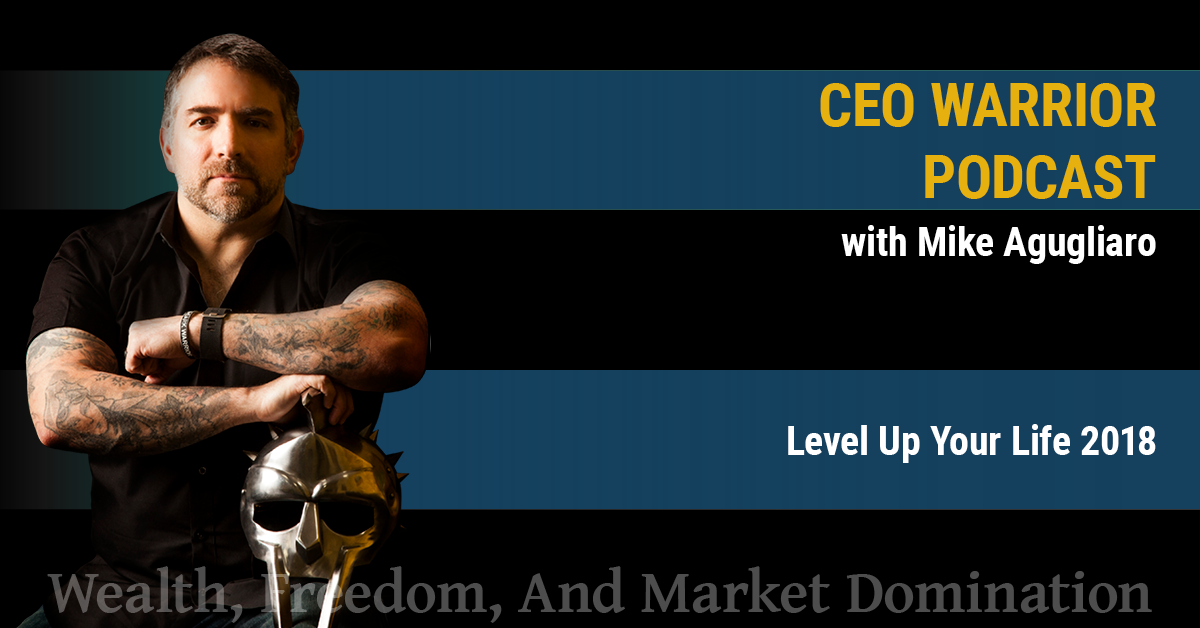 Listen to this episode for business building content!
Subscribe To The Podcast Show
I want to help you become laser focused for 2018 so that you can level up your life, accomplish your business goals, and dominate your market. Learn about the three kinds of fights you don't even know you are in, how to drill down and identify what's holding you back, and how to build a foundation of power for 2018.
Key Lessons Learned:
Three Fights
There are three fights that are universal to everyone. We fight ourselves, our relationships, and the world.

Some people fight out loud with themselves, some people internalize it but we tend to break ourselves down and dwell on the negative. What are the things that you fight about yourself about? Do you feel you are worthy of the things that you desire?

If you know you are dealing with a fight you have a choice, you can lose and become the victim or you can choose to step and become the victor.

Wherever you are today, you deserve to be there but that also means that you deserve the opportunity to change it.

When you are fighting against yourself, you can include other people to help you win the battle.

Don't let your mind control you, you control your mind. You are in control of your self.

Relationships are more than just between people. You have a relationship with everything around you. Once you understand that your relationship with the things around you can be positive or negative, you can build the relationships by design.

Relationships have a natural ebb and flow, they are an ongoing work in progress.

If you are fighting against the world, you are not looking at it as a playground of solutions that you can use to fix the problem. Instead of fighting against an abstract topic like world hunger or inequality, take action and make a difference in someone's life.

Take a piece of paper and write the things you will no longer fight on it. Take that paper and destroy it. Free yourself from the struggles that are keeping you from moving forward.
The Cleanse
What experiences or arguments have you had that have conditioned you in a particular way. You have been situationally programmed. You have to examine yourself and go through the pain of self examination in order to become free.

It's very easy to become conditioned as a business owner to be nasty.

Every negative thing that happens to you becomes fuel for your success if you commit yourself to becoming stronger instead of being defeated.

Whatever you don't examine is making the decisions for you.

Make the decision to cleanse your mind of the burdens that are programming you. The cleanse is how you build a stronger foundation that you can build your life on.

Peel it, purge it, and replace it with power.
The Foundation
Everyday is the best day to start building the life you always wanted. There hasn't been a more opportune time to start a business and become wealthy.

Purge the negative, and replace it with a new decision that empowers you.

The first time you cleanse, you will run into a brick wall at the core of who you are. The experiences that scare you the most are the ones that you have to examine the most.

What do you want to repeat in 2018?

What do you want to release in 2018? What do you want to gain in 2018?

What do you want to enjoy in 2018?

What do you need more of in 2018?

I can succeed with _______ in 2018. What can you succeed with?

I will succeed in ________ in 2018? Saying I will is a demand

of

the outcome.

What do I need to say, that I won't?

I am in charge of ______?

Manifestation is the art of whatever I believe in my mind will come true, I will achieve. What do you want to manifest in 2018?

What is your personal theme for 2018?

What will your mantra be for 2018?

Make your commitments to level up your life.
Daily Six
Not everybody needs to have the same routine to get the same results. Fit your plan into your day so that you take advantage of your natural power flow.

The first step is to take some time out of your day and just focus on breathing.

The second step is to practice gratitude in a genuine way.

The third step is to meditate however long is right for you. Don't complicate it, just relax and focus.

The fourth step is manifestation.

The fifth step is your top three. Write your top three goals on your hand or on something that you have on you and keep it with you.

The sixth step is to prime your state. Adjust your posture and physicality to create a state of power and a mindset of victory.
Links To Resources Mentioned
https://www.servicebusinessedge.com
—-Wavves —-
"People are born fine, to then just become unfine. In hopes in their lifetime to just become fine." [57:55]
"If you're not mad dog brave, you're not going to get mad dog results." [1:15:30]
—–
Thank you for listening! If you enjoyed this podcast, please subscribe and leave a 5-star rating and review in iTunes!