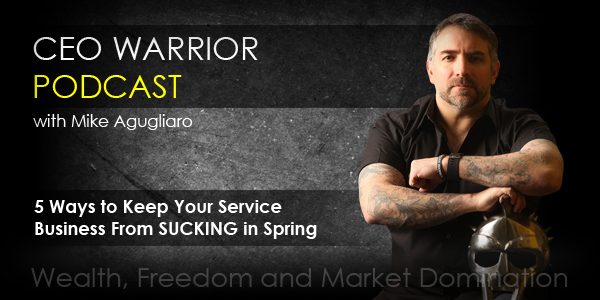 Summary:
Mike Agugliaro discusses the five ways to make sure your business doesn't suck in the spring.
Key Lessons Learned:
Vision
You need to have clear vision for spring months in addition to the rest of your year.

Your expectations will create your reality.

Don't let anyone else determine your targets.

Make bold statements about what you want your spring months to be.

You need to see money to make money.

Choose your target and work backwards. Figure out what you need to do to accomplish that.
Bold Targets
Targets are a destination in time.

Your targets have to have leverage associated with them, with nothing at stake you have no reason to try.
Mule's Work vs. Warrior's Work
People often do tasks that are below their pay rate.

Doing work that someone else can do for less is a waste of your time.

The more warrior work you can do, the more power you can put into your business.

Identify the warrior work that YOU need to do and what mule work you can find someone else to do.

What got you to where you are at will not get you to where you want to be.
Stop Being Insane
Stop the pain, if you don't you enjoy the pain.

The definition of insanity is doing the same things while expecting a different result.

You have to market more and close more, if you market to the right people you WILL close more.

You are in charge of your own economy.
Hidden Dollars
You have to make an offer that makes it a no brainer to do business with you right now.

Your past customers are the ones most likely to buy from you again. They already know, like, and trust you.

Test your bait, make more than one offer.

Have a conversation with your existing customers.
Links To Resources Mentioned
Thank you for listening! If you enjoyed this podcast, please subscribe and leave a 5-star rating and review in iTunes!
P.S. – Are you SERIOUS about no longer treading water and MOVE your business forward WARRIOR STYLE? Find out more about Mike's Warrior FAST TRACK Academy!