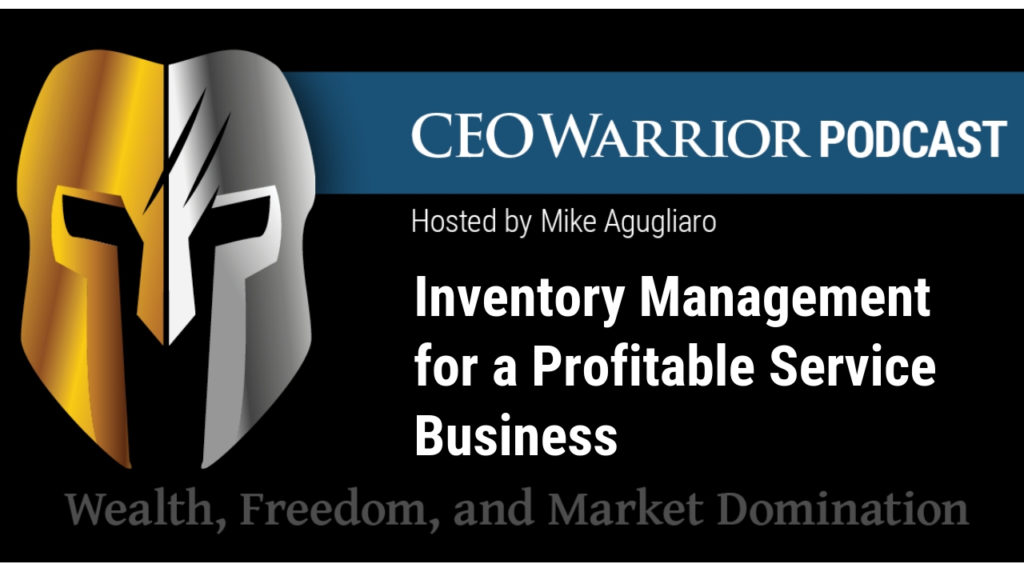 Mike Agugliaro and Stephanie discuss the four pillars of success when it comes to inventory management and break down a number of strategies you can use to manage your inventory so you can keep growing your business. Learn about product standardization, vendor consolidation, order frequency, replenishing, and improving productivity overall.
Main Questions Asked:
What are some of the biggest problems contractors deal with when it comes to material?
What is the first conversation you have with potential partners?
What does vendor consolidation mean?
How does the inventory management process work?
Key Lessons Learned:
Inventory Management
When you deliver amazing value, and a really great product, and you get it done in a reasonable time, what pops out is profit.
When you deal with any inventory, there is always going to be a problem.
Unaccounted inventory is a major issue along with dead inventory and forecasting what you need to bring in. Unaccounted inventory may also be a nice way of saying theft.
As contractors, we are focused on the money side and generating revenue, but material can be like a hole in your bucket.
Every aspect of your supply chain comes with a price.
Systems create profit. If you want to keep generating profit, you must have a system to manage your material and partner with the right companies.
A BMI system requires a minimum amount of space and a dedicated employee, but it also has to make sense. For Barnett, the threshold is somewhere around $600,000 in in Barnett sales before they will consider moving forward.
Everytime you place an order, it costs your business around $100. Reducing the numbers of PO's that get cut over the day by dealing with a smaller number of vendors can streamline your costs considerably.
It's very hard to grow a large profitable company without managing the growth of your inventory. Working with a local supply house will probably not help your business grow past them.
There are three categories of solution for inventory management from Barnett: Organizing, Managing, and Replenishing.
If you feel overwhelmed by your inventory, just commit to doing one thing a little bit better, and then build off of that.
Partnerships
Vendors have to make decisions with who to work with every day.
You can learn a lot from your vendor partners from listening to them when they are talking about their own distribution and supply chain issues.
Do yourself a favor and partner with a company that cares about the growth of your business and isn't just interested in your next order.
Being partnered with the right company can give you a major edge over your competitors by sharing with you whenever new items come in that you can take to the market.
Barnett customizes their supply chain solutions to the businesses that they partner with.
A partner success team can be a major asset in building a mutually beneficial relationship.
You need to have a plan for selling and processes in place before you can work well with a partner like Barnett.
Mindset
Small thinking gets small results.
Never say no, say how. Where are you today and where do you want to go? You need to come up with a roadmap and reverse engineer how to get there.
Money may not be everything, but money changes the planet.
Learning curves are for when you are doing it alone.
Be big, be brave, be bold.
Links To Resources Mentioned
856-513-5210
Thank you for listening! If you enjoyed this podcast, please subscribe and leave a 5-star rating and review in iTunes!