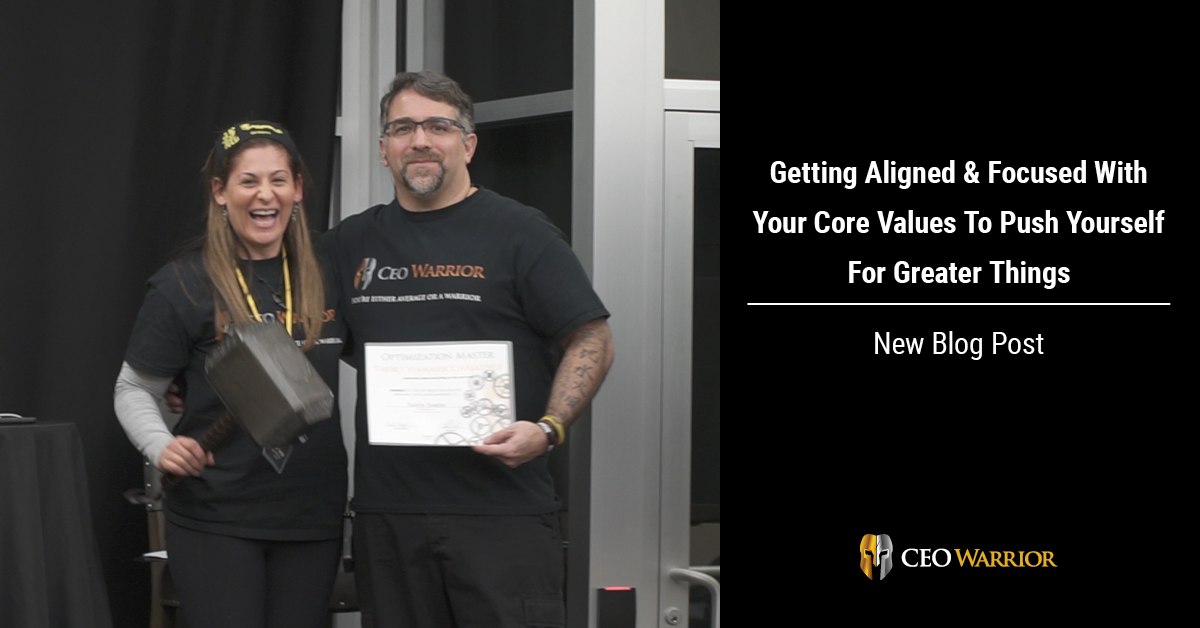 As a service business owner, you are pulled in a million different directions.
Every moment of the day there are challenges and obstacles and issues and opportunities that vie for your attention. Which do you pursue? Which do you delay? Which do you address? Which do you delegate?
One of the biggest challenges is remaining focused and aligned with your own integrity in the midst of these challenges. Are you centered, focused, and aligned with your core values and beliefs?
No, this isn't "woo-woo" metaphysical stuff we're talking about here. Rather, when you set a standard for your life and adhere to it, you are creating a baseline for all decisions you make and actions you take.
At CEO Warrior, we want to help Warriors identify what their inner baseline is and create a life that serves their beliefs and expectations. This creates a life worth living… and a business worth working at!
Recently, the Warrior Circle group held a month-long "Grenade Challenge". Our monthly grenade challenges are friendly competitions between Warriors to push each other to a higher level. There are challenges, contests, and lessons; and every Warrior steps up to participate at the highest level in the hopes of winning the coveted grenade award for that month.
This month's grenade challenge was a "Bushido" grenade challenge, centered around the Warrior spirit and living aligned with your true self. Warriors completed daily actions and contests that pushed them to understand and practice what that meant.
From core values to breaking through limiting beliefs; from internalizing courage and discipline to stepping up to do the hard thing… that's what the Warrior spirit is all about.
All the Warriors who participated in this challenge played full out in their effort to win the award but by the end of the month there was one clear winner: Tanya Simon of Service Experts, an Australian-based service business.
Tanya Simon exemplifies the Warrior spirit in everything she did and her alignment with her true self is evident in her words and actions. She continues to wow her employees, customers, and community by living the Warrior way daily in her business and life.
The CEO Warrior team thanks all Warriors for proving yet again just how powerful they can become when they get laser focused on growing one skill-set, and the CEO Warrior team also congratulates Tanya Simon for showing everyone what a Warrior spirit looks like. In fact Tanya won another award in November of 2017 for optimizing her business too – BOOM!
Want to learn to be a Bushido like Tanya? Here are 3 Warrior steps to get you moving forward…
Identify your core values—a small set of non-negotiables that you must have in life. These core values in both your personal life and your business become the central point around which you make all decisions.
Decide right now what you will and won't accept in your life, then take a long look in the mirror and understand that it is entirely up to you to change your life to start living it the way you want.
Join us at Service Business Edge, a 4-day training event for service business owners to help you build a stronger business that serves your life. Learn more about it at ServiceBusinessEdge.com.