Here is the latest edition of Home Service MAX magazine!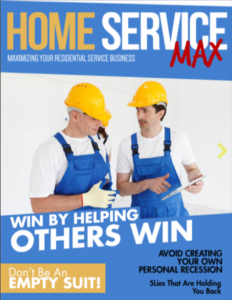 Former owner of $32 Million Gold Medal Service, and CEOWarrior founder, Mike Agugliaro has just launched the latest edition of his online magazine for home service business owners, Home ServiceMAX. The free online magazine, available now at www.homeservicemaxmag.com, will help service business owners improve their sales, marketing, finance, human resources and customer service.
Home ServiceMAX is yet another of Mike Agugliaro's growing list of resources for owners in any service industry to download and keep on hand as they develop best practices to meet their team's unique challenges. Some of the topics featured in the latest issue include:
Business Warrior (and publisher) Mike Agugliaro explains the 5 lies that are holding you back.
Don't be an empty suite!  If you're all talk and no action, the competition will destroy you!
Win by helping others to win.  You're better able to get what you need in business by giving your colleagues what they need: encouragement.
Discover the easiest way to increase your bottom line profit by 25 – 95%!
And, of course, much, much more….
All the articles featured in the publication are written by professionals who have worked in, or with those in the residential home service industry for more than 30 years.
"Whether you're a plumber, electrician, carpenter, roofer, builder, painter or specialist in any other service industry trade, to survive you must also stand out as a business leader," said Agugliaro. "We designed this magazine to help you achieve that goal."
Here are the links for the previous issues as well.  Enjoy!