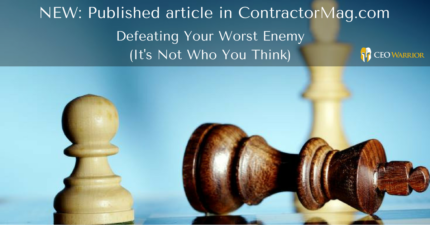 Think of your worst enemy.
Was it a grade school bully whose scars still linger in your mind? A business partnership gone sour? A cut-throat competitor? An angry ex-customer with an axe to grind?
While those people may cause you a lot of stress each day, and could certainly be up there on the list of your worst enemies, the bad news is, they are not your very worst enemy. YOU are.
Yes, you are your own worst enemy.
And you are hurting your work as a contractor.
"How am I my own worst enemy?"
Continue reading the full article HERE.
Don't YOU want to boost your expert status and play against the big companies?
Learn how at the Service Business Edge: The Secret Blueprint To Growing Your Business.