MEET THE CEO WARRIOR TEAM
CEO Warrior runs a diverse team of experts, both in-house and around the globe. Meet some of the team below, including our founders, our leadership team, and some of our key team members.
Meet The Founders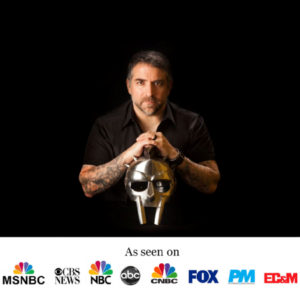 Mike Agugliaro, Co-Founder – Along with his business partner, Mike grew a small, struggling electrical company into a multi-million dollar home services empire, which was then acquired by a large private equity company. Today, Mike leads CEO Warrior as an inspirational leader and co-founder, sharing his $32+ Million Dollar Service Business Blueprint to help service business owners achieve massive wealth, freedom, and market domination. Mike has been featured in MSNBC, Financial Times, Moneyshow, Success Magazine, and more. He is a popular author with more than a 17 books written; he's a sought-after speaker who has spoken at ProfitCon, Samsung, The WWETT Show, Mitsubishi, AeroSeal, and more; and, he's shared the stage with Brian Tracy, Jay Abraham, Mike Michalowicz, Brian Kurtz, and many others.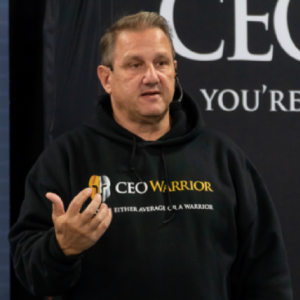 Rob Zadotti, Co-Founder – Over twenty years ago, Rob Zadotti was working out of one van in his struggling electrical company, with only determination and a vision of success. Together with Mike Agugliaro, the two grew their service company from its humble beginnings into a service business empire. After their service business was acquired by a large private equity company, he and Mike went all-in on serving the industry through CEO Warrior. The financial and incentive tools developed by Rob helped build his service business to over $32 Million a year and now continue to help CEO Warrior clients generate more money every year.
Meet The Leadership Team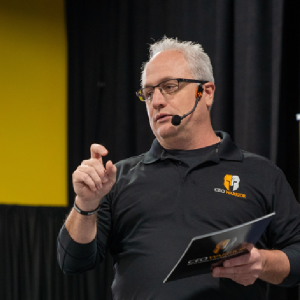 Michael Disney, COO – Michael Disney joined Mike and Rob's service company as a Lead Generator, and he quickly proved his skill at growing the business. Michael accelerated through the company to Director of Sales, where he managed outside sales teams, the outbound department, and relationships with national retail chains. Michael played a part in every function at the service company and had a key role in the sales successes, including their highest recorded sales month ever at $3.5 Million. After Mike and Rob exited their service company to focus exclusively on serving business owners at CEO Warrior, Michael joined them as the Director of CEO Warrior. Today, Michael leads the large and growing CEO Warrior team as the COO.
Caroline Moriarty, Director of Sales and Community Relations  – Caroline has a Bachelors of Science Degree in Psychology from Saint John's University where she graduated Summa Cum Laude. She worked as a Client Development Manager at a financial firm located in Lower Manhattan before relocating to New Jersey. Caroline worked with Mike and Rob for several years at their previous service company before joining them at CEO Warrior. During her time at CEO Warrior, she quickly ascended in her role from Office Manager to Director of Sales and Community Relations. In her role, she oversees a sales team, ensures that clients receive the care and attention they need, and leads the vendor and sponsor programs so that clients enjoy the exclusive benefits that come with CEO Warrior membership.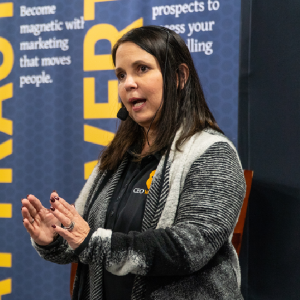 Denise Swafford, Director of Training – A recognized expert in the home services industry, Denise Swafford began her career in the trenches of a call center, answering the phone for her father's HVAC business, eventually becoming an owner in that business and took the helm as the General Manager. Through her leadership and guidance, this business was eventually sold in one of the first rounds of consolidation of the home services industry. She was promoted to Regional Sales Manager for one of the largest home services companies in North America, where she was responsible for over $55 million dollars in revenue. She has been a business coach and mentor for thousands of business owners, guiding them through call center, dispatch, operational, sales, and financial business decisions on a daily basis. Her ground-breaking thought process has also lead to the development of cutting edge products and services that are used by contractors all across the nation.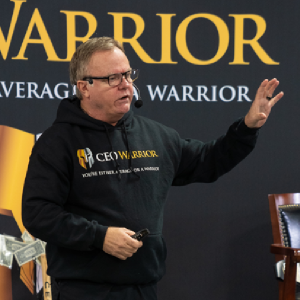 Larry Swafford, Director of Implementation – Larry began his career serving in the United States Air Force where he cultivated his leadership skills. After leaving the Air Force, he found himself working in his father-in-law's HVAC business and worked as a service expert in the home service industry for more than three decades. Larry has held every position from service technician, installer, salesperson/manager, operations and general manager. He has owned and operated several businesses throughout his career and worked at high levels of publicly-traded and privately-owned corporations, including VP of Operations for a $30 million HVAC, Plumbing, and Electrical business. Larry specializes in developing systems, process and procedures to improve growth and profits. His areas of expertise include culture building, business turnarounds, acquisitions, financial KPIs and metrics.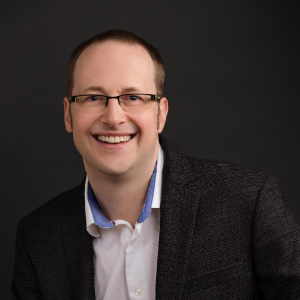 Aaron Hoos, Director of Marketing – Aaron started his career in finance, where he worked in lending and insurance, and later became a stockbroker. Realizing his skill and passion for content creation, marketing, and copywriting, he moved into marketing for financial, real estate, and B2B companies. Aaron holds an MBA in Business Strategy, is the author of two books, and has consulted for companies like HP, SAP, and Microsoft. Today, he works exclusively for CEO Warrior, leading a team of content creators, marketers, and paid traffic experts who are collectively responsible for the CEO Warrior sales process, trainings, and the many new products and strategies that the company produces each and every month.
Meet Some Of Our Other Key Team Members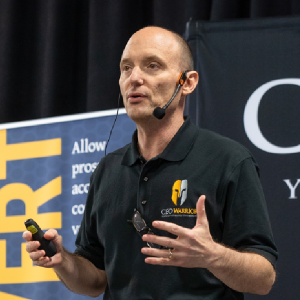 Blaine Oelkers, Chief Results Officer(R) – Blaine is a results-focused entrepreneur with more than 25 years of business ownership experience. It all started when he read Napoleon Hill's book Think And Grow Rich in college, and that book helped set the course for his life. Blaine's varied career started in tech, then he became a franchisee of Domino's Pizza, and he has since owned and operated a consulting firm, four health and wellness businesses, and a personal development company. He's also the founder of two social enterprises. Blaine has coached thousands of business owners and has written or co-written 3 books. All this experience equips Blaine to help business owners get results, which is why he's called "America's Chief Results Officer(R)". Blaine's mission with CEO Warrior is to help our clients move the needle to get more results in their businesses, help them tap into the power of the Warrior Community, and help them increase control over their business and life. Born and raised in NJ, Blaine now lives in Scottsdale Arizona with his wife, Beth.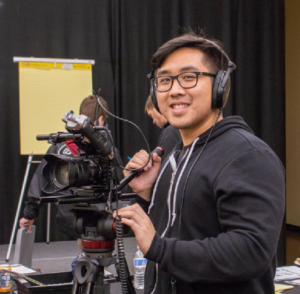 Nelson Wong, Marketing Deployment Manager – Nelson has worked with a myriad of laser-focused video campaigns and high-profile talent in the past, and then joined CEO Warrior as the video director and producer. In that role, he brought the power of cinematic storytelling to CEO Warrior's video media. Nelson's role expanded in the company as he became the organization's photographer and event atmosphere director. Today, Nelson serves as the Marketing Deployment Manager, where he leverages the company's large volume of content and deploys it across multiple channels to communicate CEO Warrior's message to the world.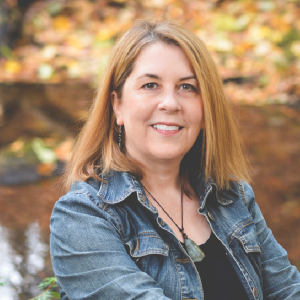 Kathy Ryan, Transformation Advisor – Kathy is a highly-respected expert in the health, wellness, and mindset space, and has worked with some of the top influencers in these fields. Even from early in her career, she recognized that the mindset of her clients was the biggest determinant in their success or failure, and she's successfully  guided countless clients through a transformation—whether a simple shift or an in-depth step-by-step transition—elevating from mindset to mindGROWTH. With CEO Warrior, Kathy combines her mindset expertise with CEO Warrior's powerful transformational strategies, including 9 Pillars, Core 5, and more, to help CEO Warrior impact the lives of service business owners around the world.
Lyndsay Phillips, Marketing Administrator – Lyndsay joined Mike and Rob in the early days, first as a virtual assistant and project manager. Today, Lyndsay works to keep all the back-office marketing and communication software connected together and operating effectively—from the email system to the team communication to the landing page software and more. Lyndsay makes sure that the CEO warrior message gets out to the right people at the right time.
Dina DiBattista, Administrative Assistant and Warrior Experience Coordinator – Dina has worked in the construction and home service industry for over 10 years. Her customer service experience and Certifications as both an Integrative Nutrition Health Coach and a Reiki Practitioner have taught her how to serve clients at the highest level. Since joining the CEO Warrior Team in July 2018, Dina has worked hand-in-hand with the Operations Manager. She is responsible for all event logistics and to ensure that CEO Warrior clients have the greatest experience possible.