Business Mastery
Service business owners: Are you running your business?
Or are you running on empty?
"Most thought leaders teach what they studied. Mike Agugliaro teaches what he has mastered. He teaches what he has done for himself. If Mike is talking about it, I'm taking notes. Period. A must read for anyone committed to growing their business." – Mike Michalowicz, author of Profit First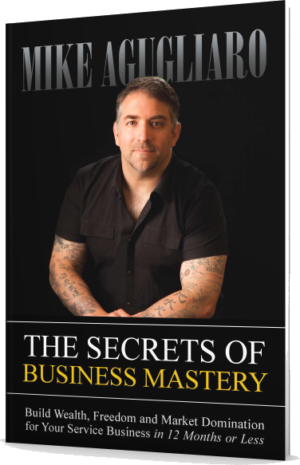 Many service business owners are shocked to discover that running a service business can be an exhausting, expensive struggle. But it doesn't have to be. You don't have to sacrifice your money, your health, and your time with family.
In The Secrets of Business Mastery, Business Warrior Mike Agugliaro reveals how you can take charge of your business, dominate your market, and achieve the kind of dramatic results that you've only dreamed of. You'll discover powerful secrets like:
Mike's game-changing transformational approach to service and how it brings in a flood of higher-paying customers.
The exact step-by-step market domination strategies (and Mike's proprietary checklist) to massively increase the effectiveness of every marketing campaign.
A surprising new way to approach your finances to make more money and put more profit in your pocket.
His time-saving way to find the best employees, and the technologies he uses to empower his team.
Plus hundreds of other proven strategies and actions to implement into your business immediately.
Mike will reveal his $30 million dollar blueprint to transform your business and achieve wealth and freedom. He'll lay out, step-by-step, exactly what you need to do daily in 12 areas of your business to take it to the next level.
Mike Agugliaro was toiling 18 hours a day in his service business, and nearly burning out… until a dramatic change forced him to rethink how he ran his business. He developed a powerful formula that changed everything. He and his business partner went on to grow the company into the number one home service provider in Central New Jersey, with over $30 million dollars a year in revenue, hundreds of staff, and thousands of loyal customers. He is a highly sought-after author, speaker, and business transformer who guides other service businesses to a higher level with his business mastery at https://ceowarrior.com.
3 GREAT WAYS TO CLAIM YOUR COPY!
---

---

---
Book Reviews
It felt like it was written for ME:
I got MIke's Secrets of Business Mastery in one of those "free books, just pay the shipping" type offers… and was VERY pleasantly surprised. It seemed as though Mike wrote the book TO me. As the owner of both a martial arts studio and a service business, it was amazing not only to read a book by a man that also has done both… but done it WELL. Looking forward to learning more and solve more of the same problems he has faced. I'm proud to see an entrepreneur sticking up for those of us that have had enough of 100 hour weeks. The best is yet to come, thanks to the principles and strategies in this group. – Kurt Frankenberg
The Real Deal:
There are a lot of people in the service industry who claim to know what they are talking about. Let me tell you the author of this book knows what he is talking about when it comes to turning your service business into the business of your dreams. -Eric Rios
An Absolute Must Read:
An absolute must read! Whether you're a new start-up business or an already established service company, Mike's book lays down the ground work for you. There is so much value in this book you will do as I have and keep re-reading to extract and apply as quickly as you can. Folded page corners, highlights and underlined sentences to be expected. Plus reach out and get a chance to meet Mike in person as I have had the opportunity too and you will see this book laid out in real life, in person, as real as it gets. Thanks, Mike! – Ryan G.
Top of My List For Best Business Book:
If you think you know something about business you haven't read this book, I read this book faster than about any book I've ever read, I could hardly put it down. At the top of my list for best business books to read. -Steve Leal.
A Game Changer For Me:
This is the best business book I have read. It was a game changer for me, there were many nuggets that I have implemented in my business. It is now a reference manual for me on how to run my business! -Gary Lightfoot.
If You Are In The Same Boat – Get This Book:
As the son of an owner, I have immense pressure to achieve something I honestly have no idea how to accomplish. I've felt for some time that there are many things that we are doing wrong- that we've been doing for 40+ years. This book proved that I was right. We're missing things. Poor management will lead to where we're at now- my 66-year-old father and my self-running 12-13 hour days trying to catch our own tail. If you're in the same boat- get this book. – Robert Shiver