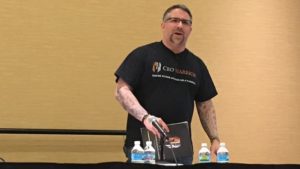 What you know about recruiting and hiring new employees is wrong, Mike Agugliaro, Gold Medal Service, East Brunswick, New Jersey, told a packed house of contractors attending the Water & Wastewater Equipment, Treatment & Transport Show here. Agugliaro is also the founder of CEO Warrior and CONTRACTOR's latest Contractor of the Year.
How much is one amazing employee worth? Agugliaro asked the contractors. A million dollars?
Contractors need to get passed their self-limiting beliefs, he said. In the past, Agugliaro hated his employees right after he hired them. They won't live up to expectations, they'll smoke dope on their lunch hour, they'll do the work wrong, or they'll steal. You program your brain for the outcome, he said, and that's the outcome you'll get unless you change your thinking. Agugliaro said that contractors should write down their self-limiting beliefs and acknowledge what they have cost them.
Continue reading the full article HERE.
Don't YOU want to boost your expert status and play against the big companies?
Learn how at the Warrior Fast Track Academy.