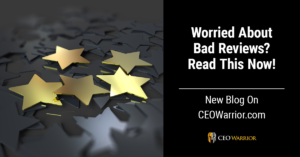 This blog post contains excerpts from a training I gave a while ago. People loved it and I'm sharing it here on the CEO Warrior blog because it's such an important topic and I want more people to benefit from it. It's been edited for size and because our speaking grammar is very different from writing grammar.
Almost every day I hear from service business owners about reviews. You're sitting there thinking: Man, I worked so hard to serve my customers at the highest level. I appreciate each one and work extremely hard to provide fair value for what we deliver. And then all of a sudden you get that one customer who is upset and leaves a bad review. It's extremely frustrating, your ego's hurt, you're feeling bad. You could have 5,000 great reviews, but then you get one bad review and it's just heart-wrenching because you work so hard in your business.
So in this blog post, we're going to get you dialed in on some things to think about with reviews.
Reviews Are A Gift And A Curse
Having lots of reviews allows prospects to feel comfortable hiring you because they know other people have had great service from you.
And today it's better than ever before because we have social media. But that's a gift and a curse.
The gift is: we never had this, we never had the ability for someone instantly to give us a great review.
The curse is: anyone can say anything about you… and some people can say bad things.
But here's what many service business owners don't realize, and you need to know this about your customers: I never believe a company that has 100% positive reviews… and neither do you. Anytime I've seen a company with 100% perfect reviews, I think it's made up. Even the greatest brands in the world don't have 100% reviews. So it's okay because to have a couple reviews that are not perfect in your world.
Learn To Leverage Your Reviews By Using Them In Your Service Process
When you have lots of great reviews, it's easy to include in your marketing something like: "Hey check us out. We have 500 Google reviews!" But very few people leverage their reviews beyond that. But you should be leveraging your reviews everywhere: in your inbound calls, your outbound calls, on your direct mail, any magazine advertisement, on your billboard, your radio, your TV.
But don't just say "look at our reviews." Instead, say WHY you are sharing the reviews. For example: "We are so proud of our team, we're so proud of the owner, we're so proud of the brand, we're so proud of our core values. And these have allowed us to reach 500 five-star reviews and we're extremely proud over that. And we're going to do the same thing for you, the customer. Our goal is to turn you into a raving fan."
Or here's another example when your CSRs are talking to a customer on the phone: "Mr. Jones, thanks for giving us a call. I'm not sure if you had a chance to look at it, but we have over 500 reviews. And the only reason I'm sharing that with you before we get started today is to want to let you know that my number one purpose is to make you a five-star person too. I want to deliver Raving Fan experience and if any time along the way you don't feel it's a 5-star experience, please just stop me and let me know so I can get better really quick." I want them to share the outcome.
Many businesses ask for reviews at the end of their interaction with customers… but they're not setting them up in the beginning. Start by telling your customers upfront what YOUR expectation is! "We're going to serve you so well, Mrs. Jones, that you're going to give us a five-star review." Set the stage of the expectation.
The 3 R's Of Dealing With A Negative Review
When you get a negative review—and will likely happen—don't ignore it or get defensive. Here's what to do:
Respond. Respond right away to the review.
Here's a sample script that I would use: "Hi, it's Mike Agugliaro from Sample Service company, and it looks like we let you down. We're completely embarrassed and frustrated over this. We would like to make it right. Please do me a favor and give me a call, I put my cell number below, we want to make this right, and turn you back into a raving fan, just like the other 500 plus people. For 22 years in business, we've been running a 9.8 out of 10 satisfaction rating so we want to get you back there. Please call me on my cell phone."
I've done this strategy for the last 6-7 years of my running my service business… and in that time, only one person called me. But that's okay because this "call me on my cellphone" reply is not just for them. It's for future customers too: When a prospect scrolls down and sees the bad review and then they see the owner or manager reply with their cell phone number, the new prospect is like: "wow! These people care so much that that guy put his cell phone on Google!"
Relocate. Relocate their expectations and the place to get your reviews. When you have bad reviews, send an email to your whole list of customers and say: "You know what? We're really, really frustrated. We let somebody down, we want to make it right, and they've come after us and attacked us. But you know that we deliver great service so I'd love to have you give us a review. And if we did not do good, reach out to me, here's my cell."
When customers give a bad review and you make it right, ask them to modify the review (either by making a correction or by adding a follow-up comment, depending on the functionality of where they put the review).
Let me give you a simple social media post that you can leverage today: if you have a lot of great reviews, go take a snapshot of that on Facebook and write a post about how proud you are of it: "Thank you to all my customers, employees, and vendors for helping us achieve 500 five star reviews. We're proud, we will never let you down." Send that picture in an email blast to all your customers.
Raise. Raise the level of your service. Even if you give great service already, raise the damn bar. Like you might be a great skier, but there's a difference between a great skier and a gold medal skier. Just raise the bar even higher.
How do you raise the bar? You raise the bar is by education. It's hard to fix what you can't see. And it's hard to fix what you don't measure. Like Joe Polish says, "What you measure and report on improves exponentially."
Keep the ego aside. You're supposed to be amazing and you're supposed to raise the bar and become more amazing every day. A lot of people walk around saying "Oh look at my reviews," and it almost comes across as cocky and not sincere.
Don't read the bad reviews and let them knock you down. Let them pull you up. I am so thankful for the good reviews because we work hard to earn them; and I'm so thankful for the bad reviews because they give us the opportunity to improve.
But What About Reviews Of People Who Aren't Even Customers?
Look you're going to get people giving you bad reviews. I got bad reviews and it was from people who weren't even our clients. I don't let that shock me. I just say: "We really messed up! We can't even find you in our system. We're embarrassed, clearly, we must have done something for you. Do me a favor, give me a call, I don't have you in our system so I can't even call you and I feel so bad, I can't even call you. And it's probably our mistake and I'm sorry for that. I feel bad. Just call me on my cell phone and let me make it right. Or maybe if it's not us, let me help you solve it with the other company and make them better. Is that good? Please reach out today."
Summary
Many service business owners dread reviews and therefore don't ask their customers for them. But they can be a powerful tool… even the not-so-good ones!
And when those bad reviews happen (and they probably will) just use these 3 Rs to help you deal with them and turn them from liabilities into assets that will actually help you serve even more customers.