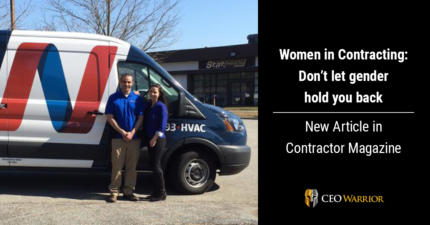 You don't need to know how to pipe a bathroom to run a plumbing contracting firm.
Over the last two decades, plumbing and heating trade publications have written copious amounts of news stories, articles and editorial opinions on the skilled worker shortage. Editors and industry experts have offered advice to contractors on recruiting techniques to hire the right workers. That advice includes marketing the plumbing and heating industry to school children, veterans and women.
While women working as HVAC techs or plumbers are still a small portion of the plumbing, pipefitting and HVAC industry, more women are moving into managerial roles or even running these contracting firms. Many of these women-operated businesses are family owned, where women work alongside fathers, brothers or husbands to make the company a success.
Continue reading the full article HERE.
Don't YOU want to boost your expert status and play against the big companies?
Learn how at the Service Business Edge: The Secret Blueprint To Growing Your Business.