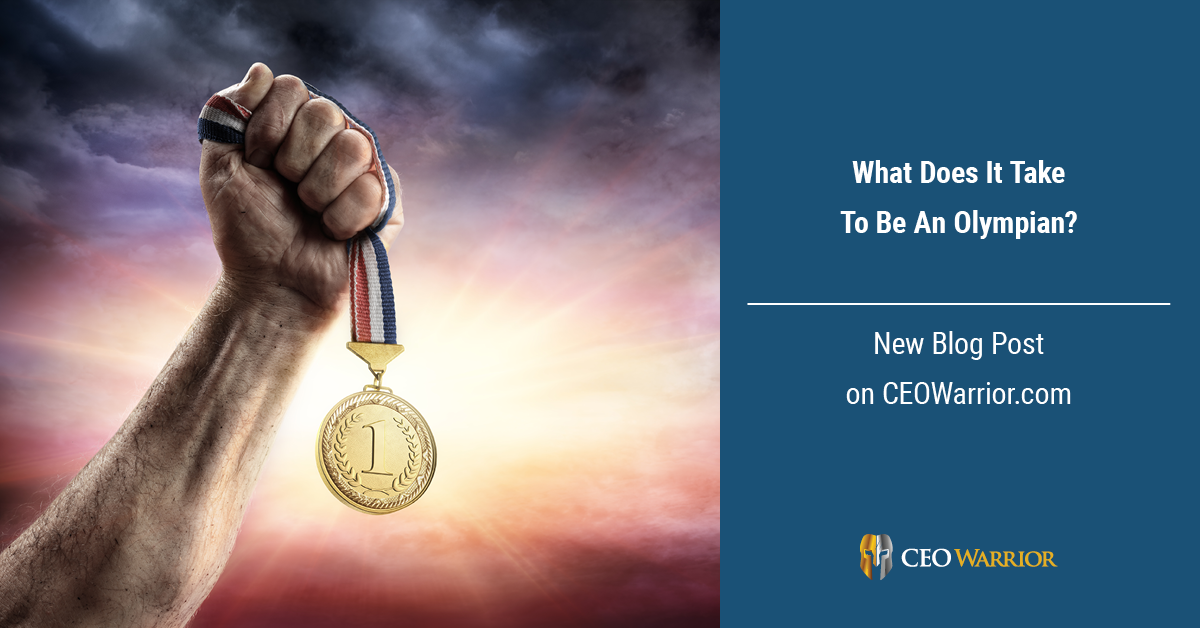 Have you been following the Olympics? I don't watch a lot of sports but it's hard not to hear about the winter Olympics taking place right now in South Korea; you can't help but hear about the success or struggles of the Olympians as they compete to win gold while representing their countries.
One question I think about during the Olympics (during EVERY winter and summer Olympics) is: what does it take to be an Olympian?
An Olympic athlete is not just anybody. You can't just show up on day 1 of the Olympics and say "hey, I want to compete!"
Only some people can get in to participate… and even then, participation does not mean a win. But if you do win? WOW! You get a gold medal that says you are the very best in the world. That's an indicator that you have elevated yourself to the very VERY top of your sport… and no other person IN THE WORLD was able to train, qualify, or participate at your level to win that coveted award.
So, what does it take to be an Olympic athlete?
It takes only 2 things (but these are big)—it takes TRAINING and DETERMINATION.
Believe me, you can't get to the Olympics without both of those in abundance.
You need TRAINING to build your skills and expertise in the sport you're competing in. And you need DETERMINATION to show up every day, in every type of weather, even if you don't want to, in order to train and compete, and give 100% every single time.
Now let me ask you a question about your business: What level do you want to get to in your business?
Do you want to be mediocre? Probably not. (The people who are part of the CEO Warrior community of Champions never settle for mediocrity).
I hope you want to be more than good… more than great… I hope you want to be the very best.
… Maybe you want to be the best in your city.
Or your state.
Or the country.
Or even the world… for your industry.
Or heck, maybe you just want to be the best YOU possibly can be in the moment, no matter what life throws at you.
That's the mindset that Rob and I had when we ran our service company, Gold Medal Service, and we kept that same approach now as we oversee the growing team here at CEO Warrior. You've probably heard me say before that we are building a global movement to change the lives of service business owners around the world. THAT is the same kind of mindset that Olympic athletes have: to strive to be the very best.
I promise you this: those Olympic athletes work TIRELESSLY to be the very very best at what they do using their training and determination to get them to the winner's platform.
Are you a service business owner who wants to be the very best at what you do? You need to have the same two things that an Olympic athlete needs:
TRAINING and DETERMINATION.
When I say "training" I don't just mean that you can run wire as good as every other electrician in your state. And when I say "determination" I don't just mean that you hauled your lazy ass out of bed this morning even though you wanted to hit the snooze button for the tenth time.
No.
When I talk about training I'm talking about training like an Olympic-level athlete would train for their sport: That is constantly pushing yourself to learn and apply; testing new ideas; seeking out experts who have done what you want to do and modeling them; soaking up every idea and strategy (even if it doesn't seem like it immediately applies to you at this very second); and even investing in your education so you can learn more, faster.
(Think about this: do you think those Olympic athletes got to the Olympics by just doing their sport and never spending a dime on eating properly or getting the right equipment or coaches? No! They invested in themselves to grow).
When I talk about determination I'm talking about being as determined as an Olympic-level athlete would be for competition: That is getting up each day and tackling every moment with a raging inferno of fire that burns inside you because you want MORE. Even when things don't go great. Even when frustrations mount up. Even when it feels like you're not hitting your goals.
Look, there are many service business owners out there who are content with the training they received a decade ago, and are content with the level of determination that helped them get out of bed this morning… and they don't want more than that.
But if you want more… more wealth, more freedom, more market domination… more time with your family, more enjoyment (and less stress) in life…
… if you want more of that then you need to stop thinking as an amateur athlete and change your mindset to start thinking like an Olympic athlete. You need to step up your game by investing in better training and stoking the fire of stronger determination to win every moment of the every day.
Summary and 2 Warrior Steps
Even if you don't follow the Olympics, you can still be inspired by their example of athletes who decided to be the best and who combined the training and determination to rise above their competition and strive to get the glory and the gold medal and the recognition that comes with being the very best.
If you want that in your business and life, I have 2 simple Warrior steps for you right now (make sure you do both right now):
1 – Join the CEO Warrior World Facebook Group to get exclusive videos and strategies that I don't
share anywhere else. (Hey, it's like how Olympic athletes start hanging around with other high-
level athletes… that's what happens in the CEO Warrior World Facebook Group.)
2 – Go to ServiceBusinessEdge.com and register to attend the 4-day event on June 12-15. This is
where real "Olympic-level" service business owners come to train. You'll get fired up with new
levels of determination, too! Go to ServiceBusinessEdge.com right now to learn more… and
make sure you do this right away because we have a huge promotion happening right now that
gives you 67% off the price of a ticket… so seats are going fast so make sure you get yours while
there are still seats available.