Want to know what makes CEO Warrior different from other industry groups or coaching companies?
Well, aside from the firehose of proven strategies, and the customized roadmap that business owners get, there's also a surprising benefit that most people don't even realize they need…
Other industry groups or coaching companies will give you a few strategies and then let you implement. But CEO Warrior? CEO Warrior knows something that other organizations miss: business owners have a TON of untapped potential, and the CEO Warrior team are experts at helping business owners discover their untapped potential to achieve even bigger wins.
It's not surprising that Warriors achieve more. CEO Warrior helps them discover that they can play at a higher level than most.
Recently, the Warrior Circle mastermind was given a month-long challenge called "Unleashing The Beast" and it was all about that—tapping into that untapped reserve of energy, drive, and potential, so that Warriors could get to a next level.
During the "Unleashing The Beast" challenge, Warriors were given daily instruction and inspiration inside the exclusive online Warrior Den, and then Warriors were tasked with small daily challenges that they had to complete.
There were a variety of challenges, all with the intent of pushing each Warrior beyond what they thought they were capable of doing in order to get to the next level and finally start achieving more. The challenges were all about thinking faster, reacting faster, adjusting course, and (perhaps the most important) digging deep for that inner resolve that will fuel you to continue going when most people have given up.
And, just like our other monthly challenges, our Warriors stepped up!!! Each Warrior who participated faced challenges and learned that they could unleash their own inner beast at a level they never thought possible.
By the end of the challenge, each Warrior won their own small battles with their own inner self, and discovered a higher level of achievement that they could operate in. However, the point of the challenge was not just to learn but also to participate in a friendly competition for one person to be named a winner.
And there was a clear winner! By the end of the month, based on a number of factors, we were proud to award Mandie Hagan, owner of Rowell's Services with the coveted Warrior Grenade award for her active participation and proven progress during the Warrior "Unleashing The Beast" challenge.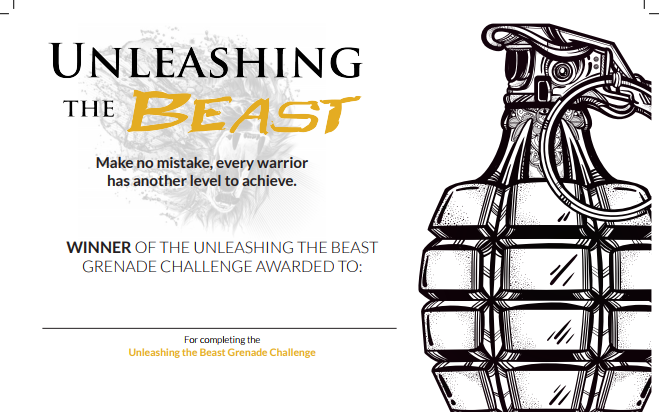 Mandie Hagan proved that she had powerful resolve to dig deep, and when she unleashed her inner beast, it was clear that her level of achievement rose dramatically in whatever she set out to accomplish.
The CEO Warrior team thanks all Warriors for proving yet again just how powerful they can become when they get laser focused on growing one skill-set, and the CEO Warrior team also congratulates Mandie Hagan for unleashing her beast!
We all have a higher amount of potential that will fuel our achievement and growth if we only learn to unleash the beast within us. Want to learn how you can do it? Here are 3 Warrior steps to unleash your own beast…
You need a vision that inspires you. If your vision doesn't inspire you and make your heart beat faster (and even scare you a little) your vision isn't strong enough. Create a stronger, more inspiring vision.

Pay attention to when you want to quit. And when you do, tell yourself that you're just getting started. As Grant Cardone points out, most people are doing 1X level of work but it takes 10X levels to achieve what you want to achieve.

Make sure you get a copy of Mike's book

The Secrets Of Business Mastery

, and make sure you read the first 4 chapters which deal with personal transformation that can unleash your inner beast.