As children, perhaps you played "Pirates" and you imagined finding a treasure map that led you to buried treasure.
Well, there may not be a tattered piece of paper that reveals "X" marking the spot but there IS a treasure map available that can lead you to unlimited treasure.
That treasure map is the ability to master any skill—quickly, accurately, efficiently.
Imagine how powerful it would be if you encountered a problem in business or in your personal life and, instead of being stymied by the problem and held back you simply turned to this "treasure map" and worked your way to an effective solution?
Nine Pillars is just that. Nine Pillars is the step-by-step system that you can apply to ANYTHING to master it. It's so powerful. I started creating this system and using it years ago (long before I had a name for it) and honed it through the time that Rob and I transformed our businesses.
I published it last year and it was incredibly well received and I've since gone back to refine it to make it even better and more useful for people.
Along with publishing it as a resource, I also turned it into a challenge for the Warriors in my Warrior Circle. After all, each Warrior has joined the Warrior Circle because they wanted to master their life and business and achieve more wealth, freedom, and market domination… and there is no better way to do that then through the 9 Pillars system.
Earlier this year I challenged my Warriors to step up and apply the Nine Pillars to their life and business, to find opportunities in everyday situations, challenges, and problems to use the Nine Pillars to quickly understand the problem and then rapidly find a solution and master that solution to ultimately master the situation.
Every Warrior who participated in the challenge stepped up, adopting the "mastery mindset" to tackle whatever problem they encountered.
From business challenges to staffing challenges, from scheduling challenges to payroll challenges, from family challenges to network challenges… we all encounter opportunities in every aspect of our lives to improve and master. It doesn't have to be a negative challenge like "I don't know how to…"; it can be a positive opportunity presented as a challenge, like "I want to grow in this area…"
While every participating Warrior did an amazing job of creating change and achieving mastery, one Warrior stood out: Tom Casey of Casey's Climate Partners. Tom really went above and beyond, earning the "Warrior Grenade Award" for this challenge by pushing himself daily to tackle any challenge I threw at the Warriors, and to discover solutions and master them quickly for any challenges in his business and life.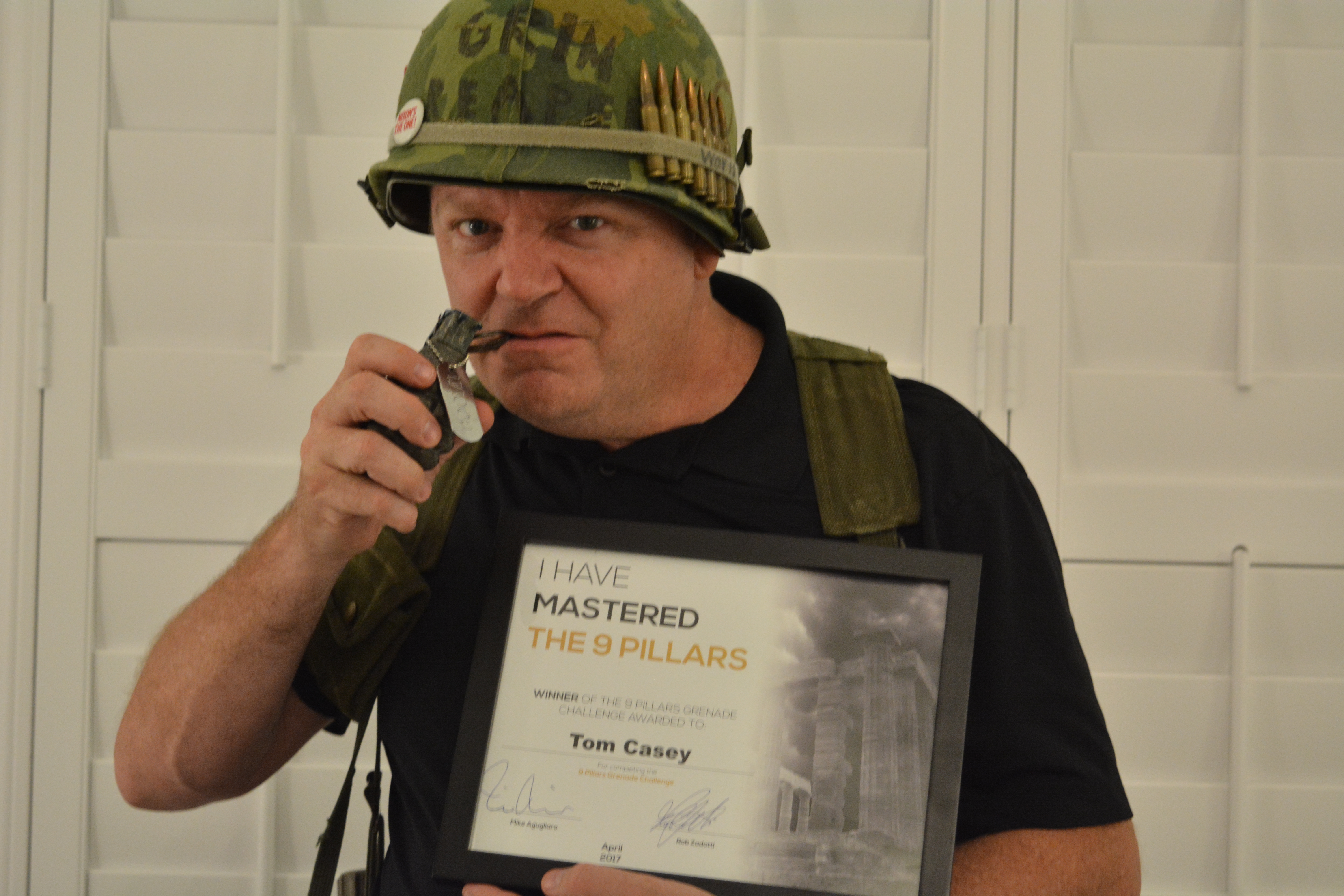 Congratulations, Tom!
The Warrior Grenade award is awarded each month to the winner of these month-long business-building challenges and competition is fierce among Warriors to participate for the much-sought-after award.
Tom Casey proved himself to be a master at mastery, pushing himself outside of his comfort zone to apply the Nine Pillars to everything he does in life and business.
The CEO Warrior team thanks all Warriors for proving yet again just how passionate they can be to push themselves toward growth.
For those who want to learn more about the Nine Pillars and how it can be a treasure map to unlimited treasure in every area of life, should check out the Nine Pillars Program.