Business owners struggle with an annoying problem… Unfortunately, the commonly perceived "fix" is also wrong too!
Most business owners work hard in their business and very long hours. And when it comes to downtime, what owner doesn't want more?
Society tells us that we need to seek "balance between work and life". But as I always tell my Warriors, I don't believe that. Work is life… and life is work. When you have a vision for changing the world than even doing "work" in your downtime doesn't feel like work… plus smart business owners know how to integrate quality time with family, quality time with work, and unplugging from the world when necessary.
What people don't need is balance… they need to be centered on what I call the "Core 5 Dimensions of Life and Business" (often just shortened to "the Core 5").
The Core 5 are:
Belief—your values, faith, inspiration, passion, and (if applicable) your religion

Health—your physical, emotional, and mental well-being

Relationships—strong connections with a network of people

Wealth—financial certainty and a growing financial net worth

Freedom—the ability to choose the course of your day and your life, and to contribute to others' lives as well
At CEO Warrior, our focus is to stretch business owners and help them achieve a more powerful, impactful life, and the very best place to do that is in our exclusive mastermind group, the Warrior Circle. Warrior Circle members are taught, inspired, and stretched to achieve a life that is fulfilling and enriching—to them, their employees, their families, and the community.
Recently, the Warrior Circle mastermind was given a month-long leadership challenge. Warriors were given daily instruction and inspiration in the exclusive online Warrior Den, and then Warriors were tasked with small daily challenges that they had to complete toward fulfilling the Core 5.
From learning to articulate their beliefs to learning how to serve their family and friends; from understanding what real wealth is to measuring the results of various strategies to achieve greater wealth; from discovering how health contributes to a better business to even helping employees achieve better health; from setting targets for greater freedom to achieving those targets and growing… each Warrior who participated in the Core 5 Challenge stepped up to become better leaders, better spouses, better parents, better community members.
I'm proud to say that every one of the Warriors who participated benefited in significant ways from their growth but there was one particular Warrior who stood out for completing challenges and seeing some incredible results!
By the end of the month, based on a number of factors, we were proud to award Todd Casey, owner of Casey's Climate Partners with the coveted Warrior Grenade Award for his active participation and proven progress during the Warrior Core 5 challenge.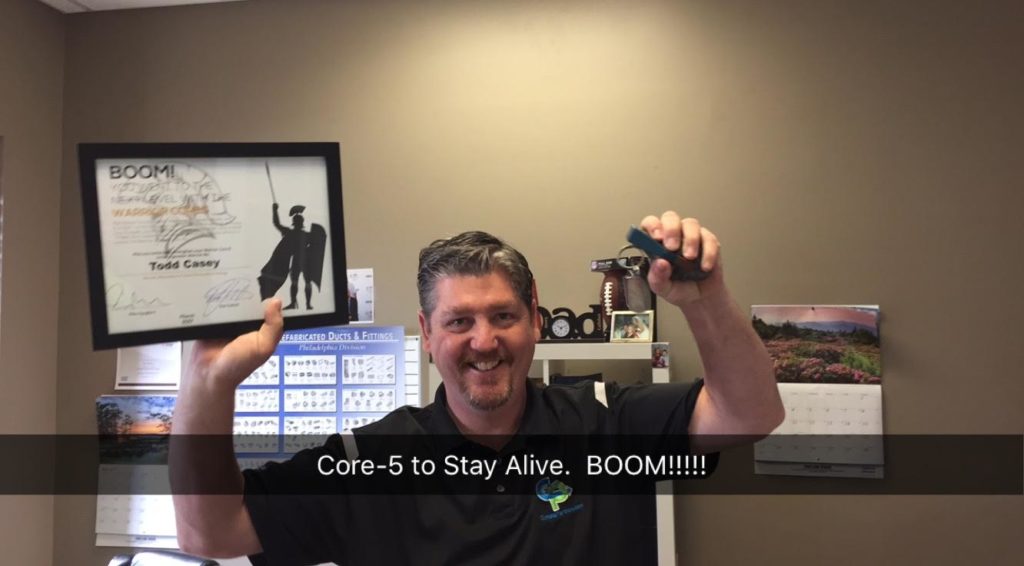 The Warrior Grenade Award is awarded each month to the winner of these month-long business-building challenges and competition is fierce among Warriors to participate for the much-sought-after award.
Todd Casey proved himself to be a powerful leader and worthy of the Warrior Grenade award by actively participating in the challenges, pushing himself outside of his comfort zone to grow his Core 5 and to contribute to the lives of those around him.
The CEO Warrior team thanks all Warriors for proving yet again just how powerful they can become when they get laser focused on growing one skill-set.
For those who want to discover more about the Core 5 Dimensions of Life and Business, my book The Secrets Of Business Mastery digs each of the Core 5 and then the entire book is designed to help business owners achieve mastery in their business to enhance their Core 5. The Secrets Of Business Mastery has been published for a couple of years now but I'm excited to announce that it is being republished and will be available in bookstores and from many great booksellers.