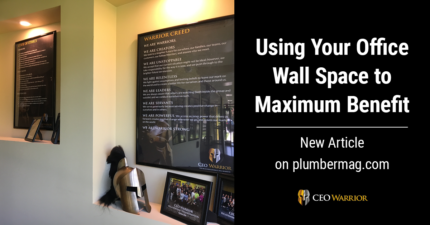 With all the factors involved in running a successful business, you're probably not giving much thought to the physical walls of your office. Perhaps reconsider that and use these tips on how that space can help with your larger business missions.
What if there was a silent, ever-present way to inspire and motivate your team, keep them on track and aligned with your vision, and even help you sell more to your customers?
There is, and chances are you're using it already but could be using it much more effectively. I'm talking about the walls of your business.
If you have a building, are you maximizing the wall space in that building as effectively as possible to strengthen your team and even increase sales? It doesn't matter if you have a large team, or if you have a small but growing plumbing company. Even if it's just you by yourself, there are some wall-enhancing strategies that can help you.
Subscribe: If you don't want to bring your iPad into the bathroom, we can send you a magazine subscription for free!
Here are six ways to get the most from your office wall space.
1. Core Values
Does your company have core values? You should. Core values aren't just nice-to-write-but-easy-to-forget marketing words. They are powerful decision-making tools that your team uses in the field every single day, and they either will use your core values if you have them or their best guess if you don't.
At the same time, companies with powerful core values can use them in their marketing as well. Your core values should be everywhere. Create a list of four to six core values that your company lives by and turn them into posters. Put those posters up in several places throughout your building for all employees and customers to see.
Related: Is a Paid Customer Lead a Bad Lead?
2. Maximum Alignment
Identify one wall that is centrally located inside your building (where customers don't go), that all your employees will see. Maybe it's a break room or a main hallway, but somewhere that most or all of your employees will pass by daily. In that space, put up a simple poster (even just a hand-written one on poster board) that aligns your team. You should include your core values (see above) as well as the highlights of your company's vision and any key focus you have for the month or quarter.
3. Team Wall
As your team grows, it may be more and more challenging for your techs to remember who is in the office and vice versa. A team wall where you put an employee's photo, name, and role may be a great idea to help everyone feel like a team and remember who your growing company is. Just make sure this is scalable or you'll find, as I did when my company started to get to 200 employees, that you are running out of wall space.
4. Wall of Pride
A Wall of Pride is a section of wall in your office that you can put testimonials, awards, clippings of newspaper articles, etc., that your company and your team earns. These should all go in one central location where people can view the many great things that your company has done and feel good about the work you are doing for your customers. If you have an office where customers come in, consider putting your Wall of Pride where they can see it. But whether or not you have customers come into your office, make sure it's in a place where your employees can see it.
The background should be clean and simple, not cluttered, and should contain your company's name, logo, and contact information (especially if you aren't adding that to the video after the fact). And it should be designed in a way that your head isn't blocking this critical information during the video. Consider putting the video wall in a somewhat quiet room that won't be disturbed by your team talking while you're trying to record. Plus, it keeps you from feeling embarrassed if you're new to shooting videos.
You can use these videos on Facebook, Instagram, and YouTube, but you or your team may also choose to shoot personalized videos for customers, especially to help you close big jobs.
A Final Word
As the owner of a plumbing company, you're always trying to guide and direct your growing team. Of course you do that in person as often as you can, but your company's walls can help support your efforts by aligning and inspiring your team, and helping you to market and sell to customers too.
Read the full article on PlumberMag HERE.
Don't YOU want to boost your expert status and play against the big companies?
Learn how at the Service Business Edge: The Secret Blueprint To Growing Your Business.