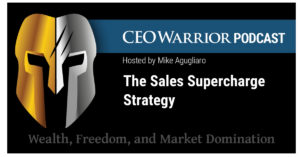 Discover the proven sales supercharge strategy to generate more sales from your customers – without discounting or coupons. Discover creative advertising strategies that really set your business apart from competitors (hint: they leverage the way your customers think about promotions) Motivate your customers to purchase today – put a stop to objections like "I'll have to think about it" and increase your close percentages… and do it WITHOUT dropping prices or offering discounts (plus this is something your sales team can really get behind)
Key Lessons Learned:
Sales Strategies
Do your due diligence, every state has different rules about what you can and can't do in business. Don't do something that will put your business at risk.
You have to have your systems in place. If you don't look good, smell good, and act right, all the sales strategies in the world won't matter.
Increasing perceived value is one of the most impactful things you can do, it enables you to charge more for your products and services.
You need to use yard signs, they are essentially mini billboards that go on your customers lawn.
Offering incentives is a great way to avoid negotiating your fees. It can also be used to upsell customers who are hovering around the middle offering.
Having a compelling incentive program is an excellent way to fill the lulls in your work schedule.
People buy because of a why, buy we also have to sell from our why.
If you're suffering in your business, it's because a lack of knowledge and education. You need to start learning about marketing and business.
Incentive Programs
Incentive programs in a marketing world creates emotional movement. The sales process is all about helping lead someone to make the best decision for themselves and their family. Sales is not about you.
Creating value for the consumer is the heart of an incentive program.
Cruising is the most popular vacation type in the world and the typical cruising customer also happens to be the ideal client for most service businesses.
The cruise industry has a tremendous cost of acquisition, by leveraging that you can get these cruise vouchers from anywhere from $99 to $199. The perceived value of a cruise voucher is huge, especially compared to a straight discount.
The most important thing to a person is a day off, the second most important is what they do on their day off.
You have to answer the how and the why or else your customers will automatically say no, even if it's a great offer. It will just seem too good to be true.
Cruise vouchers are also great for sales contests and motivating your sales team.
You can even get your vendors to buy you cruise vouchers by convincing them it will help you sell more of their products.
Membership Programs
Everyone should have a membership program, no matter what services you offer.
It's not about making money off the membership, it's about creating value.
Incentives are a great way to close more memberships.
Technical support is one of the easiest services to offer to make memberships more enticing.
Lead Generation
Leveraging a vacation incentive to generate leads can be one of the most powerful things you do to increase sales.
The perceived value of the cruise voucher is the game changer.
Links To Resources Mentioned
https://www.increaseoursales.com
Thank you for listening! If you enjoyed this podcast, please subscribe and leave a 5-star rating and review in iTunes!
Here are a few different ways to catch the episode:
– Listen on iTunes (Apple)
– Listen on Stitcher (Andriod)