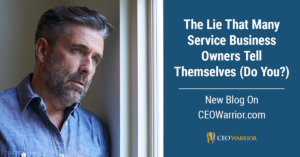 Last week CEO Warrior hosted Service Business Edge—our 4-day workshop.
It's where I (and the team) share all the strategies, tactics, systems, tools, and blueprints that allowed Rob and I to build our $32 million/year service business (which we sold to a large private equity company a couple of years ago).
The people who attended invested money and time to get there. It's a few thousand dollars once you add in the hotel and plane tickets. And factor in the few days they're away from the office… I appreciate that people stretch themselves to come to the event.
But there are others who say, "I can't afford it."
That thinking takes me right back to my earliest days of running my service business.
My business was struggling. My business partner and I were even talking about shutting it down. Yet, we invested in ourselves.
People thought we were crazy. They said, "You can't afford to spend that money and time; you should be working in your business!"
Over the years I sacrificed to invest over $1.4 million in my education. That's a number that most people would say "I can't afford."
But consider this:
That $1.4 million investment created a service business that generated $200 million in the ten years before Rob and I sold it. We sold it for a lot of money.
That changes the equation completely.
Spending $1.4 million seems like a lot of money.
Spending $1.4 million to earn hundreds of millions in the company makes a lot of sense.
People who say they can't afford something are only thinking of the PRICE, not the RETURN.
If someone asked you for $100,000 and you didn't have it, you'd laugh at them.
If someone kidnapped your child and demanded a $100,000 ransom in 24 hours, you'd find the $100,000.
See the difference? It's not actually about the price or what you can afford. It's about what matters to you.
$1.4 million over the years was a massive stretch. But I never said I couldn't afford it. Instead, I said I would figure out a way, and I treated the outcome as if my family's lives were at stake…
… because they were.
And yours are too. Your family wants you to succeed in your service business. They need you to succeed in your service business. And the way you can succeed is by investing in yourself and your business growth.
So, before you say, "I can't afford it" to any investment that will make you better, consider carefully whether you truly can't afford it… especially if it can help you grow.
I'm amazed when I think of the people say: "I can't afford the financial time investment to come to Service Business Edge" even though the strategies at this training event may cost a small investment of a couple thousand but result in a massive return of millions.
Can you really not afford it?
If you know you need to change "something" but you're not sure what, consider a ONE-ON-ONE Strategy Session with one of our Master Advisors.
It doesn't cost you anything but 30-minutes of your time. Sound good?
Get yourself booked HERE … it could be the push you need to get where you need to go!