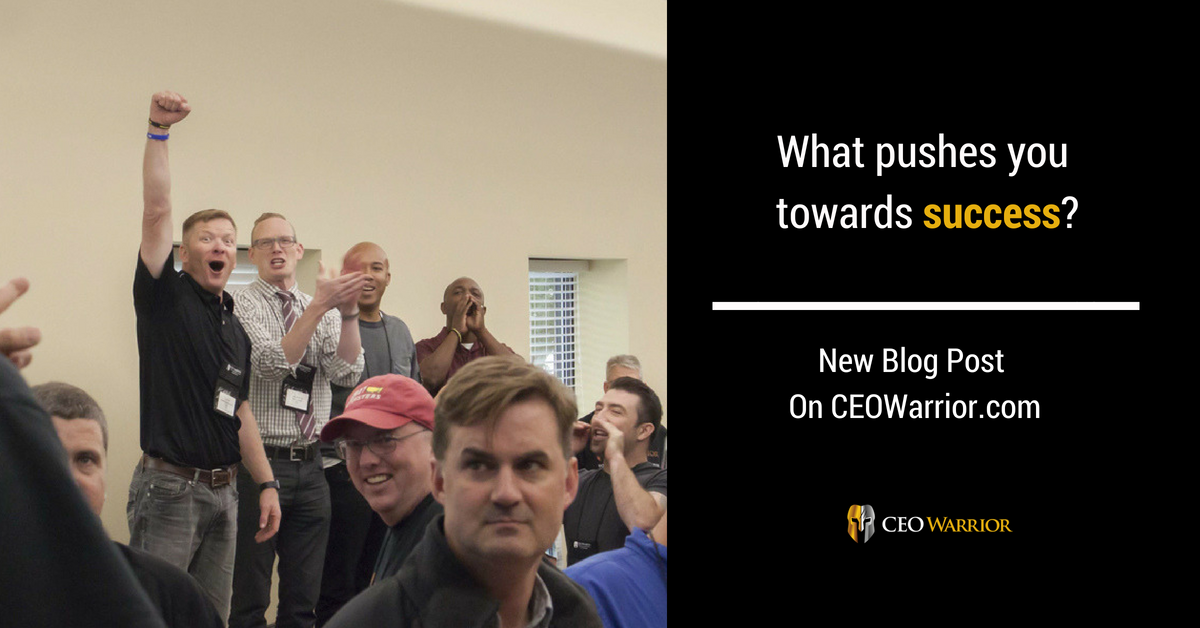 We're holding another Service Business Growth Intensive event at the CEO Warrior headquarters. Dozens of home service business owners from all over the country will descend upon East Brunswick NJ to get game-changing business strategies for success; often hearing from business experts like Jay Abraham, Mike Michalowicz, and Brian Kurtz; and leaving with a step-by-step implementation roadmap.
Anyone who has been to a past event will tell you that it is business-transforming… and life-changing.
But there's one thing that is common among business owners who show up at our Service Business Growth events. I see it every single time we hold this event.  
(In fact, even while we give business owners powerful strategies, we often are also addressing this challenge throughout the first few days.)
Here's the challenge, and it holds SO MANY service business owners back (and very few realize it… in fact, you might be impacted and don't even realize it).
The challenge is: you end up thinking too small.
You see, here's what happens:
Maybe you started in-home services as an employee before you went on to start your own company (that's what I did) or maybe you took over the family business. Either way, it's pretty much the only thing you know.
And while you're offering local plumbing services (or whatever you're offering), you end up comparing yourself to other people offering the exact same services to the exact same people.
The result is so common: you get stuck in a certain way of thinking. You think like a local plumber because that's how you see yourself and that's how you see your competition.
Over time, this "small thinking" grows to other areas of your life. You begin to expect the busier times (maybe summer, for example) and the slower times (maybe fall). You get frustrated at customers who don't want to pay what you're worth and end up going to a cheaper competitor so you adjust your prices downward.
You soon think of yourself as a hardworking local plumber who is doing the best you can in a competitive market against cut-throat cost-cutting competitors who want to eat your lunch… and you know the busy times and the slow times and you just tolerate it.
That small thinking pervades everything. Your work life. Your finances. Your health. Your family time.
Soon, family time becomes a short window in the evenings that you get to hang out with your kids before they go to bed and before you go back to doing paperwork or planning the next day. Why? Because you're a busy local plumber with cut-throat competitors and this is the life you're living.
You don't realize it because it happens gradually but you are thinking too small.
Stop Thinking So Small
At Service Business Growth Intensive, one of the things we need to do right from the moment people come in is make them realize that they are thinking too small and start thinking bigger.
It's not that you don't have dreams of a bigger and more successful business or more time with your family, it's often that your dreams become dampened by this small thinking and you forget how important they are to you.
You end up accepting less than you want or deserve. You end up reducing your life's goals down to what you think you can achieve. You give up on the promises you made to yourself as an optimistic teen. And it all happens because you start thinking too small.
Stop thinking so small. Instead of thinking of yourself the way you are, expand your thinking and figure out how to get that.
In the example I've been giving in this blog, instead of thinking of yourself as a local plumber with cut-throat competition, start thinking of yourself as a state-wide expert on plumbing who costs more than your competition but who has customers who gladly pay that price.
Once you have expanded your thinking, then reverse engineer it to figure out what you need to do to achieve it.
Local… to state-wide
Plumber… to Plumbing expert
Low-cost because of cut-throat competitors… high-cost with customers who want to pay it
For each one of those pieces, figure out what you need to achieve it. To go from local to state-wide, you may need to expand your marketing and acquire another truck and team member. To go from a plumber to a perceived expert, you may need to start doing more content marketing and public relations that shows you are an expert (or even consider writing a book). To go from low-cost to high-priced, you need to find customers who are not price sensitive and adjust your marketing to attract them instead.
I've just started the process for you, above, but take it deeper. Build a to-do list around that new strategy and start executing on it, covering just one point every day (if that's all you have time for) until you achieve your goal.
It All Starts In Your Mind
The biggest obstacle you face is trying to get over your own small thinking. It all starts in your mind after years of being busy in one way of doing business, it's hard to start thinking expansively in a different way. You need to rediscover the exciting possibilities of living a life and owning a business that has no limits.
And that's why many service business owners come to Service Business Growth Intensive because they're looking to be reignited and reminded about what the possibilities are.
I hope you can make it to a future Service Business Growth Intensive event. But until you get here, stop thinking so small and start thinking bigger to expand your business and life to finally start living the life you really want.