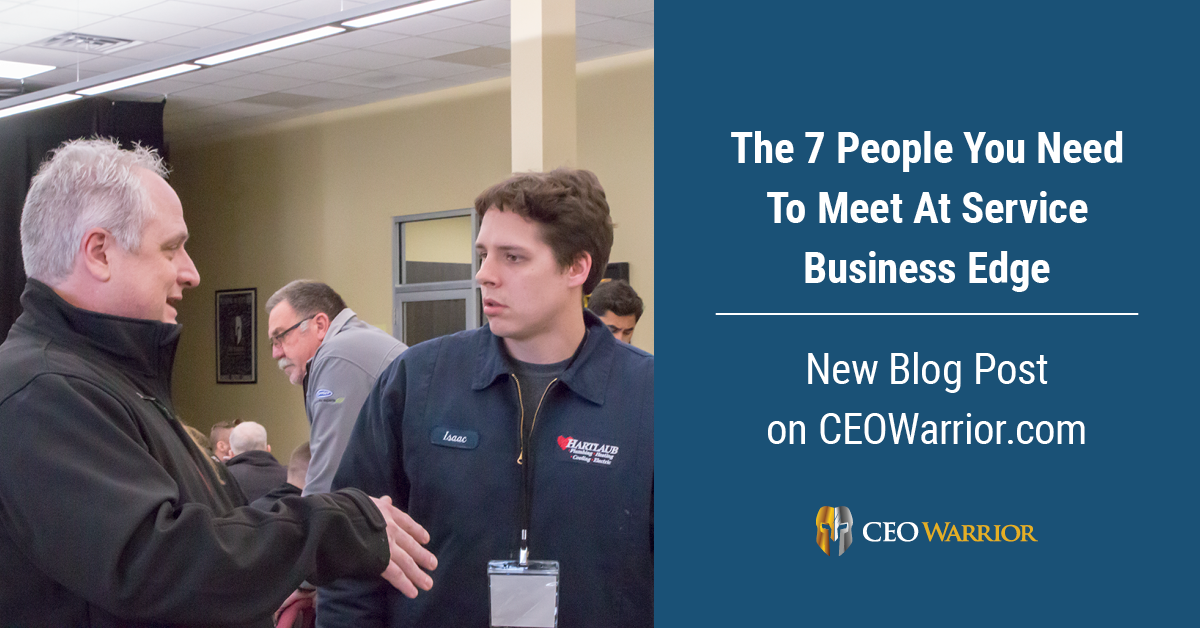 If you're coming to Service Business Edge, or if you are still thinking about it, make sure you read this article all the way through because it will give you a list of people you need to talk to when you attend Service Business Edge…
Most People Come To Service Business Edge To Get The Strategies
At CEO Warrior, we are ULTRA-LASER-FOCUSED on help you succeed and grow your service company. That's why we put on our insanely popular Service Business Edge events, where we give you the Warrior blueprint to growing your business.
We hand you everything—the strategies, the systems, the templates, the swipe-and-deploy files… absolutely everything you need to grow your business.
Not only that, we also help you create your very own customized implementation plan that you can take back to your business and start integrating your newly-learned strategies into your business. (This was a big breakthrough for most people who were sick of attending other industry group events but never able to transfer those concepts to action).
We give you everything you need to grow your business.
But here's the thing: it's not JUST about the tools and strategies and ideas. It's also about the people.
People: The Hidden "Secret" Of Service Business Edge
At Service Business Edge, we give you access to people who can help you. While the tools and strategies are invaluable and worth millions of dollars on their own, it's the people who can help you take these strategies to the very next level.
So, who should you talk to at Service Business Edge?
#1. Talk to Mike and Rob.
It's not always easy to get Mike and Rob during Service Business Edge. They are usually very busy (and they may be focused on running the event even if they are not on stage). But sometimes they have a moment and it's worth taking the opportunity to talk to them. For example, if you get an upgraded ticket with an exclusive meal option, take it!
Ask them about their life and business, how they got started, how things all changed for them. Even if you've heard the story many times in the past, it's worth hearing it again.
#2. Talk to the Master Advisors.
Although Mike and Rob are often extremely busy during Service Business Edge, one group of people that is there to help and has specifically set aside some availability for participants is the Master Advisors. These are industry experts who work for CEO Warrior and who service companies grow. They'll also be the ones who work with you as you build your customized implementation plan.
Bring your questions and concerns about running your business and ask the Master Advisors for insight. They may be able to quickly answer a question right there, or they may recommend a resource, training, a follow-up call, or even a vendor or group that can help you. You'll love their insight!
#3. Talk to the vendors.
At every Service Business Edge event, there are select vendors who are given an exclusive invitation to show up and share their strategies and resources with attendees. From websites to direct marketing to technology to products and services that you can add to your business… and so much more. These vendors have been carefully chosen because they possess the mindset and drive that exemplifies anyone who works with CEO Warrior. You'll get hands-on service and exclusive solutions from these vendors to help you implement the very things you learn at Service Business Edge.
Ask them about what value they can provide you and how it aligns with what you're learning at Service Business Edge. Ask them about what kind of exclusive solutions they provide to Service Business Edge attendees and how quickly you can implement these solutions to see a measurable difference in your business.
#4. Talk to the Warriors.
CEO Warrior is a leader in coaching and training. Along with the Service Business Edge events (which are open to anyone), CEO Warrior also has exclusive invitation-only groups that provide high-level year-round coaching and training for service companies. The service business owners who belong to these high-level groups are called "Warriors." What's interesting about these Warriors is: many of them started right where you are, at Service Business Edge events. They brought the same struggles, the same stresses, the same questions, the same concerns. Then they saw what you'll see at Service Business Edge—the power of CEO Warrior—and they committed to a longer-term coaching and training by joining a group and becoming a Warrior.
Ask them about what it was they saw in CEO Warrior (and in Mike and Rob), and what brought them to Service Business Edge in the first place. Ask them what they got out of Service Business Edge and what they implemented (and how). Ask them why they continued with CEO Warrior as a Warrior and what kind of difference it makes in their businesses and in their lives.
#5. Talk to the guest speakers.
Although the line-up changes all the time, there is often one or more guest speakers at Service Business Edge. We've had Larry Winget, Brian Tracy, Mike Michalowicz, Brian Kurtz, and Jay Abraham! The wisdom they share is off the charts. Although it can be hard to get these guest experts to stand still for a moment (they're usually very busy at these events) it's good to come prepared to ask a question or two if you can… even if it's just during a Question and Answer period after their presentation.
Share a struggle or problem you have and then ask them for their insight to solve it.
#6. Talk to the CEO Warrior team.
There's a whole team of people who run in the background of Service Business Edge events. Some are making sure the food arrives on time, others are making sure that attendees have workbooks and chairs. But when they aren't working on Service Business Edge, most of the CEO Warrior team is busy year-round on other projects to help service companies. They might have be distributing books or creating marketing materials or attending trade shows, or more.
Ask them why they belong to CEO Warrior and how they help service companies. You can even share some of your challenges with them and ask what kind of resources they might recommend to help you. (If the team member doesn't know; they'll refer you to someone who does.)
#7. Talk to your company.
This might sound crazy. After all, they're YOUR company, right? Why do you need to be reminded to talk to them? But one of the things we see every single time at Service Business Edge is just how powerful the event is and how life-changing and business-transforming it is for the people who arrive… but remember that you've got a whole company behind you who are still working. They're hoping that you're going to bring back strategies and resources to help them all work more effectively to grow the business (because that creates more opportunities for them). So don't just disappear on them for 4 days! Instead…
Check in regularly and tell them about the exciting things you're learning. Share some of the strategies. We've even seen some of Service Business Edge attendees implement their strategies that they learned in the morning on a follow-up call during lunch… the company was already making shifts and growing by the afternoon while the owner was back at the event learning more. Get them pumped up so that when you return to your office after the event, they are as excited as you and primed for growth and change.
Summary
Service Business Edge is designed as a 4-day event that is laser-focused on helping you grow your business. You'll get tools and strategies and resources and, of course, the CEO Warrior customized implementation plan that helps you to turn every strategy into action when you get back to your office after the event.
As amazing and invaluable as all of that is, it's only a fraction of the value you'll get. Service Business Edge is also about the people you'll meet and how you can transform your business with that new interaction and relationship, and the value they bring to you.
Bonus Tip
When you come to Service Business Edge, jot down these people onto a piece of a paper and make sure you connect with each of them while you're here.