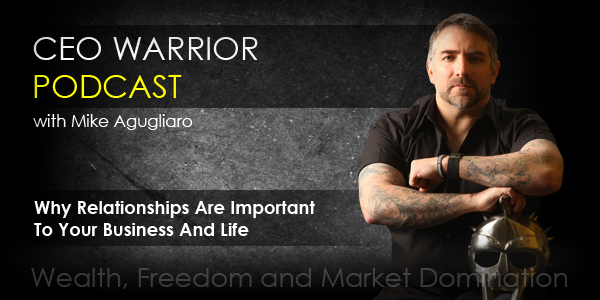 Summary:
Mike Agugliaro discusses how relationships will help you build your business and creating a stronger connection between your team and your family.
Key Lessons Learned:
Relationships
You have five core beliefs that shape how you see everything in your life.

Your health, without health you will lack energy. Good health is a choice.

Your beliefs, the lens through which you see things.

Your relationships with the people around you.

Your wealth, is making money easy or hard?

Your freedom, how restricted your choices are.

There are different kinds of relationships and different levels.

Sometimes we build relationships by default instead of by design.

Relationships are about adding value to our lives and the people we know. Value should go both ways.

Adding value is more than just providing the basics, a family dynamic that grows together stays together.

You should understand the goals of the other people in your relationships, what do you do to enrich their lives and help them achieve their goals.

Your team relationships should be a high priority than your customers, your team serves your customers. Your team is your tribe. You have to create a mindset transformation before you can create a skills transformation.

You have to define your perfect customer relationship before you can create it.

The greatest companies in the world pay very close attention to the relationship they've built with their customers.

The transaction of money doesn't give either party the right to abuse the other.

Being interested in the other person's goals will naturally get them interested in yours.

A true relationship is about people moving in the same direction serving each other along the way.

Would you fight for your team the way you would for your family? What about your customers and vendors? Do they know that?

As you raise your level of frequency and power, you pull up the people around you.
Links To Resources Mentioned
www.ceowarrior.com/books/communicationbook
Thank you for listening! If you enjoyed this podcast, please subscribe and leave a 5-star rating and review in iTunes!
P.S. Are you SERIOUS about no longer treading water and MOVE your business forward WARRIOR STYLE? Find out more about Mike's Warrior FAST TRACK Academy!