Register today for a 1 HOUR high content training teleseminar! Going to be driving during the call time? No problem. You can still listen in.
Money Making Subject: How to Stop Buyer's Remorse, Refunds, and Online Complaints
Thursday, August 21st || 7:00 p.m. EST
I'm also going to share how to manage, control and increase your online reviews. And, to make this event even better, I am going to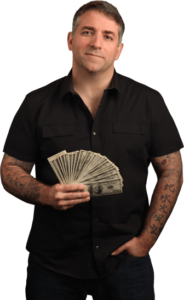 share strategies on how you can get your customers to beg for more of your services.
If that isn't enough, I am also going to teach you exactly how to create raving customers at the highest level. We've had lots of customers that beg for us to send them a company shirt, and I'm going to teach how to create that relationship with yours.
These techniques are the exact strategies that have helped me grow Gold Medal Service from under $1 million company to over $23 million in under 10 years.
As an added bonus, I am going to teach you the methods I have used this year to raise conversion, average invoice and leads on all inbound calls; and how I have doubled my sales leads and call volume with no extra resources.
To get registered, just click here to fill out the form. This exclusive teleseminar is only open to the first 20 people.
Mike Agugliaro, Business Ninja