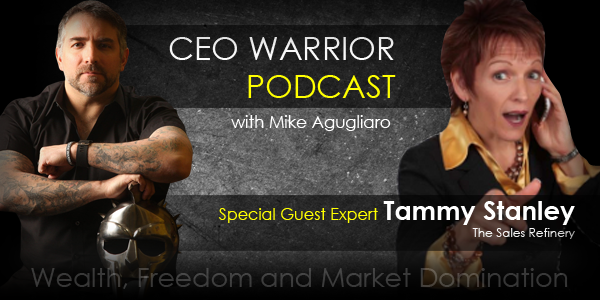 In this week's episode of The CEO Warrior Podcast, Mike Agugliaro interviews Tammy Stanley, who began her career in direct sales more than two decades ago. Tammy believes that every problem has a solution and provides the necessary keys to overcome difficulties that direct sellers face.
Main Questions Asked:
Tell us the problem you've seen in sales and with sales people.
Do you think the fear of the follow-up is hearing 'no?'
Walk us through how to help people not be afraid of 'no?'
What is the rule of thumb for following up?
How do you leave a message so people will call you back?
What are your tricks on how to get engagement at trade shows?
How do you show appreciation to a customer who is calling for the first time?
What are the top 3 things to pay attention to in sales?
Key Lessons Learned:
Following Up Sales & Hearing 'no'
People in business know that it is necessary to follow up with customers, yet days, months, and years can go by without any follow up.
The big challenge is not knowing how or why to follow up.
Sales training is all about getting the sale and how to close, but not what to do when you hear a no.
Once you get comfortable with the word 'no' and don't get awkward or weird, it opens up the possibility.
Prospects know that business people don't want to hear 'no,' so they get nervous about saying it.
When you don't know how to take a 'no,' you look bad.
Calling & Following Up With Prospects
What you resist persists.
The longer you wait for the perfect time, the harder it gets.
It is possible to build relationships with cold calling.
"Is this something that you want?" is a nice way of asking upfront.
Once you have 2-3 conversations with someone, you have started to build a rapport.
How To Leave A Message So People Will Call You Back
You have to create value.
People yearn for relationships.
All people want to be acknowledged and make a difference.
People want to do business with those that acknowledge them and appreciate them. Example message: "Hi Mike, this is Tammy Stanley. I met you at the home garden show last week. You did something that was really extraordinary, and I want to be able to tell you about it. Give me a call on xxx-xxx-xxxx."
55% of customers leave because of no contact. I.e. The business never followed up with them and made them feel valued.
When you follow up on a monthly basis, it shows you will stay in communication. Even if customers aren't consciously aware, it shows appreciation.
First Time Callers
The prospect doesn't want to hear a long spiel, as they are already calling for something.
Don't make it difficult for people to do business with you.
Step into the shoes of your prospect and figure out what they want.
Prospects don't buy from you because they understand you or your company; they buy because they feel that you understand them.
Whatever business you are in, experience doing business with someone else and experience being a customer.
3 Things to Pay Attention to in Sales
Don't cause resistance.
It's natural for customers and prospects to resist sales people.
Don't resist your customer.
Because we resist communication, we don't hear what they are really saying.
Cease the phone.
Look for reasons why you should call.
Thank you for listening! If you enjoyed this podcast, please subscribe and leave a 5 star rating and review in iTunes!
Links to Resources Mentioned
Click to Tweet
Do you know how to leave a sales message so people will call you back? @TheTammyStanley @Service_Key https://secretsofbusinessmastery.com
55% of customers leave due to no contact. Learn the power following up @TheTammyStanley @Service_Key https://secretsofbusinessmastery.com