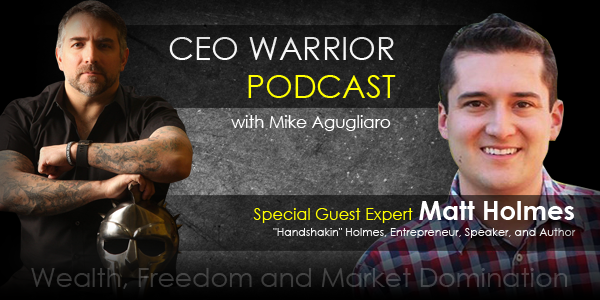 Summary:
In this week's episode of The CEO Warrior Podcast, Mike Agugliaro interviews Matt Holmes, who is the owner of the Handshakin' Video Series where he shares the benefits entrepreneurs reap by placing the emphasis on personal relationships. In this episode, Matt discusses community, gathering feedback, mentorship, and the art of networking for entrepreneurs.
Main Questions Asked:
Why is there a problem with social interaction and networking?
How do we start to build the networking skill?
What is the best way for someone to create an online brand?
How do you coach introverts on networking?
What is an effective networking opening line?
What are the don'ts of networking?
What is a kind way to walk away from someone at a networking event?
Key Lessons Learned:
Overview
To gain the lifestyle you want by growing a colossal business, you need to understand sales, networking, marketing, and leadership.
If you aren't succeeding in social interaction, then you are leaving money on the table.
Networking and Communicating
The opportunity of getting connected to high-level people is more available today than ever before.
You used to need a 'warm introduction' to meet someone, but in the digital age, that is longer the case.
Today, a 'warm introduction' is getting your name and face onto someone's screen.
Online Networking Skills
Figure out what the number one word your friends would use to describe you.
Google yourself and see what your online personal brand reflects.
Figure out what community you are a part of.
Any Mail Finder and Conspire are two useful tools for finding emails. The purpose of using these tools is to connect with entrepreneurs above your traditional network.
Always start with small asks such as a 15-minute call.
Offline Networking Skills
The most important goal at conferences is to make the connection.
Pay attention to the speaker's presentation and have relevant background information to discuss when you approach them.
Talk about something that is close to their heart and thank them for it.
Creating an Online Brand
1) Use your personal goal to drive leads.
2) Use your personal brand to connect with high-caliber people above your traditional network.
Introverts
An advantage of being an introvert is being detail-oriented.
Find your community.
Surround yourself with high-level people.
Opening Networking Lines
Putting high-caliber people on a pedestal can become intimidating.
The goal is to get a high-caliber person to engage with you a little further.
Be humble and assume you can learn more from the other person than they can learn from you.
When you ask about someone else, they become vested in the new relationship.
Getting valuable information about the other person means you can parallel your niche to interest them.
Networking Don'ts
Don't start off boasting. Be humble. Most high-caliber people have no need to boast.
When someone asks what you do, start with one sentence and then stop talking. If they are interested, they'll ask more. If they don't say anything, ask what they do.
Don't pre-qualify who you are going to network with and offer opportunities to. After all, everyone knows someone.
Networking Tips
1) Don't talk about yourself too much.
• Keep it as brief as possible, and talk about the other person first.
2) Don't start blabbing without a goal in mind.
• Learn if you are each other's 'people' and if your niches are close.
• The only reason to be at a networking event is to make contacts you are going to engage with in the future.
3) Join a community.
• You are already engaging with people in your niche.
How To Walk Away
Be willing to serve first.
If someone doesn't have synergy with you, it doesn't mean you should blow them off.
Both parties should know where the relationship is going sooner rather than later.
If you can't tell where to go with someone, add them on LinkedIn and keep them within your network.
Always be respectful of people's time.
Just because someone isn't at where you need them when you meet them doesn't mean they won't be at that point in two years' time.
The Art and Power of Networking
The best way to network is to have a startup that correlates with your personal brand.
Once you have your niche, follow these three steps:
1) Join two relevant communities.
• Startup community
• Community relevant to your startup's niche
2) Get feedback from the highest caliber people in the community and show that you can execute.
3) Pursue mentorship and keep it informal.
Thank you for listening! If you enjoyed this podcast, please subscribe and leave a 5 star rating and review in iTunes!
Links to Resources Mentioned
Handshakin Video Series
AnyMailFinder
Conspire
Click to Tweet
What are the ultimate entrepreneur networking do's and don'ts find out w/ @handshakin @CEOwarrior https://ceowarrior.com
What are the top 3 rules for networking? Find out w/ @handshakin @CEOwarrior https://ceowarrior.com
P.S. – Are you SERIOUS about no longer treading water and MOVE your business forward WARRIOR STYLE? Find out more about Mike's Warrior FAST TRACK Academy!

P.S.S. – Jessica Hixon feels business will double by next year! Fast Track Academy testimonial.