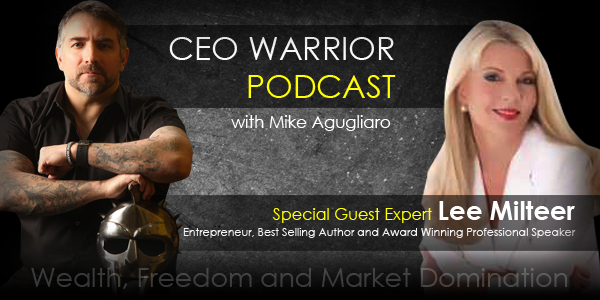 Summary:
In this week's episode of The CEO Warrior Podcast, Mike Agugliaro interviews Lee Milteer, who is a bestselling author, award winning professional speaker, and TV personality. Lee provides business and success advice, as well as resources to 250,000 people around the world. She is the founder of the Millionaire Smart Coaching program, which supplies coaching for other coaches and businesses. Lee is partners with Glazer Kennedy Insider Circle (GKIC) and runs the Peak Performance Implementation Coaching program for entrepreneurs. During this episode, Mike and Lee discuss breaking past the noise, the magic of self-limiting, and Lee's advice.
Main Questions Asked:
Talk about reclaiming the magic and the secrets to manifesting.
How do people break past the noise?
Why are people so self-limiting?
How much do you think 'programming' happens for adults?
What advice do you give people to get where they want to be?
Key Lessons Learned:
Breaking Past the Noise
Regardless of what people say, there is money everywhere, and you simply have to be in the right mindset to see it.
Stop letting the outside world determine what your future is going to be.
We co-create our reality with our thoughts and actions.
The missing link in the movie 'The Secret' was 'take some action.'
It's as easy to manifest a small income as it is to manifest a large one.
On an average day, 80% of entrepreneurs' thoughts are negative. This means you have to accept you're a self-fulfilling prophecy.
Who you hang around will determine the level of your success.
You are the average of the 5 people you spend the most time with.
When you expose yourself to negative programming, it's like polluting your ability to see opportunities in the future.
The 5 Energy Currency Reality
1. Mental
2. Emotional
3. Spiritual
4. Financial
5. Physical
If you allow negativity to flow into you unimpeded, then your whole world is swayed to think negative things.
Because we are self-fulfilling prophecies, you do have to work to break away from the noise.
Put yourself into media rehab for 30 days and monitor how you feel.
The true 'law of attraction' is enthusiasm.
When someone wants to 'dump' negativity on you, either do a 'pattern interrupt' or excuse yourself from the conversation.
What can you do to get back into the state of consciousness?
The Magic Of…
Owning your own divinity: This means being accepting that you are the only one in charge of your life.
Desire: This is the starting point of everything.
Releasing and envisioning: There is a lot of power in these two aspects.

What are you envisioning right now for your future?
What you envision you start to attract.

 Focus: We each have 1440 minutes per day.

What you focus on expands.

Everything is connected, so if your personal life is bad, then your business life will be bad too.
Be more than whatever your title is and be a person of many interests and have depth.
In today's world, just being successful in business isn't enough; you have to find ways to bond.
Self-Limiting
By the time a person is 5-7 years old, they have been inundated with a 'victim mentality' and the 'programming' on external power.
We influence reality with our thoughts and actions.
'No' isn't the end; it just means the beginning of a new conversation.
Lee's Advice
Lee is a big believer in coaching, as coaches aren't emotionally attached to client's problems.
The more you focus on the problem, the less the answer will come to you.
You should ask yourself every day, "If I change this, what is possible?"
Get yourself into the 'what if?' game.
You have to be more than a business machine.
The great achievers are those who are doing extraordinary service and reinvent yourself.
Every day, question what you are doing with your mental, emotional, physical, financial, and spiritual energy?
Thinking About the Future
Your point of power in this lifetime is this moment.
The past is a locked door.
The future is part of your imagination.
The only power we have is to take action right now.
When you take action, you will get a result. This will be a success or learning experience.
Because you do something, other opportunities will become possible.
Don't talk. Do!
Thank you for listening! If you enjoyed this podcast, please subscribe and leave a 5 star rating and review in iTunes!
Links to Resources Mentioned
Glazer Kennedy Insider Circle
Lee Milteer
Five Types of Energy
What is the 5 Energy Currency Reality and how does it affect you? Find out w/ @leemilteer @CEOWarrior https://ceowarrior.com
How can you reclaim the magic & learn the secrets to manifesting? Find out w/ @leemilteer @CEOWarrior https://ceowarrior.com
P.S. – Lead your business to success by learning how the pros do it.  Get the FREE Chapter Bundle from Mike's book The Secrets of Leadership Mastery!

P.S.S. – Discover why Andrew likes Mike's no nonsense approach. Accountability is key.